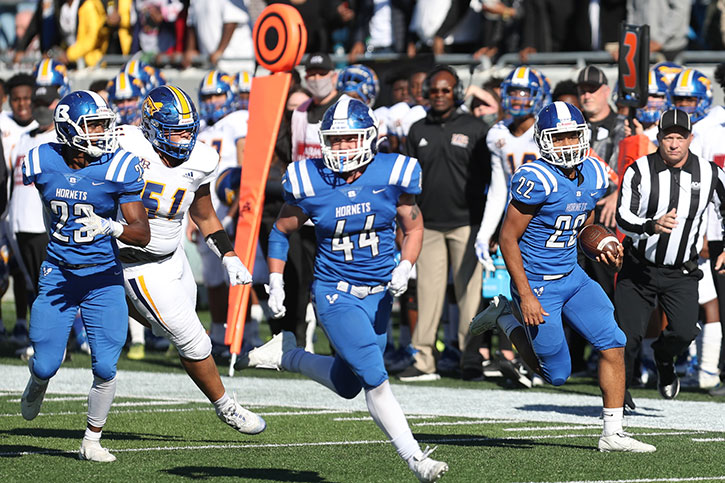 For more photos of this event by Rick Nation, go here; Photos also by Andrew Schroeder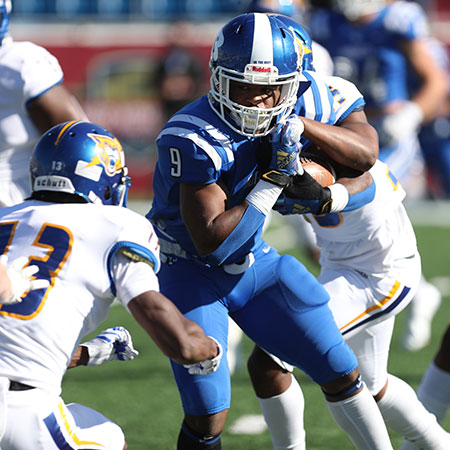 LITTLE ROCK — A team that hasn't had to play the full four quarters in a game more than a handful of times over the last two seasons, the Bryant Hornets were required by an inspired North Little Rock Charging Wildcats team to do so on Saturday in the Class 7A State championship game at War Memorial Stadium.
And all they did was polish their impressive legacy with a tremendous clutch performance down the stretch on the way to capturing their third consecutive State title and 30th victory in a row, 27-17.
It's the first time a team has won three in a row in the largest classification since Pine Bluff from 1993-95. Little Rock Parkview won three in a row from 1976-78; Texarkana won three in a row from 1973-75; and Northside from 1966-68. The only team in the highest classification to ever win more than three in a row was Little Rock Central from 1952-57.
And that's it in the entire history of high school football in Arkansas.
"This is unfathomable, really. It just doesn't happen often enough for people to even talk about it," said Hornets head coach Buck James, referring to the Hornets three-peat. "To go through it and experience it, you know, it's an amazing feeling. I know it will be for years to come.
"These guys, when they are dads and community leaders and stuff, will always have something in the back pocket saying, 'Hey, I was a part of something special.' This will last a lifetime for them.
"You know, that's what I'm proud of," the coach related. "You know, for some of them, it might be something that pole vaults them or springs them into life and what it takes to be successful. To understand adversity; to be coached; and to persevere. I think the values that these guys learn from this are immeasurable."
The 2020 title run will be all the more memorable because of the circumstances, with the Covid-19 virus ransacking through the country and the world. It required an even heavier workload for the players, the coaches and staff.
"I've lost three and I know what it feels like to do that," James reflected. "I've won three and know what that feels like. And I won a couple of others. Feels much better to win than it does to lose.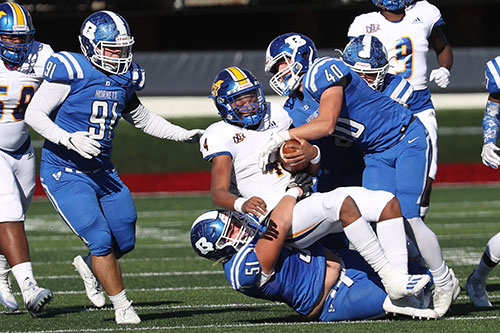 "State championships are a one-game series and it's always tough," he said, recalling the fact that the Hornets had drubbed the Charging Wildcats 58-21 during the regular season.
"My hat's off to North Little Rock," he said. "I thought those guys played phenomenal. They competed. What they did from week nine (against Bryant) to now says a lot for them and their coaches. You've got to give them a lot of credit."
The Charging Wildcats, who came in with a strong game plan, playing ball control as much as they could on offense while limiting the Hornets' passing game with a rush-three, drop-eight strategy that also included double-covering Bryant's record-setting receiver Hayden Schrader.
But along with Anderson, Jamarien Bracey powered for 94 yards on 14 totes, and Ledbetter scrambled for 38 yards on eight tries. The Hornets amassed 278 yards rushing, averaging over six yards per attempt.
The clutch plays came from the defense as well.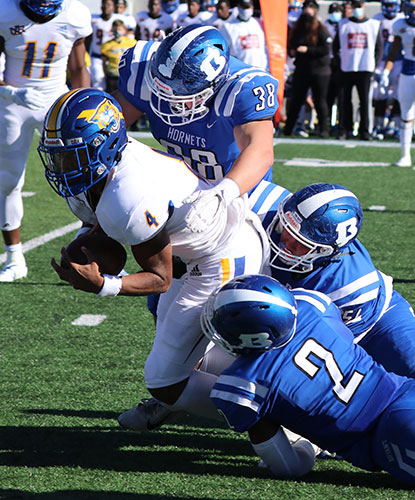 North Little Rock trailed 20-7 at the half. The Cats cut it to 20-14 in the third quarter then the two teams, who were playing in the State finals for the third time in as many seasons, traded punts.
The Hornets took what the defense gave them, though, as Tanner Anderson dashed and spun and powered for 146 yards on 18 carries with two touchdowns behind the Hornets' splendid offensive line of tackles Will Diggins and Brooks Edmonson, guards Jason Shifflet and Parker Elswick and center Jack Powell, to earn the championship game Most Valuable Player award. He also caught a team-high four passes for 26 yards, an indication of North Little Rock's notion of trying to keep all of the Hornets' passes short and in front of them. Record-setting senior quarterback Austin Ledbetter completed 11 of 16 passes but for only 127 yards. It was the first time in 26 games as the Bryant starter that Ledbetter, who has thrown for 88 touchdowns in three seasons, did not have one.
A short kick by the Hornets' Noah Davis in the final minute of the third quarter, resulted in a instant-replay review — something reserved for State championship games — when the ball came close to touching a North Little Rock blocker. The ruling on the field held that it had not and North Little Rock, a touchdown and an extra point from taking the lead in the fourth quarter, had possession just 48 yards from paydirt.
Behind the running of quarterback Kareame Cotton and running back Fred O'Donald, the Cats drove to the Bryant 6. Seemingly with all the momentum, North Little Rock had a first-and-goal.
On first down, Brayden Godwin and Rodricho Martin stopped a run by Torrance Moore for a loss of a yard.
Martin, by the way, received the Brandon Burlsworth Award for his tenacious, stellar performance during the game.
On second down, Andy "Juicy" Scott got low for penetration and tripped up Cotton at the 5.
Facing a third-and-5, the Cats went to the air. Cotton had a receiver with some daylight in the back of the end zone but linebacker Hart Penfield, charging at Cotton on a late blitz, leapt and knocked down the pass.
With 9:27 still to play, the Wildcats preserved some of their momentum by bringing on kicker Liam Selhorst for a 22-yard field goal that had the Hornets' lead down to 20-17.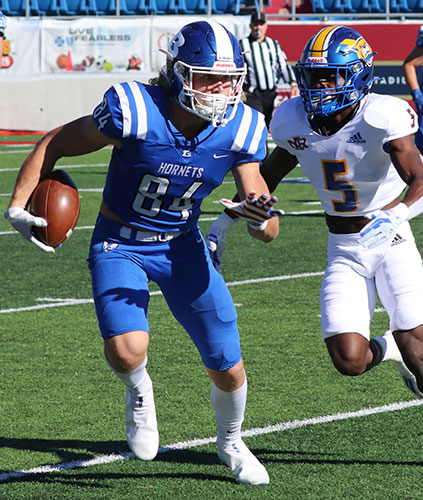 "They could've folded a little bit," James said of his team. "They could've rested on their laurels. But they fought through. Our offensive line stayed true to who they were. They did a fantastic thing with the run blocking as well as pass blocking. They were amazing, really all year long.
And, with the defensive stand, the Hornets had preserved the lead.
"I just knew that, when we got the ball back, we were going to have to get some first downs," James related. "And our football team responded. They bowed their necks and they found a way to come through it.
The Hornets marched 75 yards in seven plays, featuring Anderson and that bulldozing offensive line. Ledbetter picked up the initial first down of the drive with a 10-yard scramble.
On the next play, Anderson was stuffed for no gain, but while he was fighting for every inch, a North Little Rock player grabbed his face mask. The result was a 15-yard markoff and a first down in North Little Rock territory.
It was then that Ledbetter threw his lone pass of the drive, a swing pass to Anderson who appeared to be about to take a loss. But he juked past the North Little Rock tackler and managed to gain 6 yards.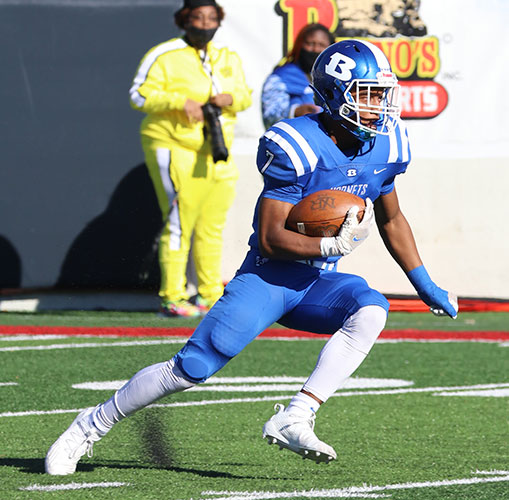 He followed up with runs of 5, 6 and 4 yards to set up a first-and-10 at the 25. Sprung by blocks from Edmonson and Elswick and, downfield by Robert Hendrix, Anderson scored untouched on the next play.
With Brock Funk's extra point, the Hornets led 27-17 with 6:23 left.
It had been a championship drive.
But the Charging Wildcats got a lift with a 48-yard kickoff return by Randall Abrams on which kicker/safety Malachi Graham made a touchdown-saving tackle as the last man.
But North Little Rock had the ball at the Bryant 35 with still plenty of time. Enter Bryant's defense.
Scott and Martin stuffed O'Donald for no gain on first down. On second down, Cotton couldn't find an open receiver and, with a blitz from Bryant, was sacked by Brandon Jones for a loss of 6. On third down, Jones, combining with Shifflet who was in on the defensive line for the series, sacked Cotton again.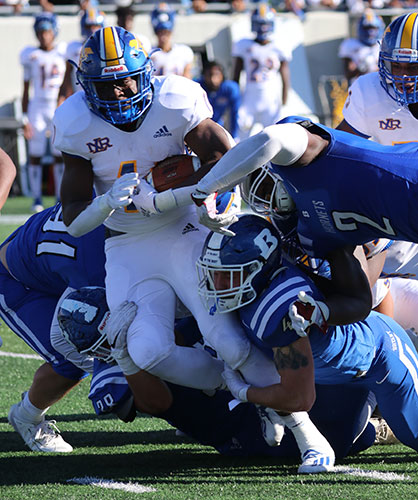 Facing a fourth-and-22 with 4:45 left to play, North Little Rock lined up to punt. The ball was snapped to Deontae Young, one of the upbacks. But the play was whistled dead before the snap, apparently due to a clock issue.
With the surprise of a fake spoiled — though the Hornets were ready with the defense still on the field — North Little Rock brought the offense back on the field. Somehow, Cotton got a deep pass to Jiquori Stewart, who was knocked out of bounds at the 9.
Once again, Bryant's defense made a stand, a championship stand.
Martin dropped O'Donald for a 1-yard gain. Koby Melton tracked down Felix Wade, on a speed sweep, for just a 1-yard gain.
On third-and-goal at the 7, Cotton rolled left to throw into the end zone only to have Melton drop into the pass pattern and knock the ball down.
On fourth-and-goal, Cotton threw short to the sideline. Even if it hadn't been dropped, the Hornets would've held because the receiver was well covered by linebacker Miles Aldridge at the 3.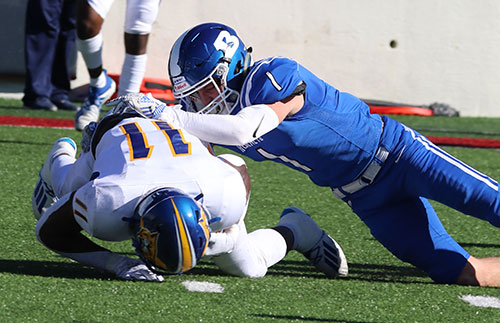 The Hornets took over at the 7 with 3:54 left in the game and promptly ran out the clock, marching to the North Little Rock 7. Bracey reeled off scintillating runs of 14 and 36 along the way. Blake Everett caught a 14-yard pass from Ledbetter for a first down. And Anderson bulled 18 yards to the 7.
All that was left to do was for Ledbetter to take a knee twice to close out the monumental victory and for the celebration to commence.
For the first time all season, the Hornets were held scoreless in the first quarter. North Little Rock's first drive ended when Austin Schroeder intercepted Cotton. The ensuing drive died at the Wildcats' 6 with an incomplete pass on fourth down.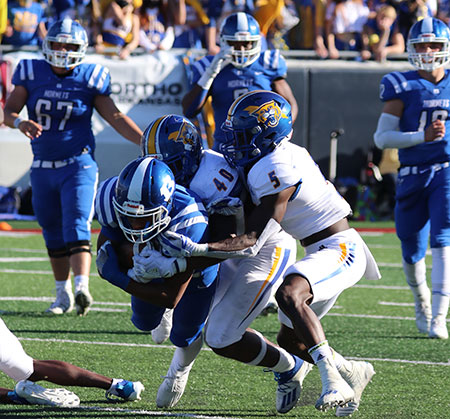 North Little Rock then marched from its own 6 to the Bryant 18 where, shades of things to come, the Hornets stopped them. Aldridge sacked Cotton on a third-and-9. Selhorst attempted a 38-yard field goal on the second play of the second quarter but missed.
Bryant got on track with touchdown drives on their next three possessions. The first was an 80-yard drive in eight plays, keyed by Ledbetter's passing. He found Bracey for 19 yards then connected with Schrader for 20 on a third-down play. A 15-yard strike to Hendrix reached the 9 and, from there, Bracey scored.
A third-down tackle by Jones forced a North Little Rock punt and the Hornets went 67 yards on seven plays. Anderson converted a third down with a 15-yard run that had a face mask penalty tacked on. Two plays later, Ledbetter found Corey Nichols, who made the catch then tiptoed down the sideline to the 7 to set up Anderson's touchdown run.
Graham intercepted Cotton on a fourth-down overthrow and returned it 52 yards to the North Little Rock 9. Bracey scored on the next snap and, though the extra point hit off the left upright, the lead was 20-0 with 2:03 left in the half.
To their credit, North Little Rock used that last 2:03 to drive for its first score. O'Donald had a pair of 16-yard runs to set up his 2-yard TD tote with :02 on the clock.
Bryant got the ball to start the second half and Anderson ripped off runs of 17 and 16 yards. But, facing a fourth-and-1 at the Cats' 47, North Little Rock stopped him shy of a first and took over.
The Wildcats drove for another score. Cotton set up the touchdown with a 15-yard keeper then O'Donald scored from the 15. Selhorst's kick made it 20-14 with 7:10 left in the third quarter.
The next three possessions ended with punts to set up the dramatic fourth quarter.
The Hornets' seniors conclude their careers with a record of 37-2. No other class has ever been a part of that many victories at Bryant.
However, the juniors on the team will have a chance to top it. So far, they're 26-0.