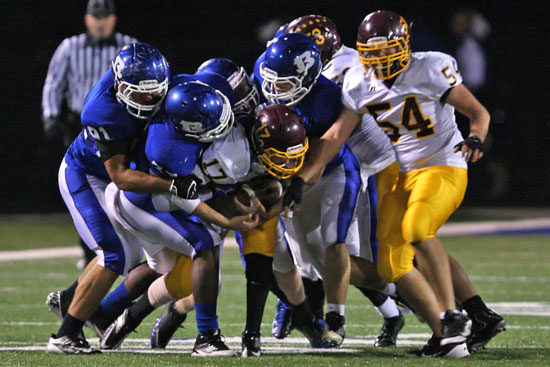 Photos by Rick Nation
By Rob Patrick
Before the Lake Hamilton Wolves had run a single play on offense on Friday night, they trailed the[more] Bryant Hornets 14-0. Before they picked up their initial first down, they were down 21-0.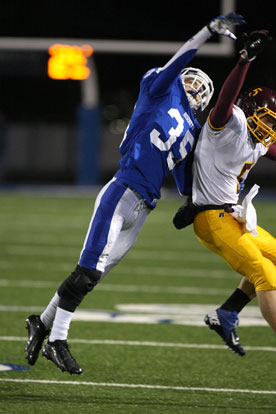 For the fourth week in a row — this time, somewhat surprisingly — the sportsmanship (or "mercy") rule went into effect as the Hornets scored on their first six possessions, building a 42-7 lead by halftime on the way to a 49-14 romp over the depleted Wolves.
(The sportsmanship rule kicks in when a team achieves a lead of 35 points or more in the second half. The result is a continuously running clock, stopping only for touchdowns, timeouts and changes of possession.)
The win, which improved the Hornets to 7-2 overall and 5-1 in the 7A/6A-South Conference, sets up a showdown at El Dorado, which improved to 6-3 and 5-1 with a 38-0 win that spoiled the Benton Panthers' final game at venerable old C.W. Lewis Stadium Friday.
It will be the Hornets' sternest test since their gut-punch 24-21 loss at Pine Bluff. It will actually be a welcome test too, with the post-season looming. Bryant, after competing in a league with Class 6A teams, will step back into the 7A for the playoffs.
The Hornets have overwhelmed the four 6A foes since that loss, outscoring them by a combined 191-48. In those four games, as well, they have only needed to attempt one punt. They did not punt in the win over Lake Hamilton.
It was Senior Night. Hayden Lessenberry, a three-year starter at quarterback, threw for four touchdowns and ran for two more in just the first half. He completed 10 of 11 passes on the heels of a 14-for-15 night at Texarkana the week before. Spanning the two games, Lessenberry completed 23 in a row. The streak was stopped by an interception at the end of the first half.
The Hornets may not have been challenged but they had fun.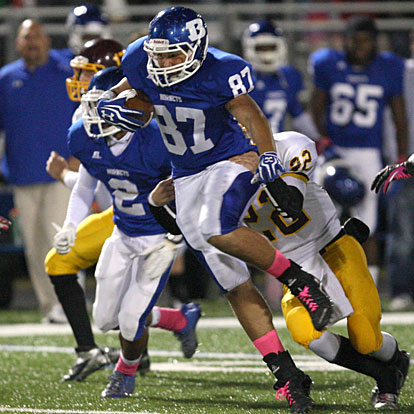 Earlier in the four-win streak, they worked a tackle eligible to produce a touchdown pass to 6-2, 280-pound lineman Ian Shuttleworth. Against Lake Hamitlon, Lessenberry got a chance to be on the other end of a pass play. Off a sweep to wide receiver Austin Powell, Lessenberry snuck out the backside and out-maneuvered Lake Hamilton's Stephen Shirley to haul in Powell's throwback, picking up 16 yards. The play set up Bryant's fifth touchdown. It came on the next play, a screen pass from Lessenberry to senior tight end Nate Rutherford.
Along with sophomore Brandan Warner's 5 of 7 night, Bryant's passing game produced 312 yards on 16 completions in 19 attempts.
Lake Hamilton, the defending Class 6A State runner-up, came into the game right behind the Hornets in the South Conference standings. But the Wolves' roster only shows 58 players and head coach Jerry Clay listed four starters including three of the team's eight two-way players as doubtful or definitely out of the game with injuries. None of them plays and they were hampered further when starting quarterback Clay Jessie injured his shoulder. Another pair of Wolves' two-way guys, linemen Zack Sandlin and Will Beard were shaken up along the way. And to top that off, on Bryant's fourth touchdown, a Lessenberry keeper from the 2, Lake Hamilton lost another starter who was rejected in a set-to coming off the pile.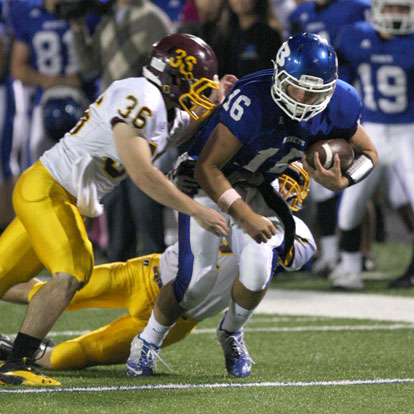 The Hornets' quarterback played the proverbial mad bomber with touchdown passes of 40 yards to K.J. Hill, 71 yards to Brushawn Hunter, 18 to Rutherford, and 29 yards to Hunter again.
The team welcomed back senior running back Jalen Bell who has been out since suffering a concussion at Pine Bluff. In six carries, he picked up 21 yards.
Defensively, the Hornets first team only surrendered a 32-yard touchdown run by Hunter Lipton, the Lake Hamilton tailback, that came right after a fumbled punt by the Hornets.
Junior safety Davis Nossaman and sophomore linebacker Hunter Fugitt got in on eight tackles each. Senior Kordell Boykins had a hand in seven stops. Senior Jared Koon had 6 tackles with a sack and junior Jake Johnson five stops. Aaron Bell had an interception and Stoney Stevens recovered a fumble.
The Hornets needed just four plays to go 75 yards on the game's first series. Bell got back in the swing of things with an 8-yard run to start things off. Lessenberry then tossed a pass over the middle to junior tight end Dalton Greismer who bulled his way to a 28-yard game. On the next play, Hill hauled in the 40-yard scoring strike.
After Josh Lowery added the extra point, the Wolves tried some trickery on the Bryant kickoff. The double reverse or fake double reverse resulted in neither as the ball came loose. Stevens recovered at the 8.
Bell carried to the 5 then Lessenberry kept for the touchdown.
The Wolves finally got to run a play on offense but got little out of it. They wound up punting after three snaps.
A play into the ensuing possession, the Wolves' defense lost track of Hunter in the secondary. Open by 15 or 20 yards, he hauled in Lessenberry's heave and, with the first quarter less than halfway through, it was 21-0.
Lake Hamiton hampered its own cause with a pair of penalties and wound up punting without a first down. The fumble on the return was recovered by Shelley and, on the first play from there, the Wolves scored on Lipton's run.
Hill set up Bryant's answering score with a return to midfield on the subsequent kickoff. A late hit out of bounds cost the Wolves and the Hornets set up offensively 34 yards away from paydirt. It took eight plays but Lessenberry eventually got it in from the 2. A scuffle broke out as the players unpiled, resulting an unsportsmanlike conduct penalty that was tacked onto the kickoff, and the ejection.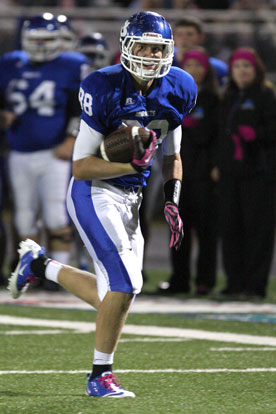 On the first play of Lake Hamilton's next series, Jessie skirted right end for 9 yards. He was blasted at the sideline by Bryant linebacker Bryce Denker and that proved to be the end of the senior quarterback's night.
The Wolves picked up a pair of first downs but a bad snap on the first play of the second quarter resulted in a 21-yard loss and, a play later, they punted again.
After a fair catch at the 35, the Hornets rolled to another score. This time, they covered 65 yards in seven plays, highlight by the quarterback throwback, which set up the touchdown pass to Rutherford.
With 7:46 still to play in the first half, the Hornets held a 35-7 lead.
Lake Hamilton responded by grinding out a drive from their 31 to the Bryant 20, all on the ground as junior Nathan Sawrie took over at quarterback. But, on first down at the 20, Lipton was cut down for a loss by Bryant's Tim Kelly who got there despite being held. The penalty knocked the Wolves off track and they couldn't recover. On a fourth-down try from the 32, Sawrie was sacked by Koon. With an intentional grounding penalty added on, the Wolves gave the ball back to Bryant at the 47 with 1:30 left in the half.
Eighteen seconds later, Lessenberry found Hunter for the touchdown that, with Alex Denker's extra point, made it 42-7.
The Hornets got a chance to get more when Bell came up with his interception at the Lake Hamilton 31 but a deep pass by Lessenberry was picked off with :31 left. From the 4, the Wolves took a knee and headed to the locker room.
Lake Hamilton went three-and-out to start the third quarter and Bryant head coach Paul Calley began running in reserves. Warner took over at quarterback and led the team to a final touchdown. Jacob Irby and Brenden Young contributed on the ground and Warner completed all four of his passes including a 17-yarder to Powell that set up the touchdown on a tunnel screen from Warner to DeVonte Howard.
The Wolves used up the final 3:55 of the third quarter and the first 3:30 of the fourth to drive for its second score. Sophomore quarterback Jess Ledbetter completed a pair of passes to Trevor Mittlestadt along the way, including the scoring throw from 8 yards out.

BRYANT 49, LAKE HAMILTON 14
Score by quarters
Lake Hamilton 7 0 0 7 — 14
BRYANT 28 14 7 0 — 49
SCORING SUMMARY
First quarter
BRYANT — Hill 40 pass from Lessenberry (Lowery kick), 10:43
BRYANT — Lessenberry 5 run (Lowery kick), 9:53
BRYANT — Hunter 71 pass from Lessenberry (Lowery kick), 8:06
LAKE HAMILTON — Lipton 32 run (Horton kick), 6:00
BRYANT — Lessenberry 2 run (Lowery kick), 2:33
Second quarter
BRYANT — Rutherford 18 pass from Lessenberry (Lowery kick), 7:46
BRYANT — Hunter 29 pass from Lessenberry (A.Denker kick), 1:12
Third quarter
BRYANT — Howard 19 pass from Warner (A.Denker kick), 4:30
Fourth quarter
LAKE HAMILTON — Mittelstadt 8 pass from Ledbetter (Horton kick), 8:32
Team stats
Lake Hamilton Bryant
First downs 12 17
Rushes-yds 38-115 23-93
Passing 6-15-1 16-19-1
Passing yds 67 312
Punts-avg 4-34.0 0-00.0
Fumbles-lost 4-1 1-1
Penalties-yds 6-43 2-10
INDIVIDUAL STATS
Rushing: BRYANT, Irby 4-29, Lessenberry 6-27, J.Bell 6-21, Young 3-8, Hunter 2-4, Warner 1-3, Hill 1-1; LAKE HAMILTON, Lipton 14-74, Wilkerson 6-22, Sawrie 6-12, Jackson 3-11, Jessie 1-9, Eastburn 2-4, Benitez 1-4, Hilliard 1-3, Frias 2-(-6), Ledbetter 2-(-18).
Passing (C-A-I-Y): BRYANT, Lessenberry 10-11-1-235, Warner 5-7-0-61, Powell 1-1-0-16; LAKE HAMILTON, Ledbetter 5-8-0-54, Jessie 1-4-0-13, Sawrie 0-3-1-0.
Receiving: BRYANT, Hunter 3-110, Hill 3-58, Howard 2-43, Greismer 2-35, Sears 2-18, Rutherford 1-18, Powell 1-17, Lessenberry 1-16, J.Bell 1-(-3); LAKE HAMILTON, Mittelstedt 3-26, Chancellor 1-18, Jackson 1-13, Frias 1-10.