By Rob Patrick
The contact begins tomorrow.
The Bryant Hornets football team completed its first three[more] days of fall workouts in helmets and shorts on Wednesday as they begin preparations for the 2011 season. They are set to don the pads on Thursday.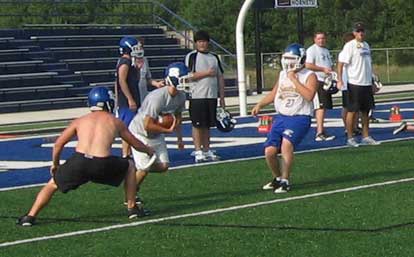 "It's good to have everybody back," stated Hornets head coach Paul Calley. "I wish we had everybody healthy. We've still got some guys banged up. We've had some unfortunate incidents with some kids. We're not quite at full strength but it's good to be back out here.
"You deal with this every year and you just learn to take it in stride," he noted. "I used to let it bother me but now you've just got to take what you've got and you've got to go."
The best news for the Hornets is the return of offensive lineman Ian Shuttleworth. Defensive linemen and blitzing linebackers will be easy to wrestle with in comparison to the junior's fight this summer after he was diagnosed with Hodgkin's Lymphoma. Fortunately, it was caught in the early stages. He underwent chemotherapy and, miraculously, he's ready to go this fall.
"Ian has had his port removed," Calley mentioned. "They read the scan from last week. Everything's clear. He's practicing and we're happy to have him back and he's excited to be back out here."
Regarding the other injuries and maladies, Calley recited, "Devin Sears pulled the hip flexor away from his hip. Austin Powell has had a pulled hamstring for a month and a half. Wesley Akers had an appendectomy. Jalen Bell's had his wisdom teeth cut out. We lost Madre London. He moved to Florida. Caleb Thomas has had a bad hamstring for two months. Sawyer Nichols has strep throat."
Nichols is the team's leading returning receiver. Sears and Powell figured in the mix at wideout as well. Akers, a sophomore, will likely be the back-up to returning starter Hayden Lessenberry at quarterback. Bell returns as one of the Hornets' running backs who will also work at receiver and Thomas figures to be a contender for a starting spot in the secondary. London, a sophomore, looked like he would be a considerable addition at running back and receiver as well.
Asked what other positive developments he'd noticed, Calley said, "The retention, and the anticipation of these guys. They're anticipating the Benton game already. You try to scale them back when you're in shorts but they're wanting to go. Now tomorrow, when we get in pads, they'll be wanting to scale back but, right now, they're rarin' to go, excited about the season and trying to get better."
While working in pads, the Hornets will start practice at 7 a.m., unless the coaches have in-service obligations, then practice will start late in the afternoon. Photo day and the first Fan Fest will be held on Saturday, Aug. 13 from 8 a.m. until noon at Bryant Stadium. Fans will be able to meet the Hornets players, take pictures, shop for Hornets gear at the Hornets' Nest and visit other booths from area businesses. The coaches will also talk about the upcoming season.
On Monday, Aug. 22, Bryant will host Pine Bluff in a pre-season scrimmage, starting at 6 p.m. The Salt Bowl to open the season is Friday, Sept. 2, at War Memorial Stadium.