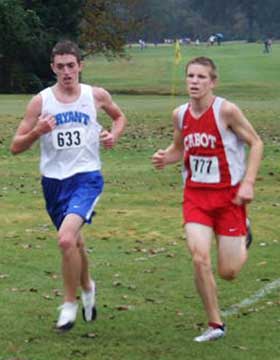 CABOT — For the second year in a row, the Bryant Hornets have placed fifth in the 7A-Central Conference meet which was held Monday, Oct. 26, at Rolling Hills Country Club. The Hornets scored 119 points to finish behind team champion Conway (43), Russellville (66), Cabot (71), and Little Rock Catholic (81). Finishing behind the Hornets were Van Buren (184), Little Rock Central (191), and North Little Rock (213).
Luke Lindsley earned all-conference honors with a ninth place finish in a time of 17:01. Other Hornet finishers included Jesse Wolf (20th in 17:47), Jacob Clark (27th in 18:01), Rodrigo Rodarte (29th in 18:04), Michael Smith (36th in 18:18), Dillon Rhodes (38th in 18:23), Logan Howard (44th in 18:38), Peter Alverio (47th in 18:44), Kevin Nalley (51st in 19:08), Nick Hughes (55th in 19:14), Josh Pultro (68th in 19:41), Dylan Ball (82nd in 20:09), Fabian Ruthardt (84th in 20:11), William Waddell (113th in 21:32), Tyler Potts (118th in 21:43), Levi Lindsley (119th in 21:43), Forrest Fowler (127th in 22:25), Christopher Oldfield (129th in 22:44), Ben Ackley (134th in 23:20), and Jesse Marcrum (141st in 26:13).[more]
"All season we have not been able to put it all together on the same day, and today was no different," commented Hornets head coach Steve Oury. "We knew that in order to crack the top four, we had to have our five scorers run at or near their personal bests. Jesse Wolf came through with a personal best and ninth grader Rodrigo Rodarte cut 32 seconds off of his best time in only his second 5k.
"At the same time, we had several guys who just didn't have great races," he continued. "We need to try to get that corrected for the State meet.
"Luke ran hard and did a good job earning all-conference, but he was also under the weather," noted the coach. "We will keep working hard and hopefully have everybody that we need healthy for the state meet in Mountain Home on Nov. 7."