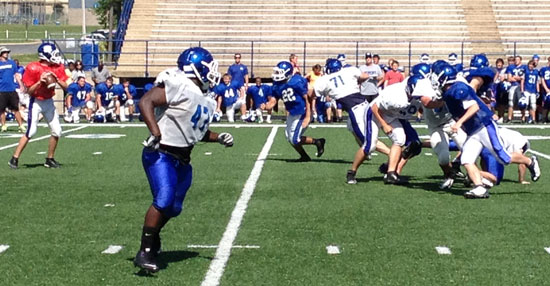 By Rob Patrick
"We got better; we got a lot better, our offensive line especially," stated Bryant Hornets head football[more] coach Paul Calley after his team completed its final spring practice in pads with an extended scrimmage Wednesday. "I think we got everything accomplished that we can accomplish. We've got a good idea of who we can depend on right now and then who's still suspect.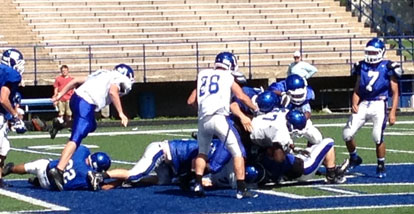 "I thought we had great effort," he added. "We got a lot of good reps (on Wednesday)."
Today, the team will be treated to what Calley called, "The Hornet Games."
"Some fun stuff," he explained. "We'll feed the kids pizza and do some crazy games."
They may review film of Wednesday scrimmage or hold that until early next week.
"But we've got Huddle now, so they can all watch it at home," the coach mentioned, referring to an on-line video program. "It's beautiful. We can't instruct them (when they watch at home) but one thing we've told them is 'We want you to become your own worst critic.' And a lot of them have. That's why they're getting better. They watch themselves over and over and they know when they're taking a false steps and short steps and crossing their feet and doing wrong things, cutting their patterns short and not taking the right angles. So, the more they watch, the better they're going to be.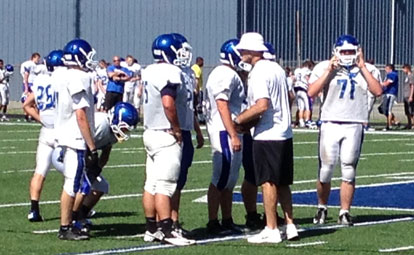 "We're very close to a depth chart," he acknowledged. "I can pretty much tell who are the Friday night guys and who's still got a lot of growing to do."
Defensive coordinator Steve Griffith observed, "We were definitely playing a lot faster at the end. The first couple of days, our feet were a little dead. We got a little more comfortable in our reads and in our run-fits and so forth. We were moving to the football a lot better and we had some good licks passed, on both sides of the ball. That was encouraging to see."
Calley added, "Our defense caught up with us and I think we caught back up on offense and we were kind of even the last week.
"We held onto the ball," he continued. "We dropped some early but, for the most part, we didn't put it on the ground. We did turn it over, threw a couple of picks with the second group. Those were scores out of our second defense and that's good. We've got to score points defensively. We've got to clean that up a little bit on offense, though, throwing the ball over the middle."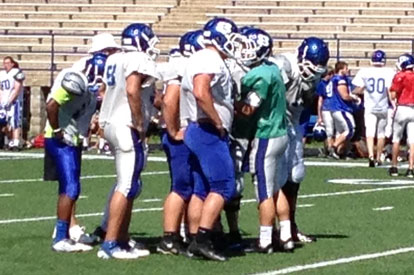 Bryant will attend a team camp at Lakeside on June 5 then compete in a 7-on-7 at Ouachita Baptist University on June 6.
"We'll lift going into dead days," Calley said. "After dead days, we may go 7-on-7 but we're not going to the Shootout of the South. It makes us change too much of what we do to try to compete and we're not going to go get beat and we're not going to go play something we're not going to play on Friday night. That's what we'd have to do to compete."
Griffith said, "Through the summer, we need to get stronger. Through the 7-on-7, we'll get to see some balls in the air and, hopefully, get to where we're making breaks a bit quicker.
"We get five weeks of August," he noted. "Hopefully, by the time we get ready to scrimmage Fayetteville and P.A., we'll make some progress and be ready for Conway week one. If we continue to work and stay focused and have a good attitude, I think we can be ready to be competitive."
The Hornets will host a three-team pre-season jamboree scrimmage with Fayetteville and Pulaski Academy on Aug. 27 prior to their season opener at Conway on Sept. 6.
"We had 95 players dressed out and still had 35 that weren't," Calley mentioned. "What I'm going to have to do for the first time ever is we're going to have to have a varsity team and a JV team. We're not going to be able to dress everybody on Friday night. It's just not possible. We don't have enough jerseys, don't have enough coaches, so we're going to have to split it up and do the best we can to get everybody coached. It's not going to be easy. We'll probably run an extended (practice) session."
BRYANT HORNETS

2013 football schedule

Aug. 23 — Blue-White, 5:30 p.m.
Aug. 27 — &Fayetteville/Pulaski Academy (scrimmage), 6 p.m.
Sept. 6 — at Conway, 7 p.m.
Sept. 13 — at Little Rock Central, 7 p.m.
Sept. 20 — Little Rock Catholic, 7 p.m.
Sept. 27 — Benton* (Salt Bowl, War Memorial Stadium, Little Rock), 7:30 p.m.
Oct. 4 — Pine Bluff* (State Rec. Night), 7 p.m.
Oct. 11 — Little Rock J.A. Fair* (Mass Band Night), 7 p.m.
Oct. 18 — at Sheridan*, 7 p.m.
Oct. 25 — Texarkana* (Homecoming), 7 p.m.
Nov. 1 — at Lake Hamilton*, 7 p.m.
Nov. 8 — El Dorado* (Senior Night), 7 p.m.
*7A/6A-South Conference games