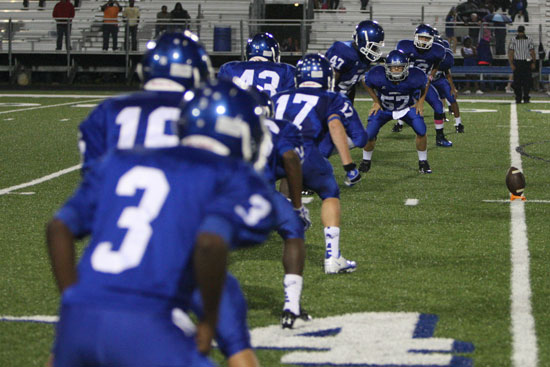 Photos by Rick Nation
By Rob Patrick
One pair of lightning bolts put away the game between the Bryant and Conway Blue[more] freshman teams Thursday night; another pair ended it altogether.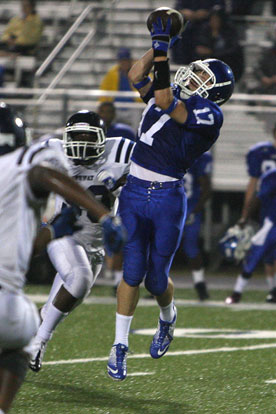 The first pair of bolts had names: Gunnar Burks and Savonte Turner. The duo struck for 200 yards rushing between them while Burks, who ran for three scores, completed all six of his passes for 82 yards and a TD.
And that was just in the first half.
Bryant amassed a 30-0 lead over the Junior Wampus Cats who came into the game off an upset victory last week that knocked the Benton Panthers out of first place in the Central Arkansas Junior High Conference.
The Hornets weren't going to relinquish their share of the league lead in such fashion. They turned in a dominating performance before the second pair of lightning bolts flashed through the night sky, forcing the suspension and later the cancellation of the rest of the game as heavier and heavier rain arrived.
Bryant improved to 8-1 overall and 7-1 in conference play, tied atop the league with Cabot South (which handed the Hornets their lone loss, 14-0, back on Sept. 13). Bryant closes out its season on Tuesday, Oct. 30, against those Junior Panthers at Benton while Cabot South takes on its hometown rival Cabot North. The results of those games will determine the CAJHC champion.
The Hornets finished the first half having compiled 290 yards of offense in 26 plays while limiting the Wampus Cats to just 24 yards of total offense on 12 snaps.
Turner finished with 92 yards on nine carries, Burks had 108 yards on seven tries as they slashed and gashed the Conway defense behind a stellar effort from the Hornets' offensive line.
The opening drive for Bryant set the tone in impressive fashion. Three runs by Turner picked up a first down at the 37 then Burks took a turn and wove his way 23 yards. And when a face mask penalty was added, the Hornets were 24 yards away from scoring.
From the 19, however, Bryant had consecutive plays negated by holding penalties. The Hornets were pushed back to the Conway 40 but they didn't let that sidetrack them. Drew Alpe, giving Turner a break, powered for 7 yards then Burks tossed his first pass that Quinton Royal came down with at the 17.
Still, it was fourth-and-4 from there.
No problem, Burks sliced to the 5 and, two plays later, he snuck it in from the 1.
On a 2-point conversion, a pass from Jaelyn Jones fell incomplete but the Hornets got a second chance when it was ruled that the Cats had interfered. Given a second chance a yard-and-a-half closer, Turner powered in off left tackle to make it 8-0.
Conway Blue appeared to be on its way to an answering score. On runs by Jeff Thomas and Dartanion Thompson, the Cats reached the Bryant 40. But on consecutive plays, Hornets defensive end Cameron Murray crashed through, stopping Thomas both times short of the first down.
The Wampus Cats punted the Hornets back to their 19 but that didn't prove to be a problem. Turner broke a scintillating, tackle-breaking, whirling 53-yard gallop that turned the field over.
A play later, Burks tossed an 11-yard pass to Evan Lee that set up the quarterback's slashing 18-yard touchdown run. Jones ran in the 2-point conversion and Bryant led 16-0.
The defense forced a three-and-out, highlighted by a big hit from Devon Alpe on Thomas in a second-and-5 situation. Good coverage by Kris Croom on the third-down pass resulted in another Wampus Cats' punt.
Booted back to their own 44 with 4:52 left in the half, the Hornets' offense went back to work. Burks would score on the fourth play of the drive from 34 yards out. The play was set up by an 18-yard run by the quarterback.
Though Burks' pass for a conversion fell incomplete, Bryant held a commanding 22-0. And when the ensuing series went three-and-out, it continued.
Turner turned in runs of 9 and 10 yards to the Bryant 48. On the next play, Burks found Pierce Finney deep down the middle of the field for a 34-yard throw. A second-down pass to Liam Miller moved the ball to the 3 and, from there, Burks found Lee for the touchdown.
Turner ran in the 2-point conversion so with :08 left in the half, the 30-0 score was on the boards.
The lightening struck initially as the two teams headed for the locker room. There had already been steady rain and glimpses of lightning in the distance. The game was suspended at first but when the lightning persisted and the rain became a downpour, the game was called.
BRYANT 30, CONWAY BLUE 0
Score by quarters
Conway Blue 0 0 x x — 0
BRYANT 8 22 x x — 30
SCORING SUMMARY
First quarter
BRYANT — Burks 1 run (Turner run), 2:30
Second quarter
BRYANT — Burks 18 run (Jones run), 6:19
BRYANT — Burks 34 run (pass failed), 3:14
BRYANT — Lee 3 pass from Burks (Turner run), 0:08
Team stats
Conway Blue BRYANT
First downs 3 11
Rushes-yds 9-14 20-208
Passing 2-3-0 6-6-0
Passing yds 10 82
Punts-avg. 3-35.7 0-00.0
Fumbles-lost 0-0 0-0
Penalties-yds 3-19 4-51
INDIVIDUAL STATS
Rushing: BRYANT, Burks 7-108, Turner 9-92, Dr.Alpe 4-8; CONWAY BLUE, Thompson 2-15, Thomas 6-4, Ross 1-(-5).
Passing (C-A-I-Y): BRYANT, Burks 6-6-0-82; CONWAY BLUE, Ross 2-3-0-10.
Receiving: BRYANT, Lee 3-17, Finney 1-34, Royal 1-16, Miller 1-15; CONWAY BLUE, Strickland 2-10.