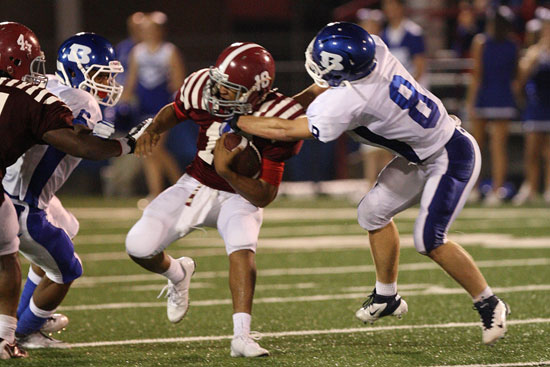 By Rob Patrick
Photos by Kevin Nagle and Rick Nation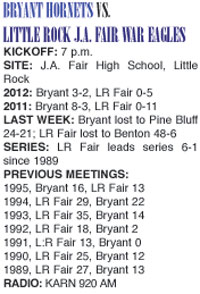 The Bryant Hornets play the J.A. Fair War Eagles of Little Rock tonight for the first time since 1995. But who the opponent happens to be isn't really the primary thing.
Coming off a stunning 24-21 loss at Pine Bluff, tonight's game is all about the Hornets.
"It's about us doing what we're supposed to do," stated Hornets defensive line coach Brad Stroud. "Last week, we were just a little off here and there, just technique. We've just been working on our technique and getting where we're supposed to be. We've just got to get back to fundamentals."
"We've got to start now getting better at what we're doing," added offensive coordinator Lance Parker.
Fair's struggles are well documented. The War Eagles have[more] lost 20 games in a row dating back to a 7-0 win over Little Rock McClellan on Oct. 8, 2010. After a playoff appearance in 2005, Fair teams have won just five times in 66 games.
"They haven't had a lot of success there but that doesn't mean they won't be fired up to play us," Parker said. "If we can come out and do our job, I think we're going to win the game. But it's not just about Fair, it's about getting ready to play those teams down the road."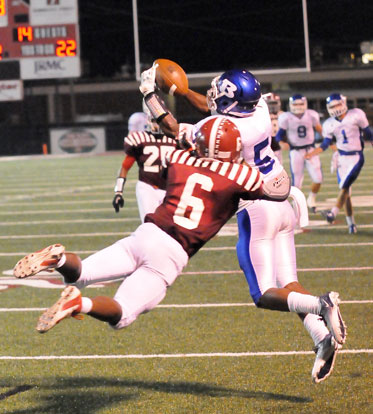 Those teams include the last three weeks against traditional Class 6A powerhouses, Texarkana, Lake Hamilton and El Dorado — the last two of which played for the Class 6A State championship last year. Since 2006, the finals of the 6A playoffs have included two of those three teams and in 2005, the first year of the 7A/6A split, Texarkana won the title over Mountain Home.
"Whoever we play, we're going to prepare like we're playing a really, really good football team," Parker said.
Offensively, that means developing a stronger running game even though senior tailback Jalen Bell may sit out after being injured in the game at Pine Bluff.
"We're going to shift some personnel around and try to find a way to run the ball," Parker acknowledged. "As a five-step dropback team, we're too inconsistent for our defense. When it's time, we need to be a little bit conservative. It's hard to be conservative dropping back and throwing the ball. It's time to find somehow someway to run the ball with the guys that we've got. That's the emphasis going forward."
The Hornets' coaches feel that inconsistency meant that the defense was on the field too long in the second half against Pine Bluff, which eventually wore them down, facilitating the Zebras' comeback win.
"We're trying to get a little tougher, a little more aggressive mentality up front, make sure we carry the ball with a lot of intensity," Parker asserted. "We're trying to get that fixed because we're going to need to run the ball to beat teams down the road."
Defensively, Stroud said that the War Eagles will use some misdirection, reverse fields and throw on the run.
"Their tailback runs hard," he noted. "They run a lot of people in, three different tailbacks and two quarterbacks.
"We're going to work real hard on staying at home," Stroud added. "I told the front four, 'Guys, you really come off the line and eat them up.' We're hoping to force them into some turnovers."

BRYANT HORNETS

2012 unofficial stats through 5 games

Score by quarters
Opponent 21 21 0 49 — 91
BRYANT 38 36 31 21 — 126
Team stats
Oppt Bryant

First downs 70 62
Rushes-yds 176-983 100-236
Passing 36-81-4 72-135-1
Passing yds 428 932
Fumbles-lost 10-5 4-2
Penalties-yds 26-213 23-188
INDIVIDUAL STATS

Rushing: J.Bell 46-181, Irby 18-44, Hunter 3-11, Hill 2-10, Powell 2-4, Reese 2-4, Akers 2-2, Lessenberry 25-(-20).
Passing (C-A-I-Y): Lessenberry 69-128-3-887 (9 TDs), Warner 3-6-0-44 (1 TD).
Receiving: Hill 20-316, Hunter 16-274, Howard 12-143, J.Bell 11-86, Powell 8-63, Girls 1-22, Irby 1-19, Akers 1-9 Richards 1-3.
Scoring: Hill 30 (5 td-p), Lowery 22 (2 for 2 fg {43, 36}, 16 of 16 PATs), J.Bell 18 (2 td-r, 1 td-p), Hunter 12 (2 td-p), Reese 12 (2 td-r), Howard 6 (1 td-p), Johnson 6 (1 td-int.ret), Stevens 6 (recovery), Nossaman 6 (1 td-fum.ret), Richards 6 (1 td-p), Kelly 2 (1 safety)