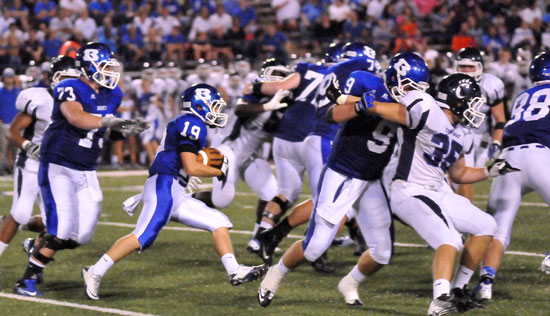 By Rob Patrick
Photos by Rick Nation and Kevin Nagle
The intensity of the heat and the work ratcheted up for the Bryant Hornets this week as they prepared[more] for the Little Rock Central Tigers. The Hornets are coming off an abbreviated 21-3 blitz from a fired up Conway Wampus Cats team last Friday.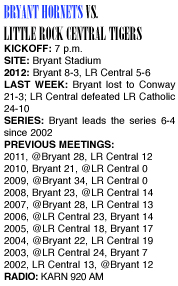 "We had a really tough practice Tuesday," noted Hornets head coach Paul Calley. "The kids handled it real well. You know, I think they were disappointed Friday night. They came back to work this week with a good attitude. They know what kind of defense Central has. They know what kind of athletes they have. And they realize it's a pretty tough task. We have to do everything right."
Central opened the season against the rival Catholic High Rockets and, with a late kickoff return for a touchdown, put away a 24-10 win.
"I think we're probably better prepared this week," Calley said. "I did not do a good job last week at all. The comments I made about the kids not performing is a direct reflection on the head coach. I think all that is behind us and we expect a much better product Friday night."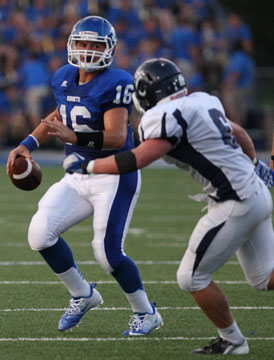 Central's defense is led by senior linebacker Bryce Wall, according to Tigers' defensive coordinator Adam Acklin. "He reminds me of (former Arkansas Razorback) Tony Bua."
Acklin also touted senior free safety A.J. Tucker and junior end Dalvin Simmons as college prospects. Sophomore linebacker Malcolm Williams joined Bryant's receivers K.J. Hill and Brushawn Hunter on the Arkansas-Democrat Gazette's pre-season All-Arkansas sophomore team.
"They're as athletic (as last year) and they're going to run a lot of the same stuff," Calley said. "They're going to get up in your face on your outside receivers. They're really big and quick up front and their linebackers can run.
"I expect they'll play us a little bit different than they did last year, scheme-wise," he mentioned. "But you have to be ready for everything, just like last week. I didn't expect Conway to bring pressure. They've always been a very conservative team defensively and they surprised me totally. So I think Central may do some things that bring some pressure on us. I think we've got the answers this week."
The Hornets will probably be without starting guard Brandon Caple but starting running back Jalen Bell could be back in the lineup.
"J.Bell has made progress," Calley said. "It'll be a game-time decision. It just depends on how he feels.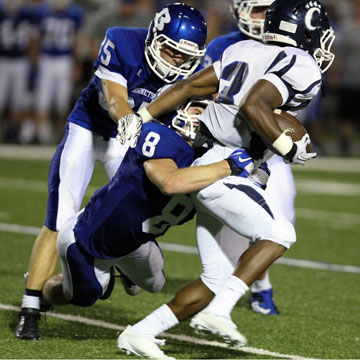 "(Quarterback Hayden) Lessenberry recovered from his 'lacerated' kidney," the coach noted.
"I think, if we have our legs under us after our 150-degree practices this week, I think we'll be okay," Calley concluded.
On offense, the Tigers have an improved passing attack with the emergence of sophomore quarterback Cooper Westbrook, who was 10 of 14 for 142 yards and a touchdown against Catholic. Tailback Malcolm Robinson scored two touchdowns and rushed for 92 yards on 22 carries.
The Tigers' offensive line is improved but the Hornets may not face a group as good as Conway's all season. Bryant has been working on improving its tackling too.