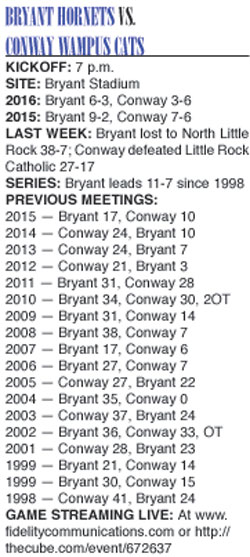 The Bryant Hornets' rivalry with the Conway Wampus Cats is probably second only to the Benton Panthers in intensity.
At least it's seems that way on Bryant's end. For Conway, however, it may be less of a rivalry than Russellville or Cabot or North Little Rock. But it takes priority tonight when the two teams clash in the final regular-season contest with Class 7A playoff repercussions, particularly for Conway.
Both teams are fighting for a first-round home game. Bryant, at 6-3 overall and 4-2 in league play has the inside track to play at home in the first round. Either a win over a loss by the Cabot Panthers against top-ranked and unbeaten North Little Rock will take care of it for the Hornets.
If the Hornets down Conway, they'll be the third seed from the Central and will host the loser of tonight's game between Rogers and Springdale in the first round of the playoffs next Friday. A loss could drop them to fourth, in which case, they would host the winner of the Rogers-Springdale game.
A Bryant loss and a Cabot win would create a three-way tie for third and the tiebreaker (margin of victory points with a maximum limit of 13 points) would determine which would be the third, fourth and fifth-seeded teams. The fifth-seeded team will open at Bentonville West.
Conway, to get a home playoff game, has to defeat the Hornets.
The Wampus Cats are, beyond a doubt, the best 3-6 team in the state. They have played a rugged schedule that, beyond the conference games (in which they've gone 3-3 so far, losing to Southside, North Little Rock and Northside), they've played, and lost to Class 7A playoff teams Springdale and Bentonville and 6A power Jonesboro.
In fact, both Bryant and Conway lost to North Little Rock by the same score, 38-7.
Since then, the Wampus Cats have posted back-to-back wins.
Bryant, meanwhile, is hoping to bounce back from its loss to North Little Rock, which snapped a four-game winning streak.
"In football, you've got to have a short-term memory," said Hornets coach Buck James. "It was a tough lesson for our young men. We've just got to grow from it and get better.
"It opened our eyes," he added. "It's made us work a little harder this week, be a bit more physical in practice. But our focus has been on the Conway Wampus Cats.
"We've got to be ready," the coach related. "This is a good football team. They've gotten better every week. They mirror us in a lot of ways. Our football team is going up against a really big challenge this week."
The Wampus Cats are big and strong up front on both sides of the ball. They like to run it first and mix in some play-action passes, similar to the Hornets, who have become a bit more of a passing team lately. Conway's big-play receiver and kick returner is senior Marquise Pleasant. Injuries at quarterback has left them with a former cornerback Jovanni Johnson at the helm now but he's made plays to help win the last two weeks against Catholic and Central.
James said that, defensively, the Cats have strong, physical linebackers and speed in the secondary.
The Hornets still hope to have better success offensively than they did last week and would love to return to the 40-point-plus production of each of the games in their winning streak.
They suffered a tough loss, however, when senior wide receiver Seth Tucker (21 receptions for 277 yards) suffered a broken collarbone in the North Little Rock game. Defensively, it's uncertain how much Marvin Moody, who sat out last week's game due to an ankle injury, will be available to play.
It'll be Senior Night for the Hornets.
2016 CLASS 7A STATE FOOTBALL PLAYOFFS
Friday, Nov. 11
Game 2 — Conway, Cabot, Bryant or Fort Smith Southside (Central 5) at Bentonville West (West 4)
Game 4 — Rogers or Springdale (West 6) at Conway, Cabot or Bryant (Central 3)
Game 6 — Rogers or Springdale (West 5) at Conway, Cabot or Bryant (Central 4)
Game 8 — Conway, FS Southside or LR Catholic (Central 6) at Fayetteville, Har-Ber or Bentonville (West 3)
Friday, Nov. 18
Game 9 — Game 2 winner at North Little Rock (Central 1)
Game 10 — Game 4 winner at Fayetteville, Har-Ber or Bentonville (West 2)
Game 11 — Game 6 winner at Fayetteville, Har-Ber or Bentonville (West 1)
Game 12 — Game 8 winner at Fort Smith Northside (Central 2)
Friday, Nov. 25
Game 13 — Game 9 winner vs. game 10 winner
Game 14 — Game 11 winner vs. game 12 winner
Friday, Dec. 2
Championship game at War Memorial Stadium, Little Rock
Game 15 — Game 13 winner vs. game 14 winner