Photo by Rick Nation
The Bryant Hornets need some good things to happen. Not only are they coming off a frustrating 9-3 loss at home to the Pine Bluff Zebras but the injuries continue to pile up. Two starters on the offensive line, tackle Jordan Jones and guard Seth Hoffmans, have both suffered season-ending injuries; two huge additions to the list that already took up a full sheet of paper. For every player that gets well enough to rejoin the fray, two more seem to go down.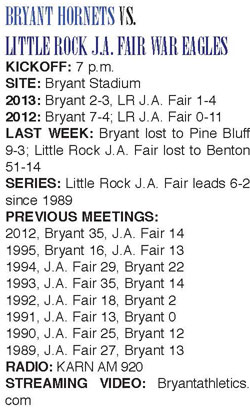 The Hornets have a chance to get a roll going with their next three games against teams with a combined record of 3-11 before they finish against two teams that share the South Conference lead, Lake Hamilton and El Dorado. But, at this point, it doesn't really matter whom the Hornets are playing, they need to play well and gain some confidence, particularly on offense.
The defense stepped up last week with a pair of goal-line stands and some big plays on short yardage.
"I thought we had great effort," acknowledged Hornets defensive coordinator Steve Griffith. "Anytime you're able to hold a team out of the end zone and give up only 9 points to a good quality football team, you're proud of that effort.
"I was very proud of the aggressiveness that we showed," he added. "It was (a step forward). Our challenge to them was two weeks before on the same field we played Catholic and we were not aggressive. We were not playing the way that we've played over the last 15 years. We challenged them to step up and I feel that most of the guys did. We had some really good effort.
"At the same time, we have to learn from situations that occurred," he added. "We had several situations where we could pin them deep in their territory. We allowed them to get out and either flip the field or get down in scoring position. We held them but those are situations where it's a team game and when a team is deep in their own territory you've got to hold them there. You have to give your offense a short field, give them an opportunity to get a score where they don't have to go 80, 90 yards."
The Bryant offense's starting field position averaged out to its own 17-yard line in nine possessions against Pine Bluff.
"We've had real trouble being consistent, throwing and catching short balls to just keep the chains alive," commented Hornets offensive coordinator Lance Parker. "When it's time to throw and it's third-and-12, your percentages go way down, hitting 15-yard throws when they know it's coming. So we've got to keep ourselves out of bad first-down and second-down plays and have the whole playbook, trying to keep third-and-4's where we've got the option to do anything that we've got.
"We're learning it but it's taking us a long time," he continued. "We're having to make every single mistake before starting to grasp, saying hey first down's important and this is why it's important."
J.A. Fair has been down for a while now but the War Eagles did open the season with a win over North Pulaski after they'd gone without one in 2012. And 2011. They had last won over Little Rock McClellan, 7-0, on Oct. 8, 2010. It was their lone win that year.
"They've not won so I think, mentally, there's a big challenge for our guys to come into the game focused, show respect for their abilities," Griffith mentioned. "We talked to them about the fact that those young men, they love football. They're playing in a tough situation and they're out there every week and you have to respect that. You better come with your 'A' game and be prepared to play a team that's hungry for a victory.
"They've got an athletic quarterback (Ja'Quan Smith) that can run a little bit when you flush him out of the pocket," he stated. "Fair presents a challenge for our defense."
"Fair has athletes and they can create some problems," Parker said of the War Eagles defense. "They're just looking for a gap to shoot through and make a play. So we're going to try to make sure we keep it closed in the middle and try to bounce so we're not giving them run-through lanes.
"I think if we do our job, do our assignment and just stay on the blocks, our backs can make the cuts that they need to make," he assessed. "If we're not on our assignment, though, they can certainly cause us problems. They're going to be in almost a different defense every snap so we've got to really lock in on what we're supposed to be doing."
Will the revamped line have an effect on that?
"We've kind of had to play some musical chairs during practice in case somebody gets hurt," Parker said. "Luckily what we do is simple enough for most of the guys to know the other positions. It's not guard-specific or tackle-specific. It's not a huge ordeal if a guy has to move from left guard to right guard. We've got to be able to make due and get through a game."