Photo by Rick Nation
The Bryant Hornets will try to bounce back from a rugged season-opening loss at Conway tonight when they face down the Little Rock Central Tigers and Quigley-Cox Stadium.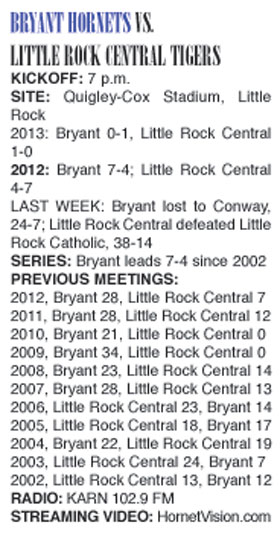 Central is coming off a 38-14 trouncing of Little Rock Catholic while the Hornets were suffering a 24-7 setback to the Wampus Cats.
"I thought, for the most part, we played better than the score indicates," said Hornets offensive coordinator Lance Parker. "Our mistakes cost us points. We had a lot of guys that were making their first start under the lights and those kinds of things happen.
"We did some really good things," he asserted. "We're not way away from being pretty good. I think we'll learn from those mistakes and we'll be better this week and, a few weeks down the road, I see us being all on the same page and we ought to be able to score a lot of points."
A learning experience is what Hornets defensive coordinator Steve Griffith figured the opening loss to be as well.
"Obviously, last week, we played against a very physical football team and hopefully learned," he stated. "In the film room, our young men were very good about realizing when we got ourselves out of position and the concept of knowing they all have to do their job together in order to be successful. When we did that, we made some outstanding plays.
"One of the things we really want to work hard on is — and we did this several times last week — when we had them third-and-5, we allowed them to complete that," Griffith noted. "There's a mental aspect to the game that we have to embrace that, when we get someone in that third-and-5, third-and-6, third-and-7, we can't let them be successful in those situations. Because that's where we want them, third-and-5.
"Hopefully, we learned some things and we'll see Friday night whether we can step up and play a more physical ballgame," he said. "We played hard but there were times when we could've been a little more physical. And our technique, as we got a little tired, went down a little bit. We've worked hard this week on getting in position where we can maintain our technique, which gives us a chance against bigger people to still win the ballgame."
The Tigers are another strong running team but with an experienced quarterback as well in junior Connor Westbrook.
"Little Rock Central has an outstanding running back, the (Logan) Moragne kid," Griffith reported. "They've got a good solid offensive line. They came out against Catholic last week, ran it out of their I formation, power football. Westbrook throws the ball well. It's going to be a challenge to step up."
Defensively, the Tigers will be a challenge as well, said Parker.
"They're a 4-2-5 team," he related. "They're always athletic. They pretty much try to stay in a base defense and, after somebody starts having success, they have a lot of different pressures they like to bring, bringing inside 'backers. They're going to be well coached so we've got to make sure we keep our eyes up and be ready to pick up all the pressures they're going to bring."