Hornets surge to a 35-0 halftime advantage in romp over Bentonville West
EDITOR'S NOTE: Because the look back at each day in Bryant athletic history has been so favorably received during the time when there was no sports during the COVID-19 shutdown, BryantDaily.com will continueposting past stories of Bryant athletics either posted on BryantDaily.com (from 2009 to the present) or published in the Bryant Times (from 1998 to 2008).
For more photos of this event by Rick Nation, go here; by Kevin Nagle, go here
Bryant Hornets head coach Buck James figured that with a few Bentonville West Wolverines players going both ways in the head of a full-moon Friday the 13th, his team might have to eventually wear down the visitors at Bryant Stadium.
Instead, the Hornets . . . wore . . . them . . . out . . .
Flying to a 35-0 lead by halftime, invoking the "mercy rule" for the second game in a row, Bryant cruised to a 38-0 romp that stunned just about everybody, except maybe the Hornets themselves.
The defending State champions improved to 2-0 on the season, by a combined score of 80-14 going into a showdown with third-ranked Fayetteville on the road next Friday.
Bentonville West came in ranked number six in Class 7A, after finishing as a State semifinalist last year. The Wolverines had taken Oklahoma powerhouse Owasso to the hilt before losing 43-37 in week one then plastered 7A-Central Conference member Fort Smith Southside 37-13.
"I think they're very good," said James, after the game. "They're going to win a lot of football games this year. I just think our kids played really very, very well, at a high level. We were hitting on all cylinders.
"It happens like that sometimes," he related. "If you stay in this business long enough, you're going to be in a game where everything goes good for that team and that's what we did.
Bryant's offense amassed almost 400 yards in just the first half. Junior quarterback Austin Ledbetter was 16 of 23 for 309 yards and three touchdowns in the air. Ahmad Adams rushed for 63 yards on nine carries with a touchdown. Neither played in the second half.
Senior Jake Meaders, who caught three passes for 81 yards and two scores at receiver in the first half, played quarterback in the second half and added 117 yards passing on 8 of 14.
For the game, despite the abbreviated second half, Bryant finished with 549 yards off offense.
Ten different Hornets hauled in passes led by Hayden Schrader with six.
Defensively, the Hornets limited the Wolverines to 115 yards of total offense, just 62 in the first half. Bentonville West finished with a net of 12 yards on 17 rushing attempts. The Hornets forced them into 13 lost-yardage plays including nine in the first half.
"Our coaches did one heck of a job of knowing what they were going to do by formations, sets and alignment," James stated. "And our kids studied it enough during the week that when they got ready to play, they weren't fooled by anything they did.
"We talked all week about knowing your rules, knowing your job, knowing what they're going to do and studying film and understanding down-and-distance, and go out and compete. And, you know, I think they did that. And if they can improve off of that then we have a chance to have a really good football team."
Once again, the Hornets were sparked by the play of the offensive and defensive lines, which both were question marks coming into the season.
"Our coaches have done a good job with them," James said. "And, you know, in all fairness to those guys, all they've heard is that they're the weak link. Those kids have done a great job of playing assignment football and doing their job to a high level and wanting to compete.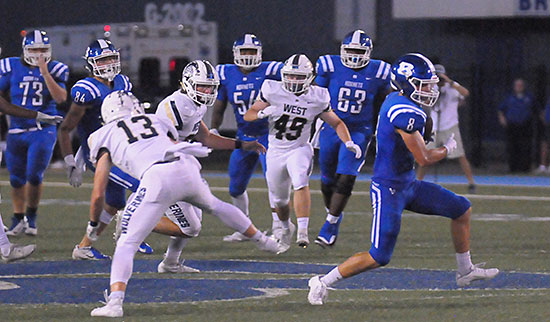 "It's their turn," he emphasized. "Some of those guys are three-year seniors that never played. Some of them are guys that are sophomores. We've got a good mixture. They played great."
The coach noted that, on both lines, several players are seeing quality playing time.
"Those defensive linemen are, at least, three or four deep and they're playing in the first quarter," James remarked. "We've got some depth and it gives kids a chance to go out there and play hard, and know that, if they do, his brother's going to come in and take up the slack when he's resting."
West finished with six first downs in the game. Of the four they managed in the first half, two of them came via penalty. By the time the Wolverines picked up their initial first down of any kind, they were trailing 20-0.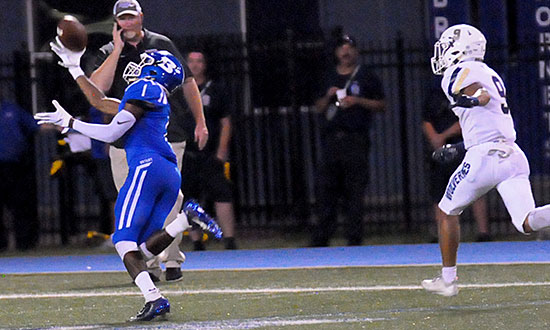 Offensively, the Hornets had six possessions in the first half and scored on five of them.
The first two snaps for the Wolverines lost yardage. Their punter Trenton Davis proved to be one of their bright spots as he averaged over 43 yards an attempt. But his first one went just 38 yards and the Hornets' first possession began just 50 yards from paydirt.
That took them 11 plays to cover. Ledbetter was 5 of 7 along the way including a 7-yard strike to Schrader that converted a fourth-and-3 at the 25.
Moments later, the same duo hooked up for 10 yards to the 5. Adams pounded it to the 1 and Ledbetter kept from there to put the points up.
Bryant's second series covered 62 yards in just four plays, capped by Ledbetter's toss to River Gregory down the right sideline. Gregory had been missed by the Wolverines' secondary and was wide open.
Brock Funk, who hit on all the other extra points and added a late field goal that sailed 43 yards, missed the extra point and it was 13-0 with 3:33 left in the opening stanza.
After an exchange of punts, the Hornets were set at their own 29. Ledbetter and Schrader combined for a 10-yard completion and, on the next play, Ledbetter found Meaders deep down the right seam. Meaders shed a would-be tackler at about West's 40 and sprinted the rest of the way for a 62-yard touchdown.
Funk's extra point made it 20-0.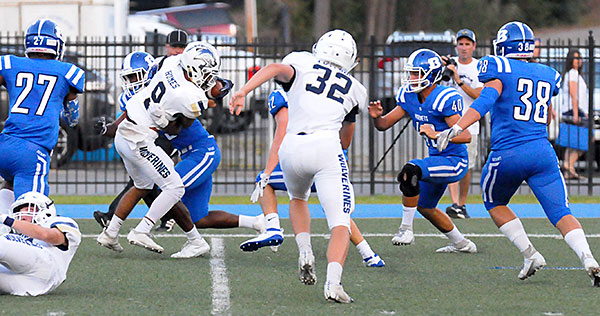 Darrick Rose intercepted a pass by West's Dalton McDonald at the 9 to thwart the Wolverines' best chance to score up to that point. After a penalty pushed them back to the 4, the Hornets proceeded to march 96 yards in five plays, starting with a 28-yard jaunt by Adams and a 66-yard completion from Ledbetter to Tre'vun Herron.
Ledbetter and Meaders combined on the TD, a 5-yard pass play.
With 4:33 still to play in the half, the Wolverines, pinned inside their 20, managed to push out to the 42, thanks in large part to a 22-yard completion from McDonald to Brandon Humes. The drive stalled and West punted it back to Bryant with 2:09 to play.
From their own 12, the Hornets dashed to yet another touchdown. A 24-yard completion from Ledbetter to Schrader got the ball to the 18. With the help of a face mask penalty, the Hornets covered the last 6 yards on a burst by Adams.
With a 33-0 lead, the Hornets went for the two-point conversion to set up the mercy rule. And Adams would not be denied.
With Xavier Foote and Tayvin Jones handling the work on the ground and Meaders' completions of 40 yards on a shovel pass to Myles Aldridge, the Hornets reached the West 21 before the drive broke down.
Aided by a face mask penalty — a flaw for Bryant, 106 yards on 12 penalties — West moved to the 46 but linebacker Catrell Wallace made a big hit to drop Jonas Higson for a loss and another linebacker, Tristan Sehika, sacked McDonald to force another punt.
In the fourth quarter, the Hornets made another bid to score on a drive that was abruptly interrupted by an interception by Stephen Dyson. But, on the next snap, McDonald's heave was picked off by Bryant's Kaleb Knox.
Meaders found sophomore Blake Everett for a 16-yard completion. A play later, senior Rhylan Blevins hauled in a 23-yarder. After reaching the 16, the Hornets appeared to have another 6 points on a run by Foote but a holding penalty pushed them back.
That set up Funk's field goal attempt. At first, it would be tried from 38 yards out but a penalty made it a 43-yard attempt, Funk came through with 2:06 left to play.