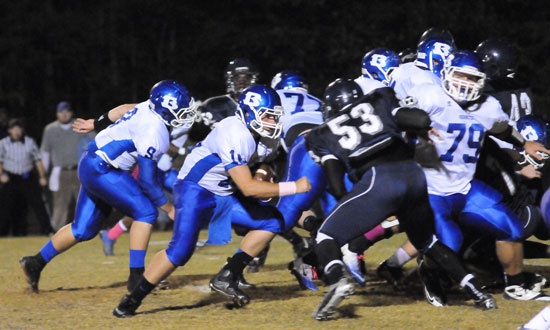 By Rob Patrick
Photos by Rick Nation and Kevin Nagle
LITTLE ROCK — The best thing about the game between the Bryant Hornets and the Little Rock[more] J.A. Fair War Eagles is that it's over.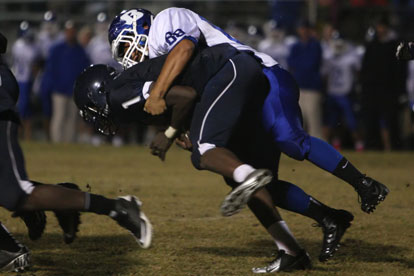 That, and the fact that a lot of younger players got a chance to play in a varsity football game for the Hornets after the first string extended their lead to 35-0, which induced the continuously running clock of the mercy rule.
The War Eagles' starters managed to score a pair of cosmetic touchdowns late and the final was 35-14 in an ugly, cold, damp, disjointed contest that was marred by 28 penalties between the two teams.
There could've been more.
In fact, if the War Eagles' defense could tackle as well as their blockers on offense, it might be pretty good.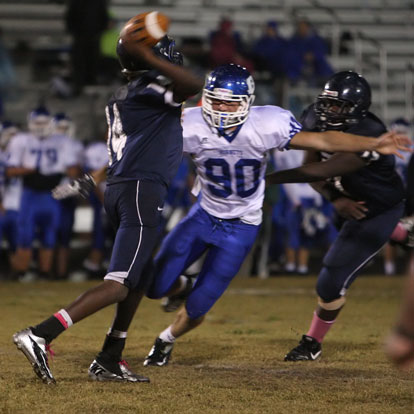 As it was, the Hornets improved to 4-2 overall and 2-1 in the 7A/6A-South Conference as they piled up over 400 yards of offense. Senior linebacker Tyree Reese, working at running back in the Hornets' short-yardage alignment, scored three touchdowns Senior quarterback Hayden Lessenberry completed 19 of 29 passes for 213 yards and a score. Austin Powell caught five passes for 54 yards, one of 11 different Bryant players that had a reception. Sophomore Brandan Warner hit 4 of 5 passes in the late stages of the game.
The Bryant defense forced three turnovers including a game-opening interception by sophomore Drew Tipton that he returned 18 yards for a touchdown. Reese led with 10 tackles. Bryce Denker, Davis Nossaman and Tipton each got in on five stops. Jared Koon recovered a pair of War Eagle fumbles.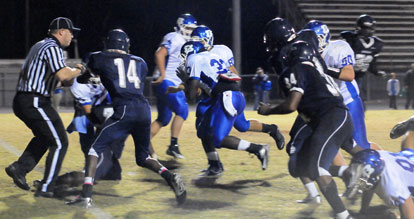 Fair, now 0-6 and 0-3, has lost 21 games in a row. The War Eagles were led by running back Elijah Shepherd, a move-in from El Dorado, who rushed 12 times for 65 yards. Quarterbacks Demarious Robinson and Issac Nelson combined to complete 10 of 29 passes for 101 yards and a score.
There were times — lots of them — it actually looked like the officials felt sorry for the War Eagles as the flags flew against the Hornets 15 times for 135 yards. (Is their mercy officiating?)
"That was as bad as I've ever seen," stated Hornets head coach Paul Calley who, along with his coaching staff, was penalized as well after being given a sideline warning.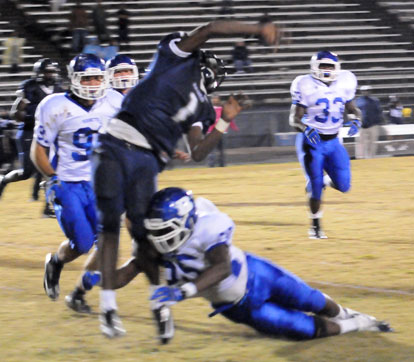 "I was pretty calm the whole night," he asserted. "But I got angry. When Fair had the ball and they were going into the end zone. Aaron Bell jumps up to go to intercept their pass and the (receiver) shoves him down. The pass is incomplete. It's offensive pass interference. (Assistant) Coach (John) Wells is yelling, 'Offensive pass interference, offensive pass interference.'
"The referee on our sideline comes down and he looks me in the eye and he says, 'Coach, that was offensive pass interference but, if we had thrown the flag, you would've declined it anyway. So what's the use of throwing the flag?' That's when I went belligerent and got the sideline warning. I said, 'It doesn't matter what I might or might not have done. If it's a rule violation, you throw the flag.' So he was mad about that because we had words."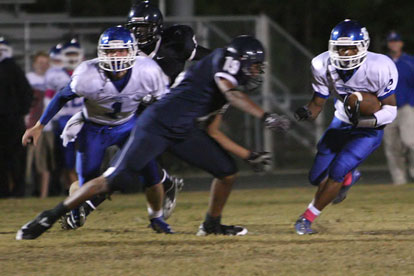 Later, one of the holding penalties called against the Hornets drew Calley's ire. "They called that on us after they had all but de-robed and de-loused our entire defensive line," he recounted. "That's when I asked the official if he was watching them when they were on offense. That's when the guy on the sideline threw the flag on me. So they added to the holding penalty and marked off five more yards.
"We've got some guys dinged up," the coach stated. "Tim Kelly got chop blocked on the interception for a touchdown. Somebody took him out from behind. Then they chop blocked Stoney (Stevens) and he goes down face first. They throw the flag on that then he gets up and their guy hits him in the back, turns him another flip and about broke his neck. So he about broke his leg and his neck on the same play."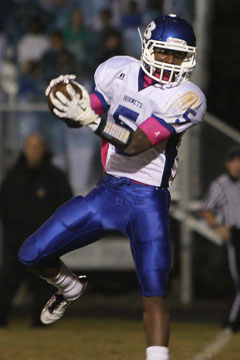 The game never really got into any kind of flow because of the penalties and the protests from both sides. When Fair was on offense, it almost looked like a sandlot game as Robinson and Nelson would start to run and pull up to throw a pass or would start to pass, tuck it, run, then pull up and pass. Ironically, with all of that, the War Eagles were never cited for ineligible receivers downfield.
Tipton's touchdown to start the game came after the opening snap sailed over Robinson's head. With Bryant defenders on his tail, he scooped the ball up near his own goal line and tried the throw it away. He didn't throw it far enough, however, and the sophomore corner made the pick and laced his way down the left sideline to paydirt.
And it was dirt. The game was played on a natural surface, probably the first time the Hornets had played on grass since before they had their own artificial surface installed at the end of 2009.
Leading 7-0, the Hornets forced a short Fair punt and the offense got on the field 51 yards from another score. Sophomore K.J. Hill broke a 41-yard run and the Hornets eventually reached the War Eagles' 1. A procedure penalty moved them back to the 6 and when Lessenberry's pass to Powell picked up just 5, the War Eagles took over on downs.
They managed to drive out to the 29 before Robinson punted. He slipped, however, and wound up with a 3-yard punt.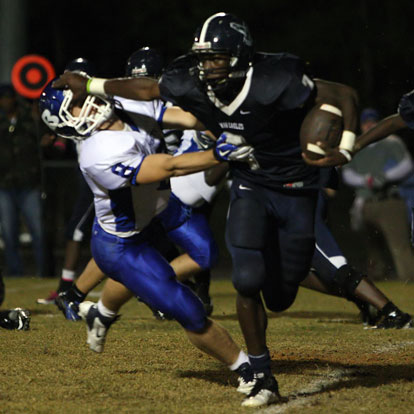 The Hornets took advantage of the short field, driving for another score. Lessenberry's 18-yard toss to Hill set up the touchdown. A 7-yard completion to Wesley Akers got it to the 8 and, from there, Reese scored nearly untouched.
The War Eagles benefitted from a phantom roughing the kicker penalty on their next series but they were unable to make anything of it.
Another punt gave Bryant possession at the Fair 45. They drove to the 26 but Lessenberry's shot toward the end zone and sophomore wideout Brushawn Hunter was intercepted.
On the next snap, however, Shepherd fumbled it back as Koon recovered at the 25.
Lessenberry hit Powell for 12 then junior running back Jacob Irby grabbed a screen pass and reached the 4 to set up Reese's second TD run.
The Hornets had another extensive drive before the half was over, sparked by a 21-yard connection from Lessenberry to Powell. Hill contributed a 10-yard run and 13-yard reception but the drive stalled at the 10 and a field goal try into the wind by Josh Lowery was wide.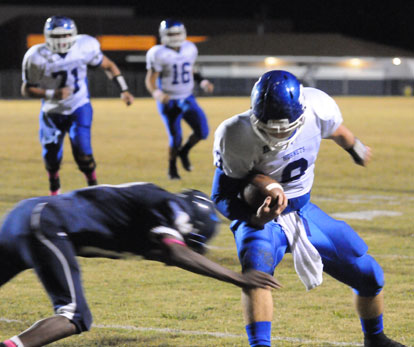 It was 21-0 at the half.
Bryant iced the win with scoring drives on its first two possessions of the second half. Fair tried to open the half with an onside kick but it didn't got the requisite 10 yards before they tried to pounce on it. The Hornets thus had great field position at the 49. Irby slashed for 10 yards then turned another screen pass into a 19-yard pickup to the 5. Once again, Reese did the honors on the next play. Lowery booted the extra point and it was 28-0.
Fair answered with a drive engineered by Nelson, which reached the Bryant 22. On a fourth-down play, Nelson threw to the goal line where Bell knocked the ball down.
Taking over on downs, Bryant drove for the touchdown that led to the mercy rule lead. Akers converted a third-down play early in the drive with a 12-yard burst. Lessenberry then completed a pair of passes to tight end Nate Rutherford. A tunnel screen to Hunter set up the touchdown play.
On fourth-and-5 at the War Eagles' 34, Lessenberry found Hill wide open down the left side, resulting in a touchdown.
Calley started rolling in reserves at that point and, taking advantage of a Bryant fumble, the War Eagles got on the board. A pass interference penalty on a third-down pass that fell incomplete kept the drive alive and set up Nelson's 17-yard touchdown pass to Reginald Bennett. With 8:36 to play, Nelson ran in the 2-point conversion.
Fair scored again with 1:33 showing on a 1-yard plunge by fullback Allen Wesley. A 35-yard completion from Nelson to Dante Sager set up the TD. A try for 2 was foiled to set the final score.
For the first time since Sept. 7, the Hornets will play on their home field this Friday. It's Homecoming as the Sheridan Yellowjackets, coming off a 17-14 win over Benton, comes to town for the first time since 2009.

BRYANT 35, LITTLE ROCK J.A. FAIR 14
Score by quarters
BRYANT 14 7 14 0 — 35
J.A. Fair 0 0 0 14 — 14
SCORING SUMMARY
First quarter
BRYANT — Tipton 18 interception return (Lowery kick), 11:39
BRYANT — Reese 8 run (Lowery kick), 1:44
Second quarter
BRYANT — Reese 4 run (Lowery kick), 9:41
Third quarter
BRYANT — Reese 5 run (Lowery kick), 9:52
BRYANT — Hill 34 pass from Lessenberry (Lowery kick), 3:53
Fourth quarter
J.A. FAIR — Bennett 17 pass from Nelson (Nelson run), 8:36
J.A. FAIR — Wesley 1 run (run failed), 1:33
Team stats
BRYANT FAIR
First downs 19 12
Rushes-yds 30-163 25-87
Passing 23-34-1 10-29-1
Passing yds 245 101
Punts-avg. 0-00.0 5-27.8
Fumbles-lost 2-2 3-2
Penalties-yds 15-135 13-74
INDIVIDUAL STATS
Rushing: BRYANT, Hill 4-56, Irby 10-45, Akers 3-19, Reese 3-17, Warner 1-17, Lessenberry 3-6, Lawhon 3-3, Hunter 3-0; J.A. FAIR, Shepherd 12-65, Nelson 8-30, Wesley 1-1, Robinson 4-(-9).
Passing (C-A-I-Y): BRYANT, Lessenberry 19-29-1-213, Warner 4-5-0-32; J.A. FAIR, Nelson 6-16-0-81, Robinson 4-13-1-20.
Receiving: BRYANT, Powell 5-54, Hill 3-65, Irby 3-33, Rutherford 3-17, Howard 2-22, Hunter 2-15, Vail 1-14, Richards 1-10, Sears 1-8, Akers 1-7, Lawhon 1-0; J.A. FAIR, Sager 3-62, Nelson 3-21, Bennett 2-16, Shepherd 2-2.