RUSSELLVILLE — The 7A-Central Conference-leading Russellville Cyclones probably don't need any more convincing. The once lowly Bryant Hornets soccer team is a contender.
For the second time this season, the Cyclones had to battle through two overtimes and into a shootout before they escaped the Hornets' challenge with a 3-2 win.
Russellville won the shootout 5-4 as the two teams matched penalty kick goals for four rounds after playing to a 2-2 tie through regulation and two subsequent overtimes.
In the team's previous meeting in Bryant, the Cyclones, who have lost just once in league play, won a 3-2 shootout to claim a hard 3-2 win.[more]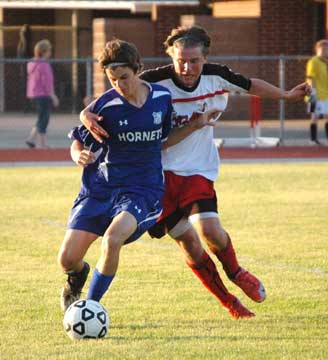 Bryant fell to 9-7 overall and 6-5 in conference. The Hornets, who have clinched no less than a fifth seed for the State Tournament, are set to play in a tournament on Saturday in Jonesboro before returning to action against Conway, one of the teams ahead of them in the league standings, on Tuesday, April 20. They finish up at Cabot on Thursday, April 22, then at home against North Little Rock on Tuesday, April 26.
"It was a close game and, though it doesn't make us feel any better getting beat when you get all the way to PK's, I thought we played our guts out in the second half and both overtimes," stated Hornets coach Jason Hay. "Especially after we were down 1-0 early and they were just wearing us out. It says a lot about the character of the kids. I just hate it for them that we couldn't get the win. But it was a great game."
The Hornets have got to know, however, that they can play with anybody in the State.
"Every one of our games has been close," Hay acknowledged. "And we haven't had a lot of things go our way, with calls or just being unlucky with some kicks. Eventually, it's got to go our way some time. Russellville's a great team but I think we gave them all they wanted. For a team that's been the doormat of the conference for a while, I think we're earning some respect now."
It was still a frustrating loss for the Hornets. Neither of the Cyclones' goals in regulation were of the conventional variety.
And the first goal was a bit of déjà vu about four minutes into the contest. In much the same way Russellville scored in the match at Bryant, a corner kick by the Cyclones was accidentally headed into the goal by a Hornets defender.
Bryant led 2-1 with about four minutes left when, in a scramble, Russellville was awarded a penalty kick.
"They got a ball down inside the 18 and there were two defenders and two Russellville players and I guess everybody got tangled up," recounted Hay. "They called a hand ball. They said that one of our players fell and touched the ball."
The Cyclones knocked in the PK to tie it and, eventually, send it to overtime.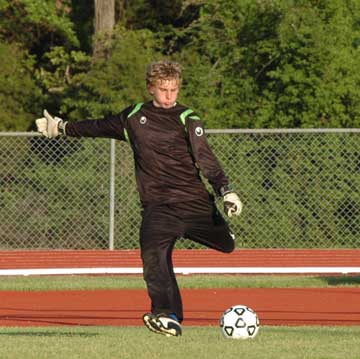 Twenty minutes later, it was still 2-2 and the teams headed for the shootout.
"During the overtimes, I thought we played hard. We both had our chances," Hay related.
In the shootout, Tyler Salminen got the first penalty kick to go then Reed Evans, Jessie Wolf and Denker followed with Russellville answering in each instance. The fourth time, it was just narrowly so.
"Denker almost stopped it but it got in," Hay said. "It bounced off the post and went in off his hand."
On the fifth try, the Hornets missed and the Cyclones got one through to win it.
Hay said that, early in the game, it didn't look good for his team.
"The first half, we played mediocre at best," he stated. "They were 1-0 almost the entire first half and I thought we played pretty average. Russellville had us pinned back. They were shooting the ball left and right. I'll be honest, I was afraid we were fixing to get embarrassed.
"At halftime, we decided to make a keeper change to get (senior) Devin (Norris) out on the field," he related. "Russellville's pretty senior-heavy and big and athletic. There's a reason why they're number one in the Central Conference. We put (Jace) Denker back there (at keeper), we put Devin on the wing and moved (Kyle) Nossaman to the right wing.
"That made us more physical and put more speed out there," Hay explained. "Devin's a senior. He's got a good leg and Denker's been in pressure situations kicking field goals during football season. So I wasn't worried about him. I knew he'd do a good job. We were just trying to put the best 11 athletes we had out there. And the guys responded well to that."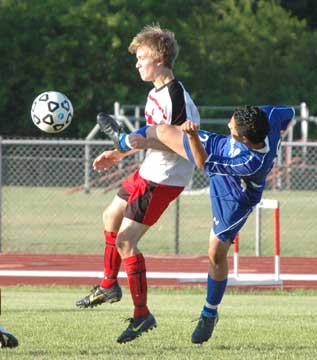 The Hornets scored at the 34:21 mark to tie the game. It was set up by Sean Sobba, another senior.
"Sobba was playing really hard," the coach related. "We're always talking about pressure and playing the full field all the time. The keeper came out, Sobba pressured him and forced a bad pass. Devin got it and tried to chip it in and basically got it to Ben (Stukenberg) who chipped it over the keeper to give us a point. Devin got the assist but Sobba was the key. We talk about that pressure and it's hard to do every time but, eventually, you're going to get something and we did.
"Once we got that, we were rolling," Hay added. "The second half was probably the most physical half of soccer I've seen us play. People just diving all over the place, bumping and being physical, not backing down from a team that's obviously very good."
At 11:13, the Hornets took a lead.
"Brandon Parish came up on an overlap off an assist from Sobba out of the back line and scored," Hay recounted. "Brandon had a phenomenal night and Forrest Fowler out of the back giving us kind of what we've been lacking, getting involved in the offensive attack which is what you have to do when you run what we do. I thought those guys probably played as good a game as I've seen them play all year. Forrest was putting their wing on his side to school, just tearing him up.
"Alex Rowlan came in and took a good shot for us late in the second half," noted the coach. "He wanted back in. He was tough, not wanting to quit. I was really proud of the way all our guys battled."
The 2-1 lead lasted until the pile-up that led to the penalty kick for the Cylcones just four minutes away from a Bryant win.