For more photos of this event by Rick Nation, go here; photos by Andrew Schroeder
When two great offenses go head-to-head, the difference, ironically enough, will ultimately be which defense plays the best.
On Friday night when the Conway Wampus Cats, who averaged 44 points a game, visited the Bryant Hornets, who averaged 55 points a game, in the semifinals of the Class 7A playoffs, the defense that stood up turned out to be that of the home team.
The Hornets held Conway to a season-low 14 points, forced four turnovers and allowed just 46 yards rushing.
Meanwhile, the Bryant offense did its thing, with 530 yards of offense in a 56-14 victory that catapulted the Hornets into their third consecutive championship game. With a 29-game winning streak, Bryant, seeking its third straight title, will once again play North Little Rock in the finals in War Memorial Stadium in Little Rock at noon on Saturday, Dec. 5.
"They did it tonight," said Hornets head coach Buck James, regarding his defense's efforts. "I tell you, I'm really proud of our defensive staff and our players. They really did a great job. That's a heck of a team to hold them to 14 points. To be able to do what they did — just a phenomenal job."
At the beginning of the season, James and his staff knew they had plenty of weapons on offense. They weren't too sure about the defense. They've come a long way.
"We're very blessed," the head coach stated. "We've got good players. They play hard. They play together. And they're unselfish.
"They go out and try to win," he continued. "You don't really coach that. I mean kids either got it or they don't. It's like hunting dogs. They want to hunt. They want to get out there and play. They want to get out there and compete. They're chomping at the bits. I knew it in the pregame, they were ready to play."
More school records fell on Friday night, individually for wide receiver Hayden Schrader who caught seven passes for 209 yards and four touchdowns. He now holds the school mark for touchdown receptions in a season, with 20, and for a career with 32, breaking records held by Jake Meaders (18 TD receptions in 2019) and Richie Wood (31 touchdown receptions in his career from 2002-04.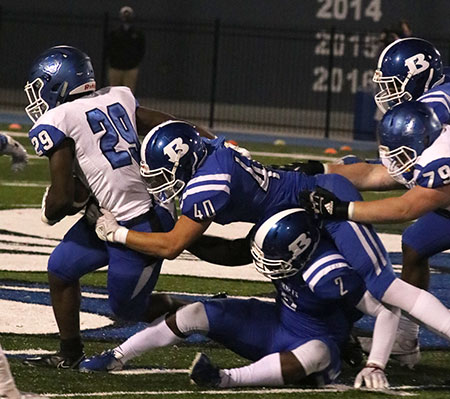 Schrader also eclipsed the school mark for yardage receiving in a career. His 2,624 yards surpasses the record held by Zach Cardinal.
Schrader and senior quarterback Austin Ledbetter have re-written the Hornets' record books.
Schrader has been such a target for Ledbetter that every team the Hornets play has to focus on covering him. Conway was no exception, yet they could not stop him.
"I think Coach (Kirk) Bock and Coach (Adam) Pendergrass and Coach (Julian) Jones — they have creative ways, different ways of getting him the ball," James said, lauding the offensive coaches. "If you noticed, we put him in the backfield a few times tonight."
Schrader would go in motion, making it difficult for the Conway secondary to know where he'd wind up in the formation and who was supposed to cover him.
"He's a great player," James asserted. "Like I told them at halftime, I think every Friday night this year, it's been his birthday.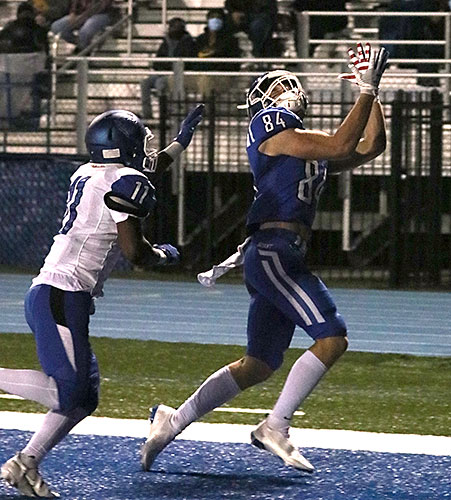 "He's got great body control," he continued. "He's faster than he looks. He does his job. I think that the guy's special. If people can't see that, there's something wrong."
And Ledbetter?
"He can put it in his hands," stated James, adding, "A good offensive line and an unbelievable running game. When you can run the ball like we can, it opens up a lot of things."
Bryant passed for 282 yards and rushed for 248 yards as they continued to consistently move the ball, one way and the other.
Ironically, both teams stumbled out of the gate. A long kickoff return, and a 26-yard pass from quarterback Ben Weese to wideout Bryce Bohannon had Conway in scoring position. But on the Cats' second snap, Weese's pass was intercepted by Hart Penfield.
Bryant's first play went for 34 yards on a pass from Ledbetter to running back Tanner Anderson. But the Hornets stalled and turned the ball over on downs.
Conway took advantage, driving for a score despite the fact that Weese was sacked by Penfield after Andy Scott stuffed a first-down running play.
Eventually, Weese found Micah Mosby for 14 yards and the game's first score with 6:41 left in the opening quarter.
The Hornets answered with a 28-point spree that started and ended with touchdown connections between Ledbetter and Schrader. In between, Anderson had a 29-yard TD run and Jamarian Bracey had a 19-yard touchdown tote.
Anderson, who with 84 yards rushing in the game left him a yard short of 1,000 for the season, scored with 42 seconds left in the first quarter to make it 14-7. On the ensuing kickoff, Stephen Fuller used a sky-kick to get the ball into a gap in the return alignment of the Cats. In a scramble for possession, Penfield claimed it at the 19.
Bracey pounded it into the end zone on the first snap from there. Brock Funk added the extra point to make it 21-7 going into the second period.
Conway picked up a first down to start its next series, but the Hornets' defense stepped up to force a fourth-and-7. Weese was pressured and threw incomplete and the Hornets took over on downs.
From the Conway 45, Anderson sliced through the Conway defense for 17 yards then Ledbetter and Schrader hooked up for the 28-yard touchdown throw that put the Hornets up 28-7.
The Cats struck back to cut into the margin. Weese and Bohannon combined on a 39-yard touchdown pass and with just under 10 minutes left in the first half, Conway had all the points they would muster. The Hornets blanked them the rest of the game.
Bryant's Blake Everett recovered an onside kick and the Hornets, keyed by a 30-yard pass from Ledbetter to Schrader, worked the ball into scoring position again. Ledbetter scrambled for 11 yards to the 18 then threw once more to Schrader for a touchdown that made it 34-14 after the extra point was wide.
With 7:10 left in the half, Conway went three-and-out. Kaleb Knox broke up a third-down pass.
Weese punted the Hornets back to their 34 and, for the first time, Bryant wound up punting it back after a 63-yard touchdown pass from Ledbetter to Schrader was negated by a holding penalty.
With 3:40 left in the half, Conway stayed aggressive and it cost them. They punted back to Bryant with 2:14 left. From the 18, however, Ledbetter found Schrader who turned the completion into an 82-yard touchdown play.
After getting the ball back with 1:55 left, the Wampus Cats continued to throw the ball when they might've whittled the clock down a little more. So, when Koby Melton picked off a Weese aerial and returned it to the 23, the Hornets were in business again. Anderson scored from the 8 to make it 47-14.
Ledbetter threw to Schrader for a two-point conversion and Bryant's lead was 35.
Rodricho Martin ended Conway's first-half attempts to score by sacking Weese on the final play of the half.
With the 35-point lead going into the second half, the game went to the sportsmanship rule, with a running clock in the second half.
The Hornets got the ball to start the second half and, with Bracey running behind the o-line of Will Diggins, Jason Shifflet, Jack Powell, Parker Elswick and Brooks Edmonson, plus defensive end-turned-H back Braden Godwin, pounded the ball 64 yards in six plays. Bracey, who finished with 103 yards on 13 carries in the game, powered into the end zone from 10 yards out with 9:11 left in the third quarter. Funk added the extra point and the final score was on the board.
With the second team defense in the game for Bryant, Conway drove the ball from its 29 to the Bryant 42. But, on first down there, Cameron Booth picked off a Weese toss, giving the reserves on the offensive side a chance to get in to action.
Conway's last possession reached the Bryant 32 where a fourth-down pass from Weese to Manny Smith came up short by a yard.
The Hornets ate up the last 9:25 of the game driving from their own 32 to the Conway 10 with freshman quarterback Gideon Motes and senior running back Xavier Foote doing much of the damage running behind a line of Hayden Walsh, Justin Orinder, Grayson Freel, Gage Alexander and Octavio Resendiz.
Motes got to throw some too along the drive. He completed passes to Daizure Hale, Alec Humphreys and Robert Hendrix.
Time expired with the Hornet reserves down to the Conway 9.