Photo by Kevin Nagle
So, it's week 3 and the Bryant Hornets will finally play a "normal" football game.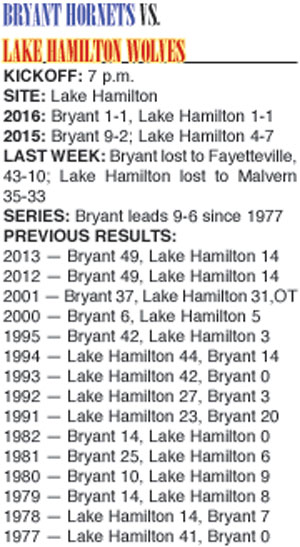 It doesn't have the circus atmosphere of the Hornets' opening game against the arch-rival Benton Panthers in the Salt Bowl with more than 30,000 people on hand.
And, with all due respect to the Lake Hamilton Wolves, they aren't the defending Class 7A State champions or ranked No. 1 in the state this season like the Fayetteville Bulldogs.
Though Bryant and Lake Hamilton have played each other off and on since 1977, often toiling in the same conference, it's not a particularly heated rivalry (though they played games that were genuine doozies in 2000 and 2001).
It's a game between two teams that are engaged in the process of development with new head coaches, coaching staffs that have several new members, new schemes to learn, with inexperienced players who are trying to gear up for varsity football while learning the new stuff well enough that they don't have to think first, just react.
The Hornets and Wolves are also faced with much bigger things ahead (conference play begins for both next week) and need confidence and momentum through victory.
Like Bryant, Lake Hamilton won its season-opening rivalry game, 28-17, over Hot Springs. Unlike the Hornets, the Wolves' week 2 opponent, the Malvern Leopards, was hardly ranked as high overall, though a good team in their classification (Class 4A). And the Leopards only edged the Wolves, 35-33.
"They have a new coach, a new offense, new defense and they're going through a lot of learning curves," acknowledged Bryant head coach Buck James regarding the Wolves. "They don't have a lot of veterans.
"We're still learning the kids and I imagine they are too," he added. "With that, they've had some growing pains as well. The same things that we encounter are the same things that Coach (Jeremy) Reed and his staff have encountered."
Reed is new to the state. He moved to Lake Hamilton from Altus, Okla., where he was named the All-State Coach of the Year after guiding Altus to the Class 5A State championship, the school's first since 1971, according to The Oklahoman newspaper.
Under former head coach Jerry Clay, who retired after last season, the Wolves usually ran a multiple offense and a fundamental defense. Reed, apparently, has flipped the script.
"They're in a double-wing on offense," James said. "That's completely out of their realm, from what they've done. They're running option and the belly and quick pitch."
The Hornets limited Fayetteville to just 51 yards rushing last week despite the lopsided score, but this is a completely different ground attack.
"Defensively, they're in a 3-2 to a 4-2, 4-1 box," James continued. "And they've played a lot of things on defense. They're very multiple on defense, probably the most multiple team we've seen. It's a whole lot to prepare for. I'm looking at about 20 defenses that they have, depending on how we line up. They're very complex on the defensive side of the football."
James lauded the improvement of the Hornets offensive line in last Friday's game. He added, that and many of the other good things his team did were undermined by mistakes — correctible mistakes but mistakes nonetheless — that gave the Bulldogs short fields for all but one of their scoring drives.
Eliminating or, at least, cutting down on those mistakes will be imperative for the Hornets this week.