By Rob Patrick
Photos by Kevin Nagle
It figured that, after winning the Anthony School Classic, their confidence would be bolstered and[more] it showed. The Bryant Blue Lady Hornets of Bethel Middle School put on a shooting display in the first half of their game against the Benton Lady Panthers in an eighth grade game at the Bryant Middle School gym Monday.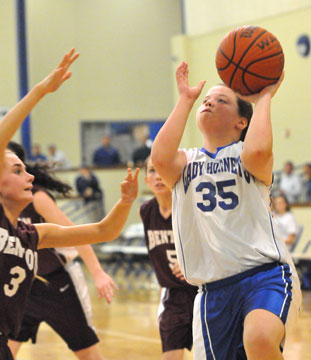 Then, in the second half, they put the clamps on the visitors, holding them scoreless.
The Lady Hornets led 23-9 at the half and wound up winning 36-9 to improve to 4-1 on the season going into the Thanksgiving break. They'll play next on Monday, Nov. 26, at Lake Hamilton.
Ten different players contributed to the scoring for Bryant Blue led by point guard Kendal Rogers' 8. Reagan McCormick added 7 while Riley Hill and Megan Kuchinski finished with 4 apiece. Penny Smith scored 3 points. Morgan Walters, Bethany Hutchison, Kasey Ward, Ti Foote and Sarah Kennedy finished with 2 each.
Rogers scored on a drive off the opening tip and the Lady Hornets were ahead to stay. McCormick followed up with a 3 before Benton managed a free throw.
The teams traded baskets then Bryant scored 8 points in a row to expand the lead to 15-3 early in the second quarter. Hill hit a jumper in the lane, Rogers hit a layup off an inbounds play and Smith grabbed an offensive rebound and scored to make it 13-3 at the end of the quarter. Walters canned a 12-footer to start the second period.
Benton managed to stay within 10 until the last 1:30 of the half when McCormick took advantage of a solid screen and drove to the hoop for a bucket and, with :20 left, Hutchison drained a 15-footer to set the halftime margin.
The Lady Hornets' shooting cooled in the second half. Rogers scored all 4 of their points in the third quarter. And, in the final period, Smith, Kuchinski, Ward, Foote and Kennedy each added to the lead.