LITTLE ROCK – Bryant senior linebacker Marvin Moody and Hornets head coach Buck James have been named by Farm Bureau Insurance among the finalists for the 2016 Farm Bureau Insurance Awards.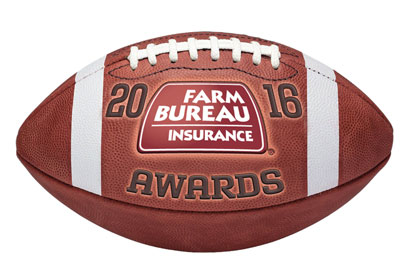 The Farm Bureau Insurance Awards honor Arkansas' top offensive player, defensive player and coach of the year for each classification. The veteran staff at Hooten's Arkansas Football selects three finalists for each category, and those 45 finalists and their families are invited to attend the Farm Bureau Awards in North Little Rock.
Farm Bureau Insurance Executive Vice President and General Manager David L. Moore said, "These 45 finalists represent some of the best coaches and student-athletes in our state. Farm Bureau is proud to honor excellence as the title sponsor of this outstanding event."
Farm Bureau Insurance has supported education and community involvement in Arkansas for more than 60 years.
2016 FINALISTS
CLASS 7A/6A OFFENSE
Jarrod Barnes, Cabot
Alex Day, North LR
Taylor Powell, Fayetteville
CLASS 7A/6A DEFENSE
Akial Byers, Fayetteville
Marvin Moody, Bryant
Tre Norwood, FS Northside
CLASS 7A/6A COACHES
Billy Dawson, Russellville
Buck James, Bryant
Bryan Pratt, Bentonville West
CLASS 5A OFFENSE
Pierre Strong, LR McClellan
Jaren Watkins, Pulaski Academy
Jordan Washington, Sylvan Hills
CLASS 5A DEFENSE
Lane Granberry, Morrilton
Hayden Henry, Pulaski Academy
Devontai Pounds, Wynne
CLASS 5A COACHES
Jared Dutton, Watson Chapel
Chris Hill, Wynne
Kevin Kelley, Pulaski Academy
CLASS 4A OFFENSE
Darius Hopkins, Nashville
Koilan Jackson, Joe T. Robinson
Connor Reece, Shiloh Christian
CLASS 4A DEFENSE
Isaac Disney, Prairie Grove
Myles Fells, Joe T. Robinson
Hayden Lassiter, Warren
CLASS 4A COACHES
Danny Abshier, Prairie Grove
Bo Hembree, Warren
Stephen Neal, Pea Ridge
CLASS 3A OFFENSE
Derrick Flynn, Prescott
DeShawn Gulledge, Bald Knob
Jackson Rowland, Charleston
CLASS 3A DEFENSE
Luke Harper, Walnut Ridge
Jay Marks, Prescott
Drew Young, Charleston
CLASS 3A COACHES
Michael Harrell, Piggott
Greg Kendrick, Charleston
Tommy Poole, Prescott
CLASS 2A OFFENSE
Brayden Brazeal, England
Tanner Gaines, Hector
Monta' Thomas, Hampton
CLASS 2A DEFENSE
Jake Madding, Danville
B.J. Thompson, England
Isaiah Williams, Des Arc
CLASS 2A COACHES
Tony Chambers, Camden H. Grove
Terry Farmer, England
Michael White, Mount Ida