File photos by Rick Nation
Bryant Hornets' first-year head coach Buck James sat down for an interview this week to assess the team's final game against North Little Rock, the landmark 2016 football season, which included the program's first foray beyond the second round of the playoffs, and the status and future of the program.
BryantDaily.com: After looking at the video of the game and assessing, what are your thoughts about the last game against North Little Rock? They were just a tough match-up for your team.
James: "North Little Rock, physically, is where we want to get to. Their mentality, the way they play, the way they carry themselves. They play pretty good team football. Everybody understands their role. They're all committed, dedicated to whatever it takes for the team to be successful, a lot of unselfish players.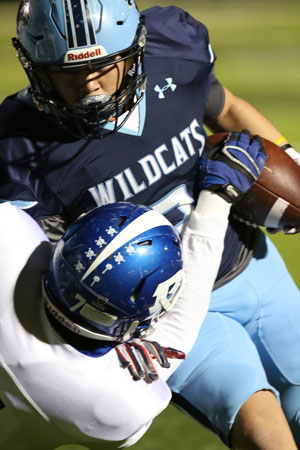 "We're getting some of that. We're understanding a lot of that. I think the biggest thing is, we've got to get bigger and stronger. We've got to get faster. We've got to get better at what we do. And that stuff will materialize for us.
"We had guys there to make plays. They never really busted plays on us like they did in the first contest and probably like they did in a lot of games this year. Our defense was in the right place but we were making tackles 6, 7, 8 yards down the field and they were carrying us for 2 or 3. And their backs always fell forward.
"We did a lot of really good stuff defensively. Offensively, we were able to throw the football but we weren't able to protect the passer. We weren't able to run the football at all.
"I think that's kind of the tell tale sign of all the games that we lost. Fortunately, three of our four losses were against teams that are still playing this week. But, unfortunately, there are still things that we've got to do to beat those kinds of teams.
"I think we made a tremendous breakthrough of what we thought we could do versus what we could really do. We've got to think outside the box. You know, next football season started Monday. We've got to have the mentality that Monday through our first ballgame is going to be a preparation to try to be the best football player we can be.
"A lot of this is about 'me' right now. What I mean is, getting 'me' stronger, getting 'me' faster, getting 'me' bigger. Then it comes into 'us' and what we can do as a team and mesh all that together. But right now, each kid has their own individual mission or preparation to try make themselves better.
"Unless they do that, we're going to have to change who we are, what we're doing and how we're doing it to get us to the level it's going to take to be successful."
BryantDaily.com: Your team came a long way. What was the turning point?
James: "I think once they figured out we weren't trying to tear them down. We were really trying to build them up where they took coaching and the preparation physically and carried it to the field. What we were trying to do on the practice field was prepare them for the grind that they were going to have during the season.
"Not necessarily to punish them but to get them to buy into each other, to get them to understand that everybody has to hang onto the rope. Everybody has to prepare with the end in mind, that teamwork and accountability all mean something when it comes to football teams.
"I think when it clicked it clicked. I told you many times before that I felt like we were close. We were close but we were still a long ways away. We were getting it off the field. We were getting it in the locker room. We were getting it in the film room. But we weren't getting it on the field. When we got it on the field, that's when it started changing."
BryantDaily.com: So you think they felt like they were being punished early on?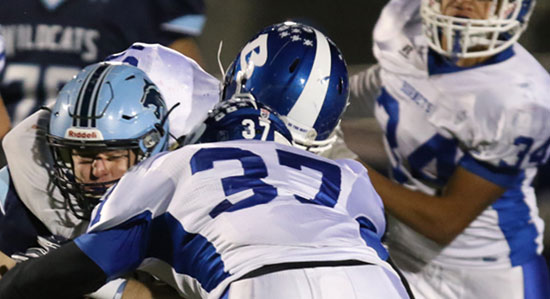 James: "I'm not going to say they took it as punishment but maybe being mistreated. But they had to be in great physical condition. They had to be disciplined. They had to be committed to each other to play harder, for not only themselves but the guy beside them, the guy behind them and the guy in front of them.
"From the worst player on the team to the best player on the team, every guy matters. You can't have successful football teams without the weakest link being strong. I think, in any great football team, if watch any of them — any state championship teams, you watch the Super Bowl, you watch the National championship in college football — you see a brotherhood. You see a tight-knit group of guys that are all committed to the same thing.
"It's the same thing you see in Alabama. They're big, they're strong, they're disciplined; they're able to play at the same level each week. And when you see the NFL champion, that team is going to look the same; when you look at high school champion, they generally look the same.
"Everybody has to be on the same page. Everybody has to work hard. Everybody has to make sacrifices. Everybody can't be the guy everyday and every game. One game, it's got to be this guy. The next game, it's got to be that guy. You've got to be able to hang your hat on multiple different guys to be a good football team.
"Then you've got to be able to run the ball as well as you throw the ball. Then you've got to be good on run defense and pass defense. Then you've got to have unity and discipline on special teams and guys doing their job.
"You know, our special teams were a big plus for us. I thought Hayden (Ray) and our special teams did a really good job. We were always pretty sound in our kicking game. We were always in scoring position if we crossed the 35. That puts a lot of pressure on offenses and defenses for the other team."
BryantDaily.com: So you didn't see this stuff when you first got here?
James: "This is a unique situation in Bryant. We share kids here like 5A schools do. We have a lot of kids that play basketball. We have a lot of kids that play baseball. And that's a good thing.
"The thing that we've lost out on is our development. What it takes to be an athlete. You can take it in any sport that's played, whether it be golf, tennis, football, basketball, whatever. The bigger, stronger guy is the most successful guy.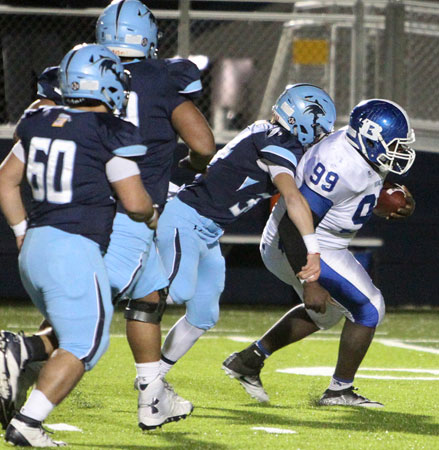 "We are not physically where we need to be. We look for shortcuts. We look for ways out of it instead of embracing it and making themselves bigger and stronger. That becomes a process too. The fundamentals of being developed is something that has to happen from (grades) 7 through 12.
"I've said this many times: We're not going to out-work people from January to August. But we can out-program them. We can do that 7 through 12. We can do that by calling plays the same 7 through 12. We can call defenses the same 7 through 12.
"By having a way we do everything. The way we squat. The way we bench. The way we do calisthenics. The way we run our plays. The way we get in our huddle. All the disciplines it takes to be a good football player can be the same.
"Once they grow through that, then you start having program guys. And I think we did get a lot of program guys this year. We got guys who weren't necessarily great junior high players or even good high school players before, that played at a high level for us.
"That's how you become successful year after year. You don't get successful by winning just when you have good athletes. You have to be good when you don't. You do that on the program years. The lean years are when you lean on your program.
"That's what we've got to understand. That guy that was too small to play in junior high, he's got to stay out. He's got to endure and try to find things that he's successful at. And by the time he's a junior or senior, he's a functional high school football player.
"A lot of times, in junior high, the bigger, stronger guy wins but he's not the best football player. He's just a bigger, stronger guy. That stuff evens out when they get in high school. A lot of times, a guy that was bigger and stronger in junior high doesn't necessarily develop any more from the time he was an eighth or ninth grader than he does before his junior or senior year. So we get a false picture of really where we're at and who we are and what we're able to do.
"When it's time to do it, it's the guys that worked hard, the guys that have discipline, the guys that are committed to it that give you a chance to be successful.
"So many times, we're worried about just me instead of the program. What I wanted to bring to it was, you know, our sophomores are just as important as our seniors. Football, in high school, is about your seniors but our sophomores are the life-line of our program. We've got to have them just as importantly as we've got to have the seniors because we don't just want to be good when we have good players. We want to be good when we have the lean years, when we don't necessarily have the Division I or Division II type football players but we have guys that are really good high school football players, that really do a good job for their team.
"That's where programs are built. That's everybody being accountable to everybody."
BryantDaily.com: Where do you feel like you're at in developing that?
James: "We're still struggling with it because we still have — we can't understand why I don't play or how come I don't dress out?
"I've told our kids many times, Marvin Moody wasn't a great sophomore football player. I believe anytime we go on the field this year — and I'm just using him as an example — I don't think we went to play a game this year where everybody in the stands didn't think that was one of the best football players they'd seen. Marvin's worked hard — and we have a lot of guys that worked really hard to get where they could be a major contributor to our football team and our program.
"It happens slower for some of us than it does others. Just because you're not a great player as a sophomore or a big-time contributor doesn't mean that you can't be your junior or senior year.
"It's just a process. Sometimes we're too small. Sometimes we don't understand the concept well enough. Sometimes it's just that somebody better plays the same position in front of me. But, eventually, if you've got average talent, you've got above or better work habits, a lot of times it'll parlay into you having a good solid senior season or junior season in your career.
"I think there's a lot of merit to a guy that goes out there and plugs, does what he's supposed to do, does it the right way and then makes himself a player.
"That's how we develop the kind of program that the people that live in this community and want their kids to be successful — I think that's the kind of program that everybody would want. It's a blue-collar, hard-working, united group of guys."
BryantDaily.com: I guess the understanding of that is the next step?
James: "We've got a lot of kids. That's a good thing and a bad thing. But having a lot of kids gives you a lot of competition. I'm not a big guy on, just because you're a senior, you should play or just because you're a sophomore you should sit on the bench. I think the best players should play. I think the guys that help our football team be successful are the guys that should be on the field.
"And it's not necessarily the best athlete. A lot of times, the best athlete won't do what he's got to do to help the team versus a guy that's willing to do whatever it takes. That's a program guy, a guy that's committed to the team being successful. There's always got to be blockers, runners, a thrower, a catcher, and everybody's got a job to do. When football teams are successful, you've got 11 guys on both sides of the ball doing their job."
BryantDaily.com: Would you say a program like Greenwood has is the ultimate program like that?
James: "I would say that they have it going on as good as anybody because they have a coach that's been able to establish it. I think we can model our program after theirs.
"I think we could have more athletes than what they have. They're not going to be the most athletic team on the field anytime they play but they play with great heart, great tradition, great discipline. They execute to the nth degree. That's something that we can take a page out of and say, hey, this is what we do.
"And we can do that and still have great basketball and great baseball and great track. We don't have to take away from anybody else to do that and we can embrace it and it would help all of our programs, to get that mindset that, hey, when it's baseball season, we're going to be 110 percent baseball. When it's basketball season, we're 110 percent basketball. When it's track, we're 110 percent track. But when it's football season, it's 110 percent football.
"But the fact of it is, you've got to develop year 'round. You can't, just because you're playing basketball, never lift weights and work on getting bigger, faster, stronger. Just because you're in baseball doesn't mean you take away from getting bigger, faster and stronger. No more than it does in track.
"You've got to have the balance and the discipline. You're looking at a three-year process really. From the second semester of your ninth grade year until you're a senior is a very, very short period of time to have success as a group, as guys you went to school with, a lot of them since first grade. To be able to go out there on the field and play at a high level and be competitive with anybody in the state, I think, says a lot.
"I think that's what most kids want and I think that's what most parents want. Sometimes we just don't want the process of what it takes to get to that. We're in a society where we want it right now and, in football, it's still a sport where the bigger, faster, stronger guy has a better chance. You can out-finesse them but you've still got to have some guys who are physically capable of handling whatever they see on each and every Friday night.
BryantDaily.com: When you look back on this season, what will you be most proud of?
James: "Obviously, our accomplishment of making it to the third round of the playoffs. But I like the way our team came around as a group of individuals. How our team meshed into a group of guys that had a passion to be successful, to work hard as a team, to have everybody else — to expect them to be the type of people that it takes to win.
"We had very few problems. We had very few kids that didn't do what they were supposed to do. It's just that we were able to find a way to pull it together. I guess, pull it up by the bootstraps and say let's get this going and let's do the best that we can. To be able to rally around each other, I think was a big point for this team.
"I told our seniors many times, what they were able to accomplish and pull together and get other guys to buy into to hold this thing together — because the first year anywhere I've ever been has always been the toughest because of changing the mentality of where I want.
"A lot of the programs where I went before I got there were in the same boat. This program's been very successful. I think Coach (Paul) Calley and his staff did a tremendous job.
"But it's like he said, it had to change. We were able to change some things that, maybe, he couldn't have changed because he'd been here for so long. There's going to be things that I'm not going to be able to change after I've been here so long.
"That's what happens in any kind of athletic program. That's why you see what you have in college football or pro football. The mentality's got to change.
"The one thing that I've always tried to pride myself on is, because I did it that way in 1991, it's not necessarily the way we've got to do it in 2000 or the way we did it in 2000 is the way we're going to do it in 2010. Or the way we did it last year is the way we're going to do it next year. You've got to evolve.
"It's simple to say but there's a reason dinosaurs didn't last. They couldn't adapt. They couldn't change. Whether it was the climate, the food or whatever, they weren't able to make the difference.
"I marvel at guys like Don Shula or Tom Landry, that they were able to coach in decade after decade after decade, and find some sort of success. If you look at the history of football, a lot of times the game passes guys by. I want to be relevant. I want it to be, if we can run the football, we run it; if we can pass it, I want to pass it; if it takes us getting stronger, I want to make sure that we do that. When you look at the game of football, the fundamentals are still the same.
"But the offenses and defenses have evolved and you have to change with them. I want to be in the kind of offenses and defenses that they see on TV and make it relevant to them, to where they can watch games on TV and understand what's going on, educate them on the fact that this is where you're going to be by the time you're a junior or senior.
"And you might be the kind of guy that can start as a sophomore. I want guys who are sophomores to say, hey, I've got a chance to play. The best guy will play."
BryantDaily.com: Any final thoughts?
James: "We've got to be in this together. We've got to have the parents and we've got to have the kids. And we've got to have their minds and their hearts. We're in this business because we really like kids and we really want to help kids. We're not against kids.
"I said this when I came here. Three things. I don't think you really get it until you've got it but, one, discipline is not something you do to someone, it's what you do for them; two, be comfortable being uncomfortable; and, third, sometimes it takes until you're about 30 years old to get over playing for me.
"I told some of our seniors that and they just laughed at me. But I'm not here to be their friend. I'm here hoping that I can be a mentor and a guy that they can look back on and say, hey, that was a good experience. That's what's important to me. Them being as good as they can possibly be is important to me, and them having as much success as they can possibly have is important to me.
"I've coached my own son. I'm a dad just like I am a coach and I understand a lot of things about sports but the best thing that, hopefully, when I get through with this whole thing, is that he treated every kid the same. Every kid meant something to him whether he was the best player on the team or the worst player on the team.
"And that every kid gets a chance to be coached. I'm going to get out of this business the day I can't coach every kid the same. I want them to feel important because they're on our football team. I want them to feel like they contributed. It's important to me that every kid practices, every kid gets reps, every kid gets an opportunity to be successful and grow as a person, and grow as a football player. Then, hopefully, all that stuff will carry over into their every-day life as they grow into adults."