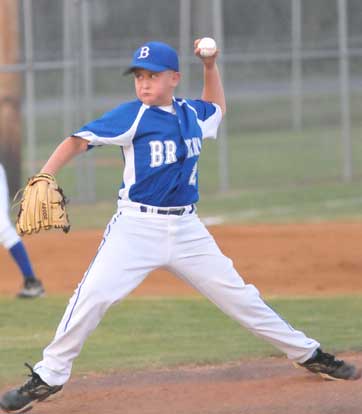 Dylan Johnson held the Benton All-Stars hitless for 4 1/3 innings and finished with a one-hit shutout as the Bryant 10-year-old All-Stars advanced in the winners bracket of District Tournament play with a 10-0 win on Friday at Ashley Park.
Bryant's 10-year-old All-Star squad is managed by Bill Kyzer with assistance from Kirk Schmidt and Chris McKinney. Team members are Myers Buck, Luke Curtis, Caleb Dorsey, Brooks Ellis, Dylan Johnson, Hunter Hilson, Preston Kyzer, Blake Pennington, Matthew Sandidge, Scott Schmidt, Larry Thompson and Cooper Wright.
They are set to return to action on Sunday at 6 p.m., in the winners bracket final against a team to be determined.
Bryant broke up a scoreless game with a three-run third then made it a run-rule victory by scoring six in the fifth.[more]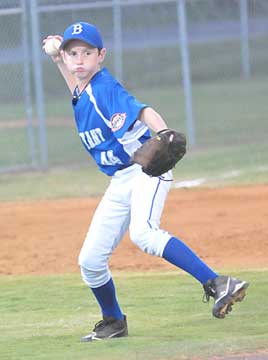 Kyzer had three hits including a pair of doubles. Thompson each had two as he started and ended the clinching fifth with base hits.
The Bryant Stars got off on the right foot in the first inning when, after a one-out walk they turned a 'round-the-horn doubleplay.
That started a stretch in which Johnson and his defense retired six in a row and 11 of the next 12 batters. A two-out walk in the third was the only interruption of that skein before, with one out in the top of the fifth, a single up the middle broke up the no-hitter. But the next two were retired including the final out on Johnson's second strikeout.
Bryant, meanwhile, had runners on base in every inning but didn't break through until the third which started with a bunt single by Sandidge and featured notable patience at the plate. Schmidt reached on an error and, an out later, Johnson walked to load the bases for Hilson. He drew a walk to force in a run then so did Thompson and, with two down, Buck, making it 3-0.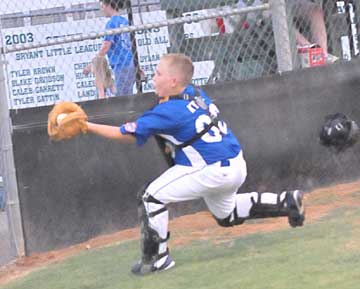 In the fourth, Schmidt reached on a one-out miscue and Kizer doubled him to third. Johnson's groundout drove home the run to make it 4-0.
The big fifth started with Thompson's single to right. Ellis beat out a bunt for a hit then Buck chased both of them home with a shot down the right-field line for a triple.
Dorsey's grounder to second resulted in Buck being tagged out at the plate then Dorsey was forced at second on a grounder to short by Pennington. But the inning continued when Schmidt reached again on a Benton miscue.
Kyzer drove in a run with his second two-bagger then Johnson singled to make it 8-0. A wild pitch allowed Kyzer to score and, after Hilson was hit by a pitch, Thompson ended it with his single to left bringing Johnson in.
(TO PURCHASE THESE PICTURES BY KEVIN NAGLE AND SEE OTHERS, CLICK ON A PICTURE.)