By Rob Patrick
Photo by Kevin Nagle
At the signing ceremony held Wednesday in Love Auditorium, Matt Jones recalled[more] a day of football that had him thinking the game just wasn't for him.
"When I started football, I was a year behind everybody else," he recounted. "I started in White Hall and I was a little quarterback. I got hit by some big, big dude and I told my mom I was never, ever going to play football again. There was no way. I was crying. I said there's no way."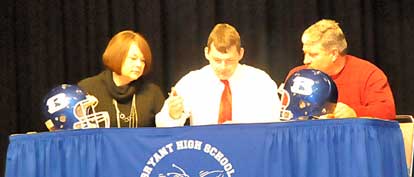 But the family moved and he signed up to play in his new hometown.
"Well, I get to Bryant and there's a kickoff and I'm running and I see Justin Rauch and he just de-cleats me and those thoughts came back in my head," he admitted. "But I said I've got to keep pushing through."
That determination and the work habits that Jones developed as he kept "pushing through" over the years were the key ingredients that helped him earn a scholarship to continue his education and football career at Henderson State University in Arkadelphia.
Oh, and he grew out of being that "little quarterback" to become a 5-9, 215-pound defensive tackle — still small by d-tackle standards, but hardly average quarterback stature either. He played a key role in Bryant's 2010 7A/6A-Central Conference championship season.
"Matt's our plugger," said Bryant head coach Paul Calley. "He's the unselfish one. He had 52 tackles this year but he sacrificed his stats to play inside, get double-teamed a lot. He never gave ground. He was always there. He fought through injuries, helped others, did everything he could do to make his football team better. Jones is the example that every coach loves to point to.
"Last spring, I thought I might need him some on the offensive line," Calley recalled. "He worked offensive line with me all spring plus defensive line plus taking the young guys — James Kidd moves in, he takes James every day and works with him, teaching him things after school to try to get him ready to play for us. That's the kind of unselfish attitude that I'm so proud of from all our players. They're willing to do whatever it takes to help, never seek any glory — they just want to win football games."
And win they did. Jones and the senior class were part of more wins in Hornets blue than any other group to come through so far. They were part of 25 wins.
"In the beginning, in ninth grade, we went undefeated and ever since then we've taken a lot of pride in winning and our success," Jones stated.
Of his decision to go to Henderson, he added, "There were other schools in the beginning of the process at the end of my junior year, like SAU and other schools. They kind of just fell out once I went to Henderson. I fell in love with it. It's tight-knit. It's like a community within itself. It's like a family almost. You're not known by a number when you're a student there, you're known by your name. It's just real personable and I like that.
"I went to a couple of camps this year and looked at a couple of Division II schools," he added. "Obviously, I don't have the size for a D-I but I have a work ethic, the football know-how I guess, and the want-to to play at the next level. Henderson came into play after I went to camp there and I did quite well.
"I didn't have very many accolades at the end of the season but I worked hard and we got to the second round (of the playoffs) and helped my team as much as I could," Jones noted.
"He's earned it," Calley mentioned. "He's going to go through some growing pains when he gets there because of his size but, once he gets accustomed to the practices and how physical the game is — he'll probably redshirt but he's the kind that's going to stay in there and keep his nose to the grindstone until he gets to play."
"Right now, they're talking about red-shirting me and they're not sure if they want to put size on me for d-line or move me back to linebacker," Jones said. "But either way, I'll work the hardest to get to that position that they want me at to help them in their scheme."
Henderson also had appeal regarding Jones' career goals.
"I want to be a teacher and Henderson happens to be a great teaching college," he stated. "That's the final decision-maker, my education there."
Reflecting on his career at Bryant, Jones summed up, "I'll remember stepping out on the field with all these guys, all the great times and the heartbreaking losses. I'll remember those. However we played, we weren't always able to get over the hump but no matter what we were right there."
As reliable as Matt Jones.