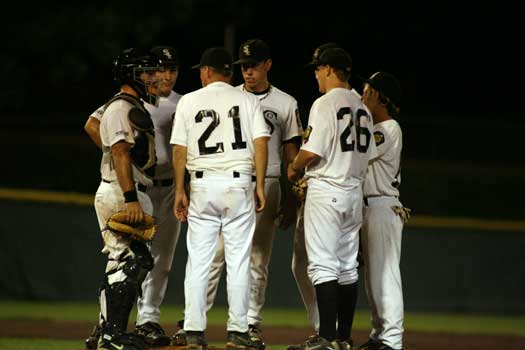 By Rob Patrick
NORTH LITTLE ROCK — Arkansas baseball history was made on Tuesday, July 21, at DeJanis Memorial Field in Vince DeSalvo Stadium, Burns Park. Not only did the last two most recent State champions meet for the 2009 title but both teams included players sporting American Legion World Series patches.
It's a testament to the programs that have developed in Bryant (with all Bryant players) and Jonesboro (with players from Valley View, Nettleton and Jonesboro).
But only one will get a chance at a return trip.
The Jonesboro Ricemen, on the strength of a three-run home run in the bottom of the seventh inning by Kameron Walker, and no-hit shutout relief over the final four innings by Aaron Thomas and Dustin Jones, have repeated as Senior American Legion State champs with an 8-6 win over Bryant's Black Sox.[more]
It wasn't a pristinely executed game but it was as intensely competitive as one could imagine a State championship game to be.
It came down to the final out. Bryant had the potential tying runs at first and second thanks to walks to Kaleb Jobe and Brady Butler but Jones, the third Riceman pitcher, closed it out with a strikeout.
It was a seesaw battle and Young proved to be the difference, going 4-for-5 with two doubles, two homers and five runs batted in. He and his teammates could flat hit, raking 13 safeties including seven for extra bases against Bryant's two best pitchers, Trent Daniel and Tyler Sawyer, both members of the wars of 2007 when the Sox made their run to the Series.
"You tip your hat to a very well-coached, well-disciplined and a team that battles," Sox manager Craig Harrison said of Jonesboro. "They're not the most athletic team here and neither are we but we're the last two teams standing.
"I give credit to our team for just hanging in there all year," he added. "We had a wonderful season, a lot of good memories from this season. It's not the way we wanted to go out but you see there's no tears hear like there have been in the past because we left it on the field. I'm just proud of what we did this summer."
The Sox finished 29-6 which, incidentally makes Bryant's record under the coaching of Craig and Tic Harrison over the last 15 years 497-203.
Jonesboro came into the game after edging Fayetteville earlier in the evening, 4-3. The Ricemen proceeded to build a 4-1 lead after four innings. In the top of the fifth, Cody Garrett slapped a double up the right field line for the Sox. Saywer lined a single to center and, with one out, Jobe hit a high pop in front of the plate that both pitcher Jacob Walls and catcher Conar Kreis went after but neither caught. With the bases loaded, Walls got a strikeout but then fell behind Butler 2-0. His next pitch was launched over the fence in left-center for a grand slam that gave Bryant a 5-4 lead.
Daniel, the Bryant starter, found his groove after working through a two-out bases-loaded jam in the bottom of the inning. The Sox added a run in the sixth on walks to B.J. Ellis, Justin Blankenship and, after a pitching change, Garrett to fill the bags. Sawyer picked up an RBI on a groundout to second to make it 6-4. But even after loading the bases again on an intentional walk to Jobe, the Sox could get no more as Thomas worked out of the jam, starting a run in which he retired eight Bryant batters in a row.
Daniel gave up a lead-off double to Walker in the sixth then struck out five in a row. With two out in the home seventh, Jones hit a dribbler towards second that Austin Benning charged but could not come up with. A tough play, it was nevertheless ruled an error. And it brought up the top of the Jonesboro order. Kaleb Brown, who walked four times in the game, lashed a double to right to put runners at second and third then, when Walls walked, a wild pitch allowed a run to score.
With 136 pitches thrown and Walker coming to the plate, Harrison called on his closer Sawyer. Trying to get ahead, Harrison had Sawyer throw a fastball on his first pitch. Walker, like he knew what was coming, unloaded for a three-run bomb that proved to be the difference.
"We just couldn't get Kameron out," Harrison stated. "We tried curveballs, we tried fastballs, we tried jamming him, we tried pitching him away. We tried to sneak on in there. In hindsight, I probably should've called for something different.
"They took it to us early," he added. "Brady got a big hit for us in an inning that looked like it was going to slip away from us and we weren't going to score. Trent settled in and we felt good with him but he was pitching on guts. The nine-hole gets that little infield single and then they got it around to Kameron."
Jonesboro threatened to add to the lead in the eighth when Kyle Day doubled. Jones followed with a single and Day tried to score only to be gunned down at the play by Garrett from center. Brown walked again but Sawyer struck out Walls to keep it 8-6 going to the ninth.
A pair of walks to open the bottom of the first inning put Jonesboro in position to take the lead. Daniel struck out Walker but, after a pair of passed balls allowed Brown to score, Kody Pinson singled in a run and Kreis doubled. But Daniel fanned the next two to keep it 2-0.
He would finish with 13 strikeouts and six walks in 6 2/3 innings.
The Sox got on the board in the top of the third when Garrett reached on a two-out throwing error and Sawyer lashed a single over the shortstop's head to bring him home. Hunter Mayall followed with a base hit but Walls got the final out, leaving those two stranded.
Walker led off the bottom of the third by nailing a tough curve from Daniel. The solo shot made it 3-1. Pinson and Nath Kerley singled after that but Daniel worked out of the jam with no further damage.
Brennan Bullock reached on a Jonesboro error in the top of the fourth and, with two out, Ellis beat out an infield hit but, again, Walls pitched out of the threat.
A walk to Brown with one out in the home fourth, seemed harmless enough even after he took second on Walls' tap back to the mound. Daniel got with a strike of ending the inning by fanning Walker but his 1-2 delivery, another tough curve, was rifled into the gap in right-center for an RBI double and a 4-1 lead.
But Butler's slam in the top of the fifth was the last Bryant hit of the game as Jonesboro rallied for the victory.
JONESBORO 8, BRYANT 6
Senior American Legion State championship
Black Sox ab r h bi Ricemen ab r h bi
Blankenship, rf 3 0 0 0 Brown, rf 2 3 1 0
Garrett, cf 4 2 1 0 Walls, p-3b 4 2 0 0
Sawyer, ss-p 5 1 2 2 Walker, cf 5 2 4 5
Mayall, 3b 4 0 1 0 Pinson, 1b 4 0 2 1
Jobe, c-ss 3 1 0 0 Kreis, c 4 0 1 0
Bullock, lf 5 0 0 0 Gibson, 3b 3 0 0 0
Butler, 1b 4 1 1 4 Thomas, p 2 0 0 0
Benning, 2b 5 0 0 0 Moore, rf 0 0 0 0
Ellis, dh-c 3 1 1 0 Kerley, lf 4 0 1 0
Daniel, p 0 0 0 0 Hout, lf 1 0 0 0
Day, 2b-ss 4 0 2 0
Jones, ss-p 4 1 2 0
Totals 36 6 6 6 Totals 38 8 13 6
Bryant 001 041 000 — 6
Jonesboro 201 100 40x — 8
E—Jones, Pinson, Walls, Benning, Mayall. LOB—Bryant 11, Jonesboro 15. 2B—Kreis, Garrett, Walker 2, Brown, Day. HR—Walker 2, Butler.
Pitching ip r er h bb so
Bryant
Daniel (L) 6.2 7 4 10 6 13
Sawyer 1.1 1 1 3 2 2
Jonesboro
Walls 5 6 0 6 4 7
Thomas (W) 3.1 0 0 0 3 3
Jones (S) 1 0 0 0 1 2
Walls faced two batters in the sixth.
WP—Daniel, Sawyer. PB—Jobe 2.