Photos courtesy of Cynthia Austin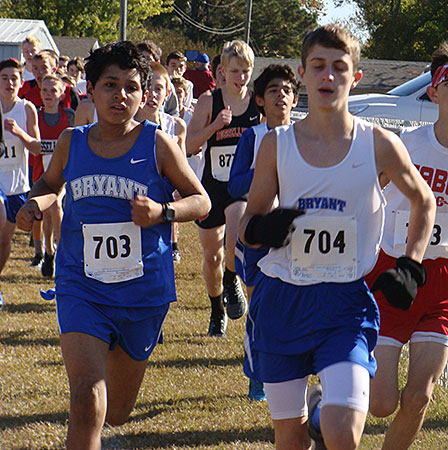 CABOT — Hagan Austin was individual medalist to lead the Bryant Junior Hornets to a second-place finish in the team standings at the Wal-Mart Central Arkansas Junior High championship meet on Saturday.
Cabot won the team competition with 28 points. The Junior Hornets finished with 37 points. Russellville was a distant third with 104 points followed by Conway (138), Heber Springs (228), Little Rock Episcopal (246), Pulaski Academy (250), and Central Arkansas Christian (289).
Austin's time over the two-mile course was 11:09. The Hornets placed two more in the 10 10 with Taj Van Tassell fourth overall in 11:49 and Luis Martinez seven in 11:54.
Rounding out the Hornets' scoring quintet was Johnny Chicas (12th in 12:01) and Chris Herrera (13th in 12:03). Ammon Henderson (14th in 12:04) and George Terry (17th in 12:17) completed the top seven for Bryant.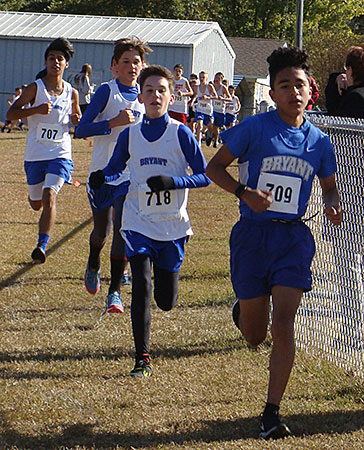 "I'm really proud of how hard the boys fought," said Bryant head coach Steve Oury. "We knew the meet was wide open since Conway moved several of their outstanding ninth graders up to their senior high team. Cabot took it out really fast so we were playing catch-up from the start.
"Hagan Austin worked his way back from a 50-meter deficit to dominate the second mile of the race and easily get the win," he added. "We were really close to closing the gap on Cabot in the team race, but they did a good job of hanging in there."
Oury concluded,"Coach Deanna Porter at Bryant Middle, Coach Denise Smith at Bethel, and Coach Lisa Dreher at the high school campus have all done a great job working with these athletes. It's always comforting to know that when we all come together at the meets that our athletes will be well prepared regardless of what school they attend."