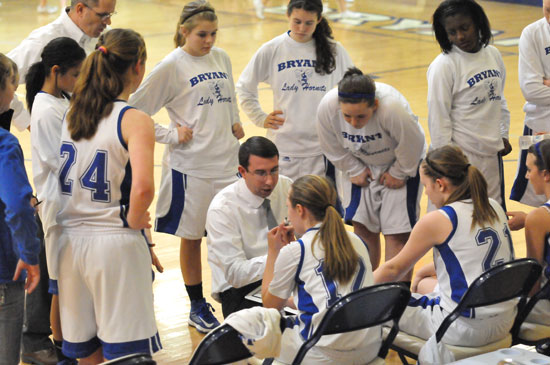 By Rob Patrick
Photos by Kevin Nagle
Skylar Davis was clobbered. But, though she went to the floor hard, her off-handed toss at[more] the basket banked in. Though she went to the line and couldn't complete the three-point play, that basket proved to be the one that put the Bryant Lady Hornets freshman team on top to stay with 1:14 left to play.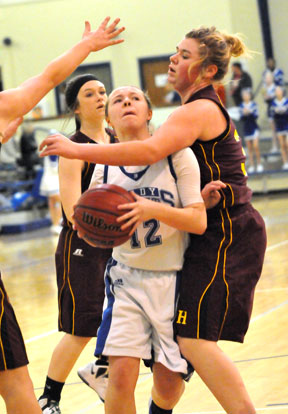 With Davis adding four free throws and Anna Lowery one after that, the Lady Hornets put the finishing touches on a 24-20 win over the Lake Hamilton Junior Lady Wolves at Bryant Middle School gym Thursday night.
It was Bryant's sixth win in its last seven games. The Lady Hornets improved to 2-1 in the Central Arkansas Junior High Conference going into a trip to face Conway White on Thursday, Jan. 24.
"I think, coming back from Christmas, the girls really started to gel," said Lady Hornets head coach Nathan Castaldi who, even when his team was 3-9, asserted that he believed they would hit their stride. "Before Christmas, we were in a lot of games. We'd just have a bad quarter or a slow stretch offensively and that would end up hurting us. We're not having those big long lulls anymore."
The win came against a team that the Lady Hornets had lost to 30-14 on Nov. 26. But it was the second time during their turnaround that they'd turned the tables on the Lady Wolves. On Dec. 30, in the finals of the Lady Wolves tournament, Bryant won the championship with a 25-21 win over the host team. Now, the Lady Hornets have prevailed in their conference match-up.
"It was a big win," Castaldi acknowledged. "Our girls were excited.
"We uglied the game up," he explained. "They're a team that likes to get out and run and get shots off. We made them work for everything offensively, slowed the game down and they really kind of struggled with that."
Lake Hamilton's Alex Murray, one of the best players in the CAJHC, was once again stifled by the defense of Bryant's Anna Lowery. In the Lady Wolves' win over Bryant in November, Murray struck for 12 points. She only got 8 in the rematch and, on Thursday, her frustration continued as she was held to 4 points.
"Anna Lowery did a good job," Castaldi noted. "She's right there in her hip pocket every time she touches the ball. She got some shots off but every single time with a hand in her face."
Bryant's slow-down tactics and tough defense by both teams limited the scoring early. The game was tied 2-2 at the end of the first quarter and, going into the final 2:30 of the half, it was just 6-6.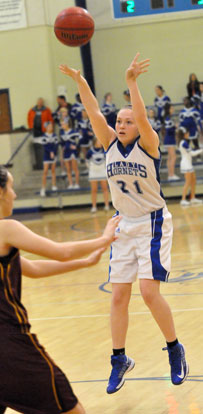 The Lady Hornets finished the half well, holding Lake Hamilton without a basket for the final 2:37 and pushing out to an 11-6 lead by the break. The run began when Kailey Nagle took a kick-out pass from Davis and drained a 12-footer, snapping the 6-6 tie. Britney Sahlmann added a free throw then came up with a steal that led to a trip to the line for Davis who converted both shots.
Davis would lead all scorers with 11 points. Sahlmann added 6 points and six rebounds.
Taylor Fuller paced the Lady Wolves with 6. Maggie Glover had 5 including a 3 in the final seconds of the game that gave her team some hope before Davis sealed the win at the charity stripe.
Lake Hamilton started the second half with a 6-0 run to gain a 12-11 lead. But Sahlmann posted up for a bucket to put the Lady Hornets back on top. After a Lake Hamilton miss, Davis hit a running jumper.
Katie Carpenter scored for the Lady Wolves to make cut the Bryant lead to 15-14 going into the fourth quarter.
Neither team could change that score for half of the final period as they scrambled back and forth. Finally with 2:55 left, Murray hit two free throws to give her team the lead.
But it didn't last long as Nagle pinpointed a pass to Sahlmann inside for a layup to put Bryant back on top. A free throw by Carpenter tied it but she missed the second shot and, after a Bryant miss, went to the line and missed the front end, leaving it deadlocked before Davis' clutch basket.
Lowery hit a free throw with :34.6 showing to make it 20-17 then an illegal screen sabotaged Lake Hamilton's chance to answer. With :25.5 showing, Davis was fouled and, with a one-and-one, delivered both shots to make it a two-possession game.
She would add another free throw with :15.2 to go before Glover's 3 with :08 showing got the Lady Wolves within 23-20.
Lowery finished with 3 points. Nagle and Annie Patton scored 2 each.