By Rob Patrick
Photos by Kevin Nagle
Bryant Lady Hornets freshman basketball coach Nathan Castaldi has preached it all season[more] long. He believes his team can be better than even the players realize. And, for a while on Monday night, playing against what most people believe is the best team in the Central Arkansas Junior High Conference, they showed it.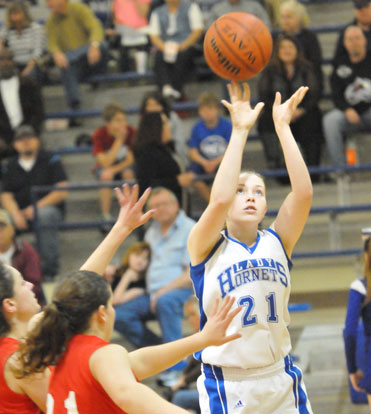 After trailing by as much as 11 points in the first half and by 9 at the break, the Lady Hornets rallied to within 3 of the Cabot South Lady Panthers in the third quarter and kept it there until the final 1:13 of the period.
Cabot South pushed the margin to 10 going into the fourth quarter and wound up escaping Bryant Middle School gym with a 34-23 win.
It was the same Lady Panthers team that had buried the Lady Hornets, 44-15, at Cabot on Dec. 3.
"We competed from start to finish, which, in the first game, we went through long stretches in which we didn't even compete, which is play hard," Castaldi stated. "At the start of the second half tonight, we came out and played as well as we have all year."
He continued, "We talked about it before the game. I said, 'You have to believe too. Coach (Lawrence) Jefferson believes. I believe.' But they have to believe too and I think some of them are starting to believe and once they realize how good we could be, then we'll start playing like that, like we did the first few minutes of the second half, all game long."
The Lady Hornets will try to do that in their final three regular-season games beginning with North Little Rock at home this Thursday. They host Mount St. Mary Academy on Feb. 4 then close with a trip to play Conway Blue on Feb. 7. The Central Arkansas Junior High Conference will follow in Cabot.
Cabot South made it look like Monday's game might be more of the same by scoring the first 7 points of the contest. Bryant's Skylar Davis interrupted with a basket but before the Lady Hornets scored again, they trailed 12-2.
Though a pull-up jumper by Kailey Nagle was answered by a three-point play form Cabot South's Parker Steadman to make the lead 11, Davis followed with a 3. Steadman added a free throw then Britney Sahlmann hit a jumper in the lane for Bryant to cut the lead to 16-9.
A basket in the final minute of the half by Cabot South's Chloe Bean made it a 9-point difference at the break.
Bryant then started the second half with a 6-0 run, holding the Lady Panthers without a point until the 2:01 mark of the period. Anna Turpin started the surge with a 12-foot jumper. Annie Patton banked in a shot from 10 feet out then Sahlmann grabbed an offensive rebound and scored to make it 18-15.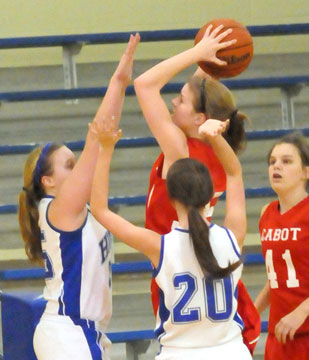 Leighton Taylor hit a pair of free throws for Cabot South but Turpin drained another shot from the elbow to keep the Lady Hornets within 20-17 with 1:46 left in the quarter.
The Lady Panthers' answering run began with Bean following her own miss. Bryant suffered a turnover and Taylor scored before Madison Nichols turned in a three-point play with :08.5 left in the quarter, making it 27-17 going into the fourth.
Both teams struggled to score in the final period. Sahlmann grabbed another offensive rebound and was fouled. She made a free throw with 5:18 to go. Then it wasn't until the 3:20 mark that Cabot South's Anna Sullivan drove for a layup for her team's first points of the period. On the following possession, Bryant's Rachel Miller, getting free on the backside of Cabot's zone, knocked down a short jumper off the glass to cut it to 29-20.
But the Lady Hornets could get no closer. They didn't score again until Anna Lowery drained a 3 with :24 to go, setting the final score. In the interim, Madison Morris scored inside and Taylor hit a 3 as Cabot South extended the lead to as much as 14.