Photos courtesy of Madison McEntire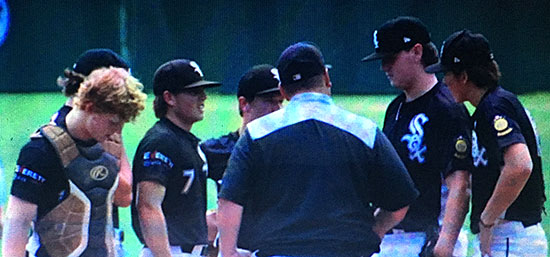 NEW ORLEANS — It took a while, thanks mostly to a rain delay of about three hours, but the Bryant Black Sox began defense of their Mid-South Regional Tournament championship on Wednesday with an 8-3 win over the Salina, Kansas, Falcons at Kirsch-Rooney Stadium.
The Sox advance to play Missouri champion, Jefferson City Post 5 on Thursday around 7:30 p.m. Jefferson City defeated host Retif Oil of New Orleans, 2-1 in the late game on Wednesday.
In other action, the Tupelo, Miss., 49ers dismissed Columbia, Tenn., 7-0, and the Gauthier/Amedee Wombats of Gonzales, La., edged Cape Girardeua, Mo., 2-0.
Salina came into the game having won 35 of 37 games this season but the Sox jumped on them with three runs in the top of the first then added three in the top of the third before the Falcons scratched for two in the bottom of the fourth.
The rain interrupted the game as the bottom of the fifth was about to start. Players from both teams pulled the tarp onto the field.
Scott Schmidt had two hits and two runs batted in, Logan Catton had two hits and scored three times while Myers Buck knocked in a pair to lead the offense.
Bryant used four pitchers with starter Will McEntire throwing 41 pitches in the first two innings and finisher Logan Catton throwing 42 over the final three. That means they'll be eligible to come back and throw again after a day of rest. In between, Boston Heil threw 28 and Schmidt 19. Staying under 30 pitches means they will be available on Thursday.
Schmidt was awarded the win and Catton earned a save for going three innings in relief to close out the game.
Logan Chambers and Logan Catton opened the game against Salina's right-hander Ethan Kickhaefer with consecutive singles. With one out, Kickhaefer unleashed a wild pitch to move them up to second and third. Cade Drennan worked a walk to load the bases for Buck who grounded to third where the Falcons' Brayden Pavey fielded and threw to second for a force. A relay to first in hopes of an inning-ending doubleplay was too late and Buck hustled across the bag with an RBI.
Schmidt lashed a single to right to make it 2-0. With Buck at third, Schmidt took off for second and drew a throw. Buck raced home and crossed the plate before Schmidt was tagged out trying to get back to first, making it 3-0.
McEntire then struck out the side around a walk and a hit batsman in the home first.
After Bryant was set down in order, Pavey singled with one out in the bottom of the second. McEntire struck out his fifth batter but walked Ben Driver.
Up to 41 pitches, Bryant manager Darren Hurt pulled McEntire to preserve him for Friday, if needed. Heil relieved and ended the threat with a strikeout of Zach Farmer.
Chambers walked to lead off the third. Catton took four pitches out of the zone then Jake Wright got a sacrifice bunt down and reached safely when the ball was misplayed at third. Drennan grounded out to second and Chambers scored to make it 4-0. Buck followed with a clutch RBI single to know Kickhaefer off the bump.
Brady McAfee relieved and Schmidt greeted him with an RBI single to left, though Buck was thrown out trying to reach third. Matthew Sandidge followed with a base hit, but a strikeout ended the inning with the Sox up by six.
With the aid of a doubleplay, Heil worked around a pair of singles in the bottom of the third. In the fourth, however, Cason Long drew a lead-off walk, Pavey singled and McAfee helped his own cause with a single to load the bases.
Schmidt relieved at that point and induced a grounder to first. Peyton Dillon fielded the ball and threw to second for a force, but the ball had been hit too slowly for a return throw and a doubleplay and Salina had its first run.
Farmer singled to make it 6-2 and, with two down, Kade Stover walked to load the bases. But Schmidt got Kickhaefer to bounce to Wright at third for a force to end the inning.
After the delay, the Falcons whittled another run off the lead in the home sixth. Driver smacked a one-out triple. He scored when Farmer bounced out to Chambers at short.
Otherwise, Catton allowed just one other base-runner in the final three frames. That came on a one-out single by Long in the bottom of the seventh. The Sox promptly turned a doubleplay to end the game.
Bryant had added a pair of insurance runs in the top of the seventh. Coby Greiner drew a one-out walk from Long, the third Kansas pitcher. With one out, Catton whacked a double to left. With Greiner at third, Wright delivered a sacrifice fly to make it 7-3 and, after Drennan walked, he left first early, drew a throw and Catton raced home before Drennan was tagged out.
It was the second time, the Sox stole a run in the game.
2018 SENIOR AMERICAN LEGION MID-SOUTH REGIONAL TOURNAMENT
At Kirsch-Rooney Stadium, New Orleans, La.
Wednesday, Aug. 8
Game 1 — Tupelo 49ers (Mississippi champion) 7, Columbia, Tenn. (Tennessee champion) 0
Game 2 — Bryant Black Sox (43-9) (Arkansas champion) 8, Salina Falcons (35-2) (Kansas champion) 3
Game 3 — Gauthier/Amedee Wombats of Gonzales, La., (32-3) (Louisiana champion) 2, Cape Girardeau Post 63 (Missouri runner-up) 0
Game 4 — Jefferson City Post 5 (24-9) (Missouri champion) 2, Retif Oil of New Orleans (19-5-1) (host team) 1
Thursday, Aug. 9
Game 5 — Columbia, Tenn. vs. Cape Girardeau Post 63, 9:30 a.m.
Game 6 — Salina, Kansas, Falcons vs. Retif Oil of New Orleans
Game 7 — Tupelo, Miss. 49ers vs. Gauthier/Amedee Wombats of Gonzales, La., 4:30 p.m.
Game 8 — Bryant Black Sox vs. Jefferson City Post 5
Friday, Aug. 10
Game 9 — Game 6 winner vs. game 7 loser, 12:30 p.m.
Game 10 — Game 5 winner vs. game 8 loser, 4:30 p.m.
Game 11 — Game 7 winner vs. game 8 winner
Saturday, Aug. 11
Game 12 — Game 9 winner vs. game 11 loser, 12:30 p.m.
Game 13 — Game 10 winner vs. game 11 winner, 4:30 p.m.
Sunday, Aug. 12
Game 14 — Game 12 winner vs. game 13 winner, 2 p.m.
Game 15 — if necessary, 7 p.m.
Pairings for Game 12 and 13 will not match previous opponents against each other unless absolutely necessary.
If three teams remain after Game 13, the winner of Game 11 automatically draws the Bye for Game 14.