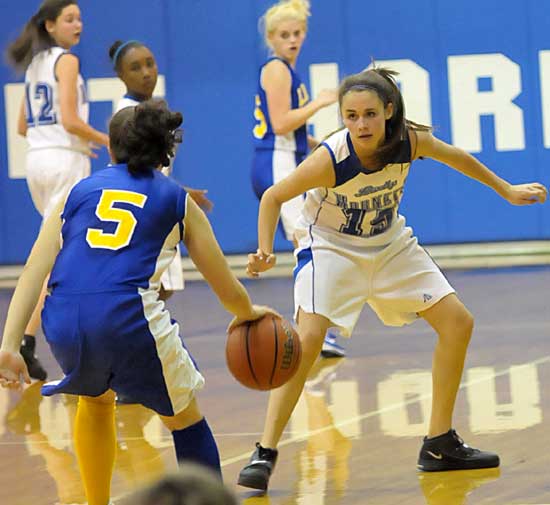 By Rob Patrick
Photos by Kevin Nagle
The Bryant Lady Hornets freshman basketball team looked a little more at ease on Monday night when they played their second game of the season. Admittedly, they were at home but[more] they were playing on the high school gym floor rather than the middle school where they practice most of the time and they'll play most of their home games this season.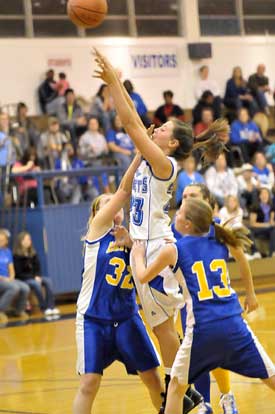 They whipped out to an 8-0 lead and though the Hot Springs Lakeside Lady Rams rallied to tie by the end of the first quarter, the Lady Hornets surged to a 24-16 halftime lead. A 9-0 start to the third quarter produced a double-digit advantage that Lakeside couldn't get back to single-digits the rest of the game.
Bryant's 47-30 victory sets up a semifinal game against Conway White in the annual Bryant Invitational Tournament tonight at 6:40 in the middle school gym.
The Lady Hornets include Aubree Allen, Jessica Alliston, Andrea Buford, Ashlee Caton, Caylin Choate, Dezarea Duckworth, Kaitlyn Greer, Keedy Harrison, Taylor Matthews, Dee-Dee Mosby, Melinda Murdock, Amber Newman, Destiny Nichols, Brittany Privett, Erica Smith, Rori Whittaker and Alex Wright.
"We played better," acknowledged Lady Hornets coach Nathan Castaldi. "We made some shots early which kind of got us off on the right foot. We let them back in it a couple of times. But we answered so I was pleased with that."
The Lady Hornets came in off a tough season-opening loss on a last-second shot at Morrilton.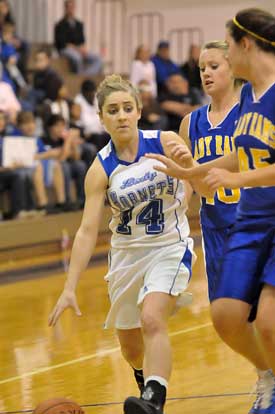 "I think they got that first game out of the way," Castaldi noted. "And I talked to a lot of the girls and they talked about how nervous they were that first game. So I just think a lot of that was first game in junior high basketball. Tonight, we had a little better execution and then we made a lot more shots. Making shots makes things a lot easier."
Allen and Choate led the first-half scoring. Choate scored 6 of her 8 points in the second quarter and Allen had 6 of her 8 in the first half. Whittaker led Bryant with 10 points when she found a hole in the Lakeside zone down the baseline for a trio of open jumpers in the second half.
Duckworth added 6, Smith 5, Harrison and Matthews 4 each and Nichols 2.
Karli Herron led Lakeside with 11 points. She scored all 8 of her team's points in the second quarter but, along the way, picked up her fourth foul and had to sit the end of the period and the start of the third quarter.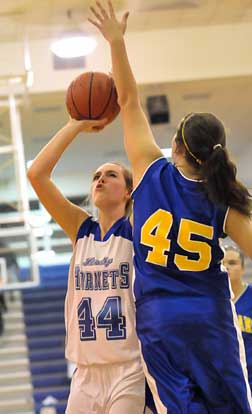 Smith scored the first 3 points of the second half then Allen hit a baseline jumper, followed by one from Whittaker. And when Harrison banked in a 15-footer, it was 33-16.
After a timeout, Lakeside trimmed the margin to 13 but back-to-back buckets by Whittaker from that open baseline area pushed the lead back to 37-20.Hannah Cash connected twice at the line for Lakeside but Harrison found herself open on the wing, dribbled in to take up the slack and knocked down a jumper. After Herron hit a free throw, Nichols knocked down a 15-footer to give Bryant its largest lead of the game, 41-23.
Lakeside whittled it back to 13 late in the game but Matthews went 4-for-4 at the free-throw line in the final two minutes to produce the final margin.