By Rob Patrick
Photos by Kevin Nagle and Rick Nation
BENTON — The Bryant Lady Hornets came, literally, inches from pulling an upset Tuesday night[more] at Panthers Arena. Trailing 45-43 with just :05.5 left to play, the Lady Hornets inbounded the ball needing to go the length of the court to get the basket that would tie it or win it. As it turned out, senior Courtney Davidson got near midcourt and launched a shot that went right to the hoop only to hit the back of the iron and off.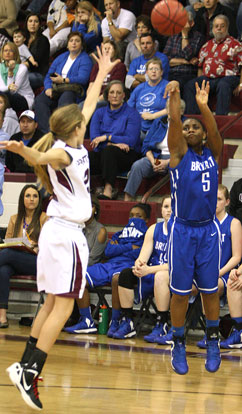 The league-leading Benton Lady Panthers survived with a 2-point win, keeping their South Conference record unblemished. They improved to 17-4 overall.
For Bryant, it was yet another gut-wrenching loss in a close game. The Lady Hornets are 3-5 in league play but their losses are now by one at Pine Bluff, one versus Sheridan, five at El Dorado and two in their return visit to Benton.
In the conference opener for both teams back on Jan. 4, the Lady Panthers had won going away, 49-33.
Such was not the case on Tuesday, though it looked like it had that potential early when Benton opened the game with a 7-0 run that eventually became 18-6 early in the second quarter.
"Our kids seemed a little tight for some reason and we weren't executing on either end of the floor," said Lady Hornets coach Brad Matthews. "Give (Benton) credit. They took advantage of it."
Trailing 10-6 at the start of the second quarter, the Lady Hornets missed their first eight shots of the period. The Lady Panthers' 12-point lead, their largest of the game, resulted.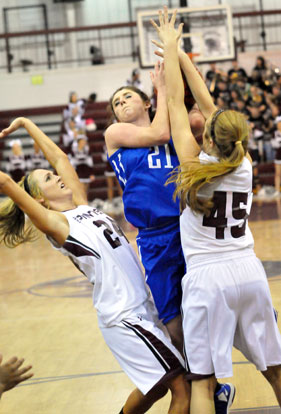 Peyton Weaver ignited a Bryant comeback with a pair of 3's, each on drive-and-kickout feeds, first from Dezerea Duckworth then from Logan Davis. In between those triples, Duckworth made a steal and layup and, after Kristin Scarlett blocked a shot by Benton's Braylee Landreth, Davis drove the baseline for a bucket that had Bryant within 18-13.
It was a 5-point game at the half, 23-18. And when Duckworth hit a driving jumper to start the third quarter, the lead was trimmed to 3.
Though Benton never relinquished the lead, Bryant wouldn't go away.
"I'm proud of our kids' effort," Matthews stated. "I thought we really competed hard after that initial four or five minutes. I thought Peyton Weaver really shot it well in the first half and really kept us in it. I thought she hit some really big buckets before the rest of our kids kind of got into the flow. That was good for Peyton.
"I thought our kids showed a lot of heart, a lot of character," he continued. "It's a tough environment. To fight back and fight back and fight back — we gave ourselves a chance there in the last couple of minutes to win the game. We just couldn't make the play to really get over the hump."
Benton appeared to have weathered the storm when they extended the lead to 41-33 going into the final minute of play. Duckworth hit a 3 with :55 left and, after Benton's Braxton Chumley hit a pair of free throws, Davis answered at the line. She then came up with a steal and fed Courtney Davidson for a basket inside to bring it back to 43-40 with :21 left.
After a Benton timeout, the Lady Hornets fouled Madi Brooks with :13.9 showing. Brooks, who led all scorers with 19 points canned both free throws to make it 45-40.
But, with :07.1 on the clock, Duckworth banked in a triple from the top of the key and the Lady Hornets with within 2.
After a Bryant timeout, Carmen King was fouled with :05.5 to go. And when she missed both shots, the Lady Hornets had their last desperate chance that nearly made them a winner.
Duckworth finished with 16 points, Davis 10, Weaver 9 and Davidson, still less than 100 percent due to illness, had 8 to go with a game-high seven rebounds.
The Lady Hornets were 9 of 12 at the free throw line. Benton shot 14 free throws in the first three quarters then 14 more in the fourth as Bryant tried to rally. The Lady Panthers were 19 of 28 from the line for the night.
Matthews appeared particularly perturbed about the lack of calls for illegal screens on the Lady Panthers.
"Moving forward, we're starting to get a little more consistent on offense," Matthews commented. "We just didn't get off to the start we needed tonight against a very good team."
The Lady Hornets will have a chance to avenge the one-point loss to Pine Bluff when the Fillies come to Bryant this Friday.
LADY PANTHERS 45, LADY HORNETS 43
Score by quarters
BRYANT 6 12 8 17 — 43
Benton 10 13 10 12 — 45
LADY HORNETS (9-13, 3-5) 43
Player fg-fga ft-fta reb fls pts
o-d-t
Duckworth 6-13 1-2 1-4 5 4 16
Davis 3-10 4-4 1-1 2 3 10
Weaver 3-5 0-0 1-0 1 2 9
Davidson 2-8 4-6 2-5 7 4 8
Meyer 0-1 0-0 1-4 5 3 0
Smith 0-3 0-0 2-0 2 4 0
Scarlett 0-0 0-0 1-1 2 1 0
Murphy 0-1 0-0 0-1 1 0 0
Anderson 0-1 0-0 2-1 3 0 0
Team 0-1 1
Totals 14-42 9-12 11-18 29 21 43
LADY PANTHERS (17-4, 8-0) 45
Player fg-fga ft-fta reb fls pts
o-d-t
Chumley 0-4 4-4 1-5 6 2 4
Parker 1-3 0-0 0-2 2 3 2
Reynolds 1-4 0-0 0-2 2 0 3
Brooks 5-9 9-11 2-2 4 4 19
Dintleman 3-6 2-3 1-3 4 2 8
Landreth 1-4 4-8 2-1 3 0 6
King 1-4 0-2 0-1 1 0 3
Team 1-0 1
Totals 12-34 19-28 7-16 23 11 45
Three-point field goals: Bryant 6-11 (Duckworth 3-3, Weaver 3-4, Davis 0-3, Davidson 0-1), Benton 2-8 (King 1-4, Reynolds 1-3, Chumley 0-1). Turnovers: Bryant 13, Benton 12.