Photos courtesy of Julie Shelby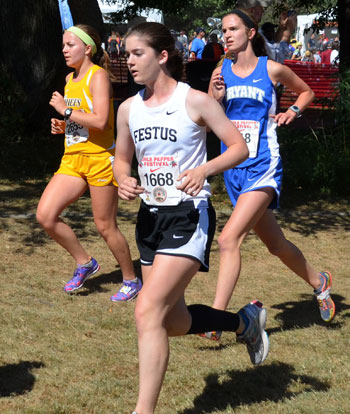 FAYETTEVILLE — The Bryant Lady Hornets competed Saturday at the Chile Pepper Cross Country Festival, which is considered one of the largest meets in the USA. The meet is held at the University of Arkansas and brings together top college and high school teams from around the country .
The Lady Hornets finished 39th in the team competition with a total of 1,093 points. They were the 11th Arkansas team. There were a total of 70 teams and 549 individual runners in the race.
Bryant was led by Hannah Shelby who finished 98th with a time of 20:13. Bree Hood was Bryant's second runner placing 248th in a time of 21:47. The rest of Bryant's top eight competitors were Reagan Smith (252nd, 21:52), Haley Hood (299th, 22:19), Lauren Hart (344th, 22:56), Kaylin Watts (345th, 22:57), Avery Lorio (441st, 24:16) and Esmeralda Limon (452nd, 24:29).
"I was proud of our effort in such a huge field of runners," said Lady Hornets coach Danny Westbrook. "Hannah Shelby ran strong and I was proud of Bree Hood and Reagan Smith for breaking 22 minutes."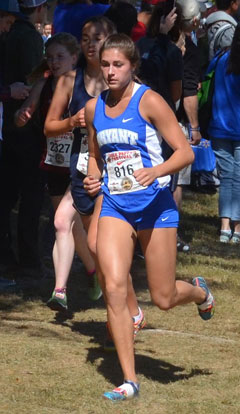 Junior Girls
The Junior Lady Hornets took 10th place overall in a field of 36 teams and 484 total runners in the Junior High Girls division of the Chile Pepper Festival.
Bailey Brazil was Bryant's lead runner in 62nd place with a time of 23:06. Close behind Brazil was Olivia Orr who finished in 69th place with a time of 23:11. The other top seven finishers for Bryant were Zhania Hall (90th, 23:31), Sydney Dettmer (91st, 23:32), Maribeth Mead (119th, 24:11), Mika Johnson (129th, 24:16), Jillian Colclasure (140th, 24:27), McKenzie Moore (148th, 24:35), and Madison Dettmer (231st, 25:53).
"I was very proud of our 10th place team finish," said Westbrook. "I thought eighth-grader Olivia Orr had an outstanding performance today."
The Lady Hornets are set to host the annual Bryant Invitational at Bishop Park on Saturday, Oct. 10.