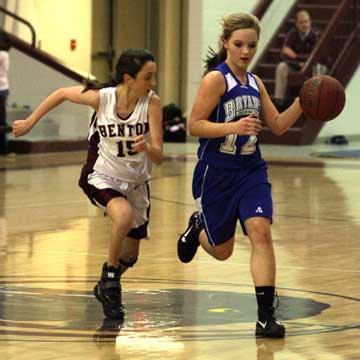 By Rob Patrick
BENTON — The Bryant Lady Hornets freshman basketball team wrapped up a phenomenal 24-0 regular season including a 14-0 run through the South Division of the Central Arkansas Junior High Conference with a 37-25 win over the rival Benton Lady Panthers on Thursday night.
The game, which was originally scheduled for Monday, Feb. 8, but was postponed to Thursday by snow, was one of those that wasn't as close as the final score might indicate.
Bryant roared to a 21-2 lead in the first half and led by 25 going into the final five minutes when Benton rallied as Lady Hornets head coach Eric Andrews mixed and matched his lineups giving playing time to all 11 of his players.[more]
"The past two times we played Benton, they fought us tooth-and-nail," declared Lady Hornets coach Eric Andrews. "They played us real tough. We wanted to come out and take control of this game early. We wanted to try to set the tone, get the pace of the game the way we wanted it. And, tonight, we did a good job of doing that right off the tip."
Leading scorer McKenzie Adams only played seven minutes of the game but scored all 13 of her points during that time. She turned in consecutive three-point plays after gathering offensive rebounds in the first minute of the second quarter, completing three-point plays both times to take the Bryant lead from 13-2 to 19-2.
"McKenzie was kind of on a bum ankle," Andrews noted. "She'd turned her ankle (Wednesday) in practice. It didn't look like it affected her a whole lot. She came out and played really well in the first half. Luckily, it was good enough that we were able to keep her out in the second half and rest that ankle and get ready for the tournament."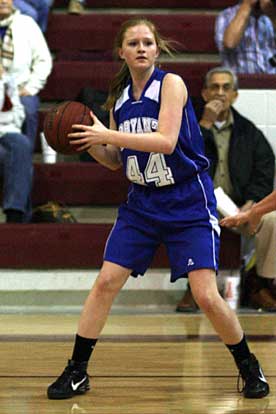 The Central Arkansas Junior High Conference post-season tournament will commence on Saturday at Sheridan. Bryant, the top seed from the South, will open against the No. 8 team from the North, Russellville West, at 1:45 p.m., on Saturday. Benton, the fifth seed from the South, will open at 11:15 a.m., against Conway White, the fourth seed from the North. If both teams win, they'll play against each other again in the second round on Monday, Feb. 15, at 6:30 p.m.
"I go a lot of times without even thinking about (being undefeated)," Andrews said. "We think about the next game and what we want to accomplish. We talked in the locker room tonight that the tournament starts a whole brand new season. We've got to be ready to play because we know that a lot of people want to make their year by winning this tournament. We have to make sure that we're prepared.
"It means a lot," he allowed. "To me, I want the kids to be happy with what they've accomplished. They've worked hard. I try to do my job like I do it every year. The kids are what make the difference. They're a special group. They put in the effort every day and they deserve it. It wasn't just something that was given to them, they went out and got it."
Adams opened the game with 7 straight points including a 3-pointer with 3:33 left in the first quarter. Benton's Madi Brooks hit two free throws with 3:05 left in the opening period then the Lady Panthers didn't score again until there was just 1:10 left in the half.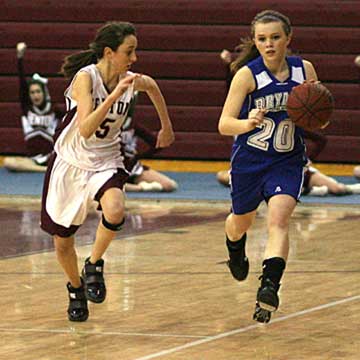 In the meantime, Brooks' free throws were followed up by a Bryant miss but, eventually, Logan Davis made a steal and drove for a layup. Kiara Moore fed Whitney Meyer for a basket then Meyer dished to McKenzie Rice for a basket with :06 left in the quarter, giving the Lady Hornets a 13-2 edge.
Adams' dual three-point plays opend the second period then she went to the bench for the rest of the game.
Lauren Buck canned a 15-footer from the left of the top of the key to complete the 21-2 blitz with 2:21 left in the half.
And, after Allison Reynolds drained a 3, Moore drove for a bucket to make it 23-5 at the half.
Brooks hit a free throw to start the second half scoring but Bryant followed with an 11-1 blitz, producing the largest lead of the game at 27. The run was sparked by Moore who started with a three-point play. A layup by Davis was followed by a steal by Buck that eventually led a driving layup by Moore. Rice fed Hayley Murphy for a basket inside and Moore made a steal that got her to the free-throw line where she converted twice to make it 34-7.
A basket by Benton's Laura Britt made it 34-9 going into the fourth quarter.
The Lady Panthers outscored Bryant 16-3 in the final period to trim the lead down to 12 before the game concluded.
To go with Adams' 13 points, Moore finished with 12. Davis added 4 and Meyer, Rice, Buck and Murphy picked up 2 each.
Brooks led Benton with 8 points. Korie Parker had 7, Britt 5, Reynolds 3 and Grace Lile 2.