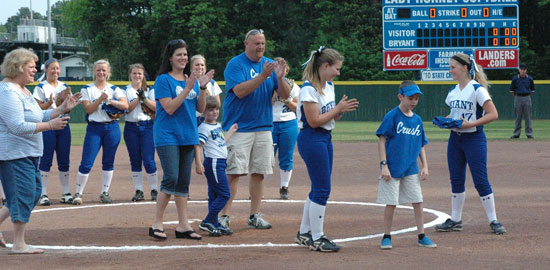 Photos by Val Nagle
The Bryant Lady Hornets softball team held a fundraiser Thursday during their game against[more] the Van Buren Lady Pointers for Team Lando Commando as part of Autism Awareness Month. Members of the Team and the Miracle League were on hand to throw out ceremonial first pitches. In all, $300 was raised including a check from the Van Buren team.
Among those that were expeceted to deliver ceremonial first pitches were Al Hunt, who was accompanied by his dad James, his mom DeAnn and his cousin Breanna Forsyth, a member of the Lady Hornets team;
Caden Milliken, accompanied by his dad John, his mom Missy, his sister Presley, his grandmother Sharon, his aunt Vickie and Lady Hornets Sadie Powers and Brianna Davis'
Landon Scudder, accompanied by his mom Carrie, his dad James, his brother Grayson and Lady Hornets Jenna Bruick and Cassidy Wilson;
Andrew Mercer, accompanied by his mom Annette, his grandmother Laura and his cousin Mercedes Dillard of the Lady Hornets team;
Kade Beaty, accompanied by his mom Shannon, his dad Chad, his brother Kyle and his cousin Peyton Jenkins of the Lady Hornets team;
Cade Trickey, accompanied by his mom Christy, his brother Cason, his nana Paula, grandfather Duane, aunt Carrie, uncle Scott and cousins Betsy and Joee Richey of the Lady Hornets team.
Headbands donated by the Lady Hornet Softball Booster Club were sold as part of the fundraiser and shirts for the boys and their families were donated by Sport Shop of Benton.
The Lady Hornets won the game 12-0 to improve to 27-0 on the season.