By Rob Patrick
Photos by Kevin Nagle
The Bryant Lady Hornets junior varsity team closed out a close game in the first set then surged to[more] a lead in the second and eased to a 2-0 sweep of their counterparts from Van Buren at the Hornets Nest Tuesday night.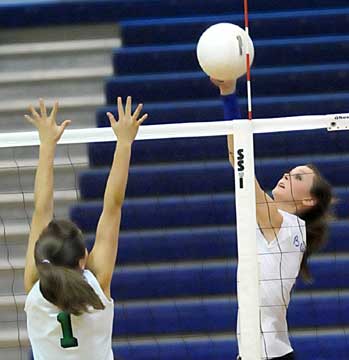 It was the team's sixth win in eight outings this season.
Courtney Davidson had five kills and Aubree Allen four to lead the team to the 25-22, 25-16 victory. Carley Choate had seven assists while Caylin Choate was good on 12 serves with three aces. Davidson was also good on 12 serves with a pair of aces.
Bryant led most of the night but, in the first game, Van Buren had cut their lead to 3, 18-15. At 19-16, Davidson and Erica Smith came through with a clutch block and, moments later, Caylin Choate served up her first ace. An error by Van Buren followed as the Bryant lead grew to 22-16.
Van Buren rallied one more time to get within 23-20 but a kill by Allen stemmed the tide for the moment but a hitting error cost the Lady Hornets then a block had the Lady Pointers within 25-22 before a dink by Kaylon Wilson secured the first game for Bryant.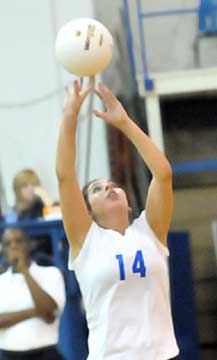 The second game was tied 2-2 when a service error resulted in a sideout for the Lady Pointers.
With Caylin Choate serving, Davidson slammed a kill to the floor to start a 7-0 run that included two more aces by Choate and another kill by Davidson before a service error cost the Lady Hornets' control.
Van Buren, however, was unable to keep it long. Another kill by Allen then a series of Lady Pointer errors pushed the margin to 14-4.
The lead fluctuated between nine and 11 most of the rest of the way as Bryant answered every time before Van Buren could get a roll going.
Late in the game, the Lady Pointers trimmed the margin to 23-16 but the Lady Hornets closed it out after that with the help of hitting errors by the visitors.
The Lady Hornets host North Little Rock this Thursday.