Photos courtesy of Cynthia Austin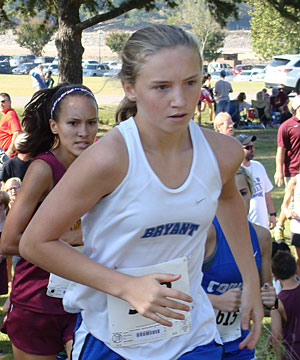 RUSSELLVILLE — The Bryant Lady Hornets took a partial squad to the Cyclone Cross Country Invitational on Saturday, placing ninth out of 14 teams.
Bryant rested its top runners for next week's Chile Pepper Invitational in Fayetteville, in which only eight runners will participate.
The Lady Hornets scored 261 points. Team champion Little Rock Christian scored a total of 38 points. There were 182 runners in the race.
Bryant's lead runner was Melissa Barrientos who placed 47th in a time of 24:31. Finishing out the top seven were Carissa Colclasure (70th, 26:21), Alyssa Rowland (73rd, 26:24), Kaylee Butler (77th, 26:45), Sara Gonzales (80th, 27:02), Gracen Goudy (86th, 27:28), and Madelyn Elswick (91st, 27:37).
Other finishers for the Lady Hornets were Jordan Duvall (92nd, 27:37), Katherine Goins (112th, 28:36), Emma Kinder (149th,32:44), and Tess Sullivan (179th, 37:18).
"Melissa Barrientos had an outstanding race today," said Bryant coach Danny Westbroo. "I was proud of our girls for competing hard on a tough course on a very hot day."
Junior girls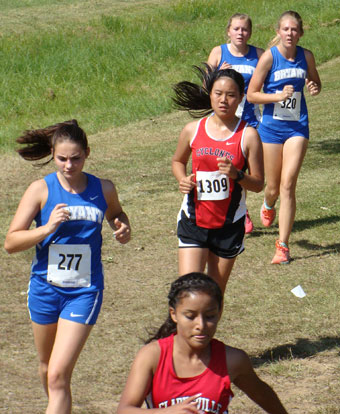 The Junior Lady Hornets finished third in the team competition. Russellville won the title with 68 points followed by Vilonia with 85 points. Bryant scored 110 points. There were 14 teams and 213 total runners in the race.
Bryant was led by freshman Bailey Brazil who continued her string of top 10 performances by taking seventh place in 13:42. Seventh-grader Sydney Dettmer also earned a medal with her 18th place finish in 14:16.
Finishing out the scorers were Zhania Hall (21st, 14:24), Olivia Orr (34th, 14:54), and Jillian Colclasure (39th, 14:59).  The top seven included Mika Johnson (41st, 14:59) and Maribeth Mead (42nd, 15:01).
"I thought Bailey Brazil and Sydney Dettmer both ran outstanding races today," Westbrook said. "Our junior girls just continue to run strong as a team. The future of our program looks extremely bright."