Photos by Kevin Nagle
An 8-point blitz in the final minute of the first half proved the catalyst for the[more] North Little Rock Lady Cats freshman team Thursday night. Up to then, the Bryant Lady Hornets were right with them, trailing just 26-18.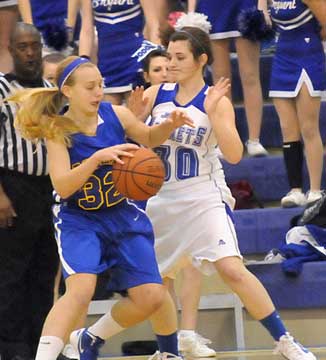 But the Lady Hornets never quite recovered as North Little Rock ran up a 60-24 victory at Bryant High School gym.
"I don't think the score really shows the outcome of the game," stated Lady Hornets coach Nathan Castaldi. We played a real good first half. We cut t3he lead to 8 with about 45 seconds left in the half then they got that run before we could get out of the quarter.
"We are starting to compete better which is really good," the coach added. "We have been working really hard offensively and, because of that, I think our defense is suffering. We need to find a balance somehow.
"I thought we handled their pressure much better than we have all year," he noted.
The Lady Cats led 16-8 after a quarter then, with that late rush, held a 34-18 advantage at the half. It was 52-22 going into the fourth quarter.
Jayla Anderson led Bryant with 8 points. Taylor Lindberg added 4, Nikki Clay and Destiny Huffman 3 each. Katie Davidson, Sadie Powers and Mallory Curry finished with 2 apiece.
The Lady Hornets return to action on Monday, Dec. 12, at home against Mount St. Mary Academy of Little Rock. It'll be their last pre-Christmas contest.