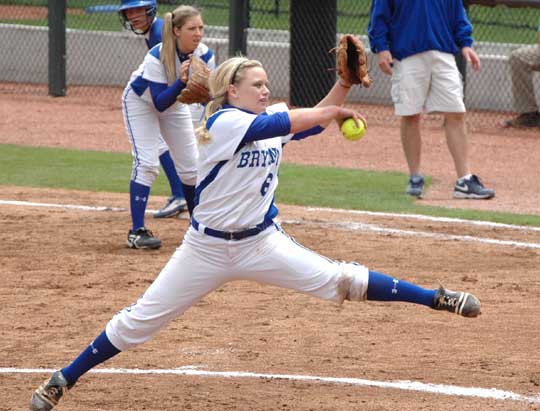 By Rob Patrick
Debbie Stepp was talking to a friend from her hometown in Wynne recently and they asked her about her new job as the head softball coach at Bryant High School.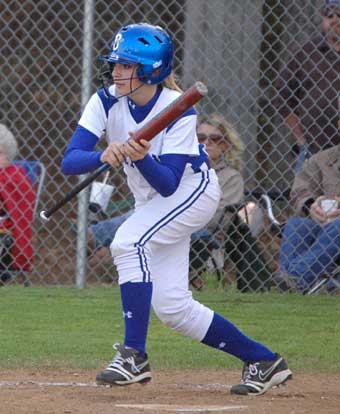 "They said, 'Well, coach, what do you think?'" she recounted. "I said, 'The way I can describe them best? Beasts.' I mean, I am really impressed with the power we have.
"In the past, I've had one or two power hitters and I've played the short game a whole lot," she said, referring to her tenure as the head coach at Wynne, her alma mater, since 2003 that culminated in a State championship last spring. "But I've been real pleased with what I've seen hitting-wise. We've faced live pitching with our pitchers some and, of course, we've done all kinds of drills and it'll be different when the other team is out there. We'll see who can come through.
"I think this is a complete team," Stepp asserted. "I think we can play short game, long game, we can steal on people. We're going to be able to move the ball around and I'm excited about that. I'm so excited, we're all so excited and we're ready to play."
The Lady Hornets are set to open the 2010 season in a benefit game that will inaugurate the new softball facility at Benton on Monday, March 1, at 5 p.m. They'll officially open the season at home against Lake Hamilton on Tuesday.[more]
Bryant returns all but three players from a team that reached Fayetteville as well, falling to 7A-Central Conference rival North Little Rock in the Class 7A State title game. They finished 22-8 overall after winning the conference with a 12-2 mark.
The pre-season, said Stepp who was at Wynne for 23 years and coached there for 17, has been a time of the players and her getting to know each other.
"One of girls said, 'Coach, we're trying to learn you,'" she noted. "And I understand that. I think I've been real patient with them but we're close enough to the season now that, you know, I'm here, they're here, and we've got to accept it and go on. And my system's not that hard to learn. I don't think it's much different than anybody else's. I just call a drill a different name or run something a little differently and that's what they've got to get used to.
"This has been really unusual for me," she continued. "I'm a veteran coach and I've always had players returning and basically knew who was strongest in what positions. And (assistant) Coach (Elliott) Jacobs, this is his first year with this program, so neither one of us has known who's strong where. I'm working to try to figure out what's going to be the best lineup, who's going to work together the best.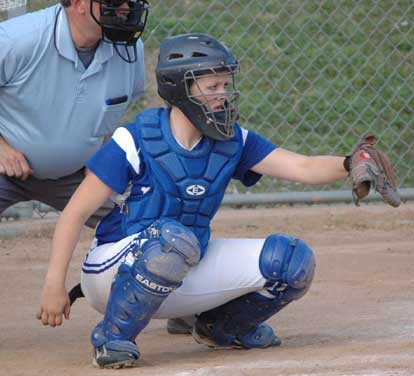 "Another obstacle is, we have three basketball players and the team's doing really well so we're going to start the season including a conference game that had to be early because of scheduling and school requirements where we're not going to have those three players. Yes, we're going to set a lineup but I'm looking at those three players coming in and contributing. That's really different for me. I've never had basketball players come in like that. Normally, I haven't had any basketball players. At Wynne, I just had my softball players and nobody played both sports. They played volleyball and softball and not really basketball and softball. So that's kind of different too.
"And I'm old," she quipped, "and trying to learn all these new things. Changes are hard. They're not bad but they're hard."
One of those basketball players that will be coming out is Shanika Johnson who will be the lone senior on the team. The team's juniors are Jesseca Cudd, Shelby Henson and Kelsie Works. Sophomores include Brittany Ball, Jenna Bruick, Ashley Chaloner, Taylor Chapman, Hollie Hill, Peyton Jenkins, Ashlyn Lessenberry, Bethany Smith, Kayla Sory, Jessie Taylor and Cassidy Wilson. There are also seven freshmen, Stephanie Cyz, Courtney Davidson, Jackie Hill, Brooke Howell, Hannah Rice, Makenzie Rice and Carly Yazza.Ball and Sory are also still playing basketball.
Sory, Works, Bruick, Jenkins, Taylor, Johnson and Wilson played key roles on last year's team.
Jenkins was the No. 2 pitcher on the team last year. Sory figures in as a pitcher this season too.
"There were some reports that there were some problems last year with some of her technique," Stepp said of Jenkins. "We had an umpire here (Wednesday for an intersquad scrimmage) that had called her on some leaping last year and he went up to her and told her that she's made great strides, which made her feel really good. And it made me feel good to know that she's worked that hard. And she's asked me all the time, 'Coach, did you see that? Do you think I'm leaping?' And she'll ask some of the other players, 'Watch me, what do you think?'
Taylor, who started primarily at third last year, will move to catcher this season.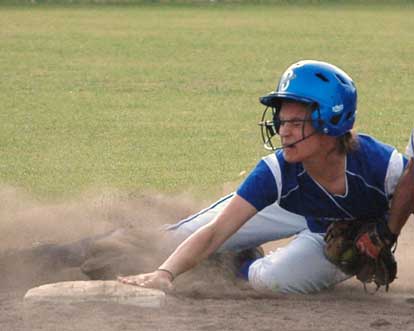 "At first base, we've worked Ashley Chaloner," Stepp said. "I may also work Shelby Henson there. Ashley may also work in right field. In center, it's Kelsie Works. At second, Jenna Bruick. Cassidy Wilson looks like she'll probably be at shortstop right now but she's sick with bronchitis so we're trying to get her well. Henson also is in the picture at third base along with Makenzie Rice. Hannah Rice is in left field.
"But then there's some players that we might not see on the field at that particular time that could take anybody's spot at any time," she asserted. "We've got to look for somebody that's going to put the bat on the ball. Pretty much, most girls at this level can field ground balls and flyballs and throw the ball, but can they put the bat on the ball? Can they execute plays? And I told them, if we'll make the routine plays, those are the ones that are going to keep us in the game and are going to keep the other team from getting across homeplate. We need people to execute offensively so we can score.
"I've got Stephanie Cyz and Courtney Davidson, who looked good hitting and, of course, we've got our three basketball players and I don't know where they might fit in the whole scheme of things.
"Jessie Taylor and Peyton Jenkins are strong hitters," continued the coach. "Shelby Henson I believe is going to be a strong hitter. We have Kayla Sory, who I've watched in the summer. I had someone that saw her last summer who texted me and said, 'You've got a beast here.' So that's what I'm thinking.
"And we have Jenna Bruick who's a slapper that's just amazing from the left side and the Rice girls who are so fast. Bethany Smith put down two great bunts for me in the scrimmage. Cassidy Wilson, I know, is a good hitter. She's just been sick. Brittney Ball, who's in basketball like Kayla, she's strong. And, of course, Shanika Johnson, she's our leader, our only senior. It's going to help when I get her. Kelsie Works has been has been doing the leading for me as a junior."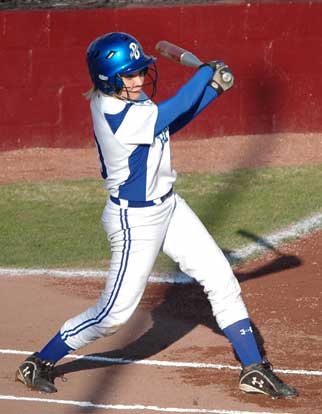 Regarding Monday's game, Stepp said, "I need to see who's going to perform under pressure for me. Benton's a big rival. We all say it's a benefit game but I know better than that. (Athletic director) Tom Farmer emailed me and said, 'How many are we going to beat them by on Monday?' I said, 'You know, I'm thinking one run ahead at the end of the seventh is okay. Isn't that good enough for you?' He said, 'I've got bragging rights, coach.' I told the girls that and they said, 'Coach, you don't understand. You don't understand.' Okay, I guess I'm going to learn Monday. And I'm really good friends with the softball coach at Benton. He's a great guy. I'm excited about going over there. They have a new field. But, of course, everything is new to me this year.
"I want Peyton to do well on the mound," she continued. "I want her to feel good about that. I want us to make the routine plays and put the bat on the ball. It's just going to be a varsity game so I don't know how many JV players will get in there but, on Tuesday, we'll be able to get some JV in. But, with a team like this, when you're so laden with sophomores and freshmen, there's not really a JV/varsity. It's who's going to execute for us at this particular time. They earn their position at practice. And that's what I tell them, 'You've got to impress us at practice. That's what we want to see.'
"I think the girls are a little tentative and a little nervous at times," she mentioned. "There's been times at practice I felt like when we've added some pressure — the competition phase to it — they are playing not to lose instead of staying aggressive. That's one thing I hate to see in athletes. You've got to play to win all the time, not play trying not to lose. So we've talked a lot about this. I've got to get that across to them, that no matter — the memory reminder is 25 push-ups — it could be a run in a conference game. So we've got to learn to practice with the same intensity all the time and make sure we're going to take that over to our game."
Of her new surroundings, Stepp said, "When I came for my interview and came down here, I fell in love with the place. I've never had anything like this. My team and my girls have always had to depend on the city or somebody else for the upkeep of the field and here it's the whole community working for the best for the girls. I had to email Coach Farmer and ask, 'What's the pressbox protocol?' I've never had a press box before. All we had was a little stand behind home plate. I'm absolutely thrilled. I just have so much pride."
The scrimmage last Wednesday provided for an important moment for the coach.
"I told my mom on the way home and told the girls today that I finally felt at home," she explained. "When I was in the third base (coach's) box and we had all our girls out there playing against each other, but helping each other, I looked down and was giving signals and went, 'Ah, I'm home. This feels good.' It's just like I've coaches these girls for years. And that's what I've needed. Everybody's made me feel welcome, that's not it. But, you know, there had to be that epiphany for me that, 'I'm here.' That was a good thing for me."
She added, "I'm really excited to have Coach Jacobs as my assistant. He's got so much baseball experience. He was a little shocked the first day when he came out and we're working on relays. We're talking about throwing to first from right field and throwing to second from center field and he looks at me and he says, 'What, coach?' I said, 'Just wait until the scrimmage and you'll see.' And he did. But he's so knowledgeable and I think he's probably one of the best assistant coaches, if not the best, that I've been able to work with ever. And, you know, I'm pretty old so I think that's saying a lot. I'm so glad to have him here."
Jacobs starred in baseball and football at El Dorado High School and Arkansas State University. He also serves as an assistant football coach for the Bryant freshman team and head coach of the fledgling wrestling team.