By Rob Patrick
Photos by Kevin Nagle
The Bryant Lady Hornets volleyball team may just get on a run over the next two or three weeks of the season.
It may seem to be an odd thing to predict after their 7A/6A-Central Conference loss to the Russellville Lady Cyclones, 16-25, 20-25, 25-21, 18-25, on Tuesday but, over the next few weeks, the Lady Hornets play five of their seven matches — not to mention a tournament this Saturday — on the road including this Thursday at Conway.
Believe it or not, that's good news.[more]
So far, this season, the Lady Hornets have played their best on the road. Most recently, they've won conference matches at Cabot and Little Rock Central. And, before that, they played well at the Little Rock Spikefest including two-game wins over league rivals Mount St. Mary Academy and Russellville.
But, at home, they've won just one out of five matches and the losses include Tuesday's match with visiting Russellville and, a week before, a re-match with the Mount's Belles.
Head coach Beth Solomon was not happy about Tuesday's performance.
"The varsity played pitifully tonight," she declared. "I'm not sure how else to put it. I'm hoping that my good team will be back for the game in Conway."
The Lady Hornets got out to slow starts in each of the first two games of the match and, though they rallied, they could never quite catch up. The third game was similar, though the hole didn't get as big and when they surged, they gained the lead and held onto it.
And they made a bid to send it to a fifth-game tiebreaker with a tight game four. But Russellville closed with a 7-1 run to win the match.
Brianna White finished with 12 kills and Courtney Davidson 10 for the Lady Hornets. Maggie Hart also had a good game at the net with six solo blocks and five kills. But all of the Bryant hitters were frustrated at times by the Lady Cyclones blocking.
Hannah Rice finished with 26 assists. She also served up a pair of aces along the way, as did Taylor West. Lauren Reed led the team with 21 digs.
Meanwhile, the Lady Hornets' junior varsity made quick work of the Russellville JV, 25-12, 25-20, winning the second game with quite a comeback of their own.
Alyssa Anderson was 14 of 14 on attacks with seven kills. She also had three solo blocks. West produced three aces while serving and 16 assists as the setter. Brooke Howell contributed nine digs.
"The JV played great," declared Solomon.
In the first varsity game, Russellville built a lead of as much as 12-3 then 20-8 before Bryant started to whittle on it. A kill by McKenzie Rice and an ace by Hart contributed to the comeback. White scored off a block then combined with Davidson on a second one to score. On a serve-receive error by the Lady Cyclones, Bryant was back within 23-16.
But Russellville put it away after that.
In the second game, the Lady Cyclones scored the first five points and piled up a lead of as much as 16-4. Kills by Davidson and Hart helped the Lady Hornets begin their comeback.
Still, Russellville maintained a 21-10 lead. After a long volley in which the Lady Cyclones made a couple of sparkling saves, a long hit gave Bryant the point and when Davidson followed with a kill, it sparked a closing run.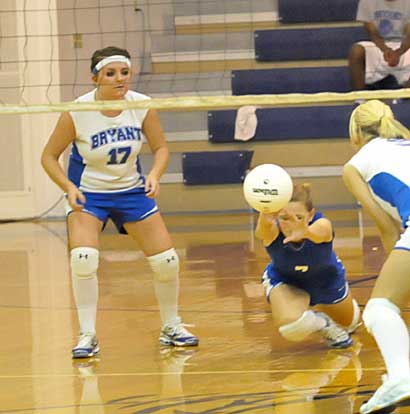 The Lady Cyclones broke serve after it got to 21-13 but couldn't hold it. With Reed serving, Bryant trimmed the margin to 22-16.
Again, despite a side-out, Russellville couldn't get those winning points. Hart made two blocks on one play with the second hitting the floor. Davidson served up an ace and, after an error by the Lady Cylcones, Bryant was within 23-19.
Russellville got within a point of winning the game on a dink that hit the top of the net and rolled over. McKenzie Rice interrupted with a kill but a long serve to follow up provided the final point.
In the third game, Russellville scored the first four points and still held a 11-7 lead when the tide began to turn. Davidson's hit forced a side-out and she rotated around to serve. With McKenzie Rice supplying three kills and Hart two more, Bryant surged into the lead, 16-11.
Russellville got as close as 18-20 at one point but Davidson, again, forced a side-out with a solid hit then she and Hart had kills as the Lady Hornets closed out the win.
Much of the fourth game was the most evenly played of the night as neither team could manage much more than a 2-point lead. The game was tied at five times before Bryant, with Hannah Rice serving up a pair of aces, built a 15-11 advantage.
But before long, it was tied again at 15. And when Russellville scored the next two points, it never relinquished the lead even though the Lady Cyclones didn't gain any breathing room until that final run.
In the JV match, a hitting error snapped a 2-2 tie early on and Bryant had the lead for good. With Howell serving, the lead grew from 11-7 to 15-7. Kaylon Wilson, Alex Boone and Anderson had kills during that run.
Russellville would be unable to get any closer than that the rest of the game. Bryant scored the last four points on a kill by Boone and blocks for points by Howell.
In the second game, however, Russellville pushed out to a 17-6 lead only to have Bryant come all the way back to win with a 19-3 run highlighted by Anderson's work at the net a three aces during a West during the Lady Hornets' run from 10-18 to 19-18.
The game was tied at 19 and 20 before Howell broke serve with a hit to give Bryant the lead for good. She followed up with a kill then Boone finished it with a pair of kills around a hitting error that cost Russellville.