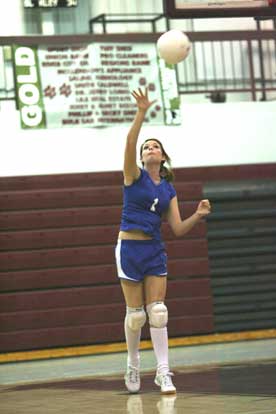 LITTLE ROCK — "We didn't play well … plain and simple."
That's how an ailing Bryant Lady Hornets head coach Beth Solomon described her team's 7A-Central Conference match at Mount St. Mary's on Tuesday, Sept. 8.
The Lady Hornets, who defeated the Belles in a pre-season jamboree, played tough in the middle of the match. After losing the opening game 18-25, they took the second game to the wire before falling 24-26. But they bounced back from that to win game three 25-17.
The momentum, however, didn't carry over to game four which the Belles took 25-15 to claim the victory.
In JV action, Bryant opened with a 25-22 win but the Mounties rallied for a 25-21 win in the second game and won the match with a 15-11 decision in the rubber game.
The Lady Hornets are scheduled to host Cabot on Thursday, Sept. 10, with the JV game starting at 5 p.m.[more]
For the varsity, Kayla Davidson had seven kills to go with four from Taylor Shutt. Jordan Armstrong had seven assists.Kasey Baker served up four aces for the Lady Hornets. Peyton Thacker and Brianna Hays, who were both 100 percent on their serves, each had three.
Defensively, Hays was in on 20 digs, Armstrong was in on five blocks, Brianna White four.
In the JV game, Maggie Hart had five kills, Jenna Bruick four. Jenifer Hubbard contributed nine assists and Thacker served up four aces.
Thacker and Hart were in on two blocks each and Heather Light had 16 digs.