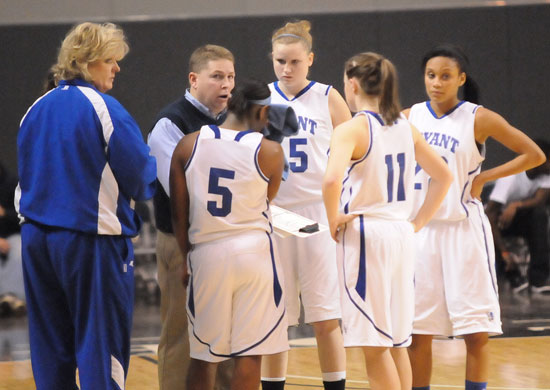 By Rob Patrick
Photos by Kevin Nagle
HOT SPRINGS — The Central Arkansas Christian Lady Mustangs entered Thursday's semifinal game at[more] the Summit Bank Spa City Shootout with an 8-4 record. But their losses were to three of the best teams in the state including defending Class 7A finalist Fort Smith Northside, Class 4A semifinalist Pulaski Academy and twice to 7A quarterfinalist North Little Rock.
With five seniors, four of which played key roles in their run to the quarterfinals in Class 5A last year, the Lady Mustangs have been to war.
So, it was no small thing that the Bryant Lady Hornets — a Class 7A team with just one starter back from a State qualifying team a year ago — had CAC down by 8 early in the second half and down by 6 going into the fourth quarter on Thursday.
But a 12-1 run sparked by sophomore Falan Miller put the Lady Mustangs in command, enabling them to spread the floor on offense and find their way to the free-throw line where senior Haley Hatcher went 8 for 8 down the stretch (part of a 31-point performance) to preserve a 60-54 win.
Central Arkansas Christian advanced to play Malvern for the Shootout title tonight. Bryant, now 8-5, takes on Texarkana, Texas in the third-place game at 4 p.m.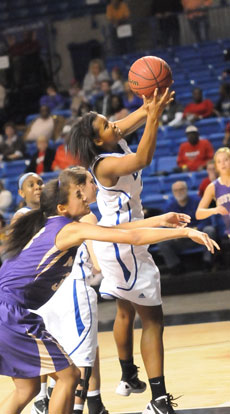 "We scored 54 points, we need to win," declared Lady Hornets head coach Brad Matthews whose team had given up more than 60 just once this season.
"We got beat in transition there in the fourth quarter," he added. "They do a good job running, getting out in transition. We did a poor job in transition defense, gave up a lot of easy stuff in transition, gave up a lot of easy stuff on the offensive boards. We just really quit guarding in the second half.
"I thought, offensively, we were doing all right early on and even in the second half," the coach stated. "We just quit guarding then once they got momentum, they started shooting it better, started playing better, started executing a little bit better."
The Lady Mustangs only shot 32 percent from the field (16 of 50) but entered the fourth quarter scoring at a 26 percent clip. As a team, they were 11 of 14 from the line in the final period after struggling somewhat up to that point — all except Hatcher, that is. She was 19 of 20 from the line for the game while her teammates went 6 of 16.
"Our defense, at times, is good and then we have times where we let down," Matthews stated. "That's something we've got to correct. I thought we gave up a lot of easy baskets and gave up some free throws. We put ourselves in the situation where they were either getting easy shots or free throws. And they're way too good a team to do that."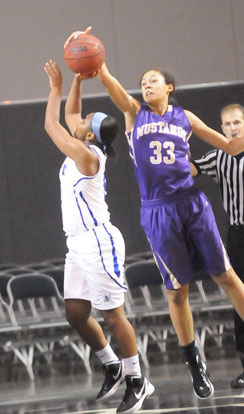 Thanks to 20 offensive rebounds, the Lady Hornets were able to attempt a whopping 66 shots but they converted just 19 (29 percent) and didn't get near as many opportunities at the line where they converted 10 of 15.
Kiara Moore led Bryant with 21 points. Taneasha Rhode, a sophomore post, added 10 but all of those came in the first quarter before CAC started double-teaming her when she got the ball in the post. Courtney Davidson came off the bench to add 8 points and a team-high eight rebounds.
For CAC, Miller finished with 12 points and 11 boards. Syndie Jones, a freshman post player, added 8 points and nine boards.
In fact, the rebounding totals tell how each team struggled with its shooting. The Lady Hornets finished with 41 rebounds, the Lady Mustangs 43.
Hatcher scored 14 of her team's 18 points in the first quarter. But thanks to Rhode's production, Bryant trailed by just 3 at the first break.
In the second quarter, the Lady Hornets held CAC scoreless for the first five minutes and, as a result, surged into the lead. A free throw by Davidson and a 3-pointer by Dezerea Duckworth made it 19-18 and, after a turnover, Moore drained a triple that had Bryant up 22-18.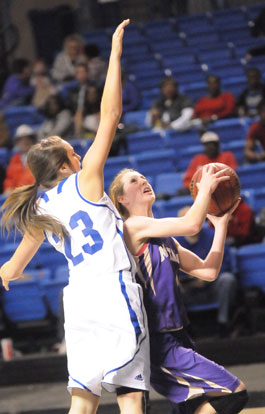 CAC rallied to tie it at 22 then 24 but, in the final seconds, Bryant's Logan Davis knocked down an eight-foot jay then, after a CAC miss, converted a pair of free throws to give her team a 28-24 edge at the half.
Moore opened the third quarter with another trey and, after Hatcher made a free throw — and missed for the only time all night — Davidson took a feed from Davis inside and scored to make it 33-25, Bryant's largest lead of the night.
Again, the Lady Mustangs rallied, cutting the lead to 1, 37-36 with 2:02 left in the period. They had a chance to take the lead but Sarah Butler missed a 3 and, at the other end, Bryant's Whitney Meyer grabbed a rebound and scored. The teams traded misses then, in the final seconds of the quarter, Moore drove the key and was fouled. In the process of protesting the call, CAC head coach Steve Quattlebaum drew a technical as well. Moore stepped to the line and made three of four free throws, giving Bryant a 42-36 lead going into the fourth quarter.
It's never certain how your team, the other team or the officials will react to a technical but, almost every time, one or all are affected. In this instance, it not only sparked the Lady Mustangs but seemed to change the tenor of the officiating a bit.
Back-to-back baskets by Miller to open the fourth quarter were an indicator of the former. Moore countered with a free throw to make it 43-40 with 6:34 left in the game. Bryant would not score again until the 3:36 mark. By then, CAC had surged to a 48-43 lead.
Rhode fed Duckworth for a basket to cut the lead to 3 with 3:36 to go then, after Jones scored inside and the Lady Hornets turned the ball over, CAC spread the floor and made Bryant chase and foul. The parade to the free-throw line ensued.
Though they kept pace with answering field goals from Davidson, Haley Murphy and Moore, the Lady Hornets were unable to get any closer than 4 at the end.

LADY MUSTANGS 60, LADY HORNETS 54
Score by quarters
CAC 18 6 11 24 — 60
BRYANT 15 13 14 12 — 54
LADY MUSTANGS (9-4) 60
Player fg-fga ft-fta reb fls pts
o-d-t
H.Hatcher 5-14 19-20 2-1 3 2 31
Evans 0-3 0-0 0-3 3 3 0
L.Hatcher 0-2 1-2 1-5 6 0 1
Miller 4-18 3-5 2-9 11 1 12
Jones 3-7 2-9 5-4 9 3 8
Butler 1-2 0-0 1-2 3 1 2
Camper 2-3 0-0 1-3 4 3 4
Kruger 1-1 0-0 0-0 0 1 2
Team 3-1 4
Totals 16-50 25-36 15-28 43 14 60
LADY HORNETS (8-5) 54
Player fg-fga ft-fta reb fls pts
o-d-t
Moore 5-19 7-10 1-3 4 3 21
Davis 1-4 2-2 1-0 1 4 4
Duckworth 3-13 0-1 1-2 3 3 7
Murphy 1-6 0-0 6-1 7 0 2
Meyer 1-2 0-0 1-4 5 1 2
Rhode 5-13 0-0 3-4 7 4 10
Davidson 3-7 1-2 5-3 8 3 8
Allen 0-1 0-0 0-3 3 2 0
Weaver 0-1 0-0 1-0 1 0 0
Team 1-1 2
Totals 19-66 10-15 20-21 41 20 54
Three-point field goals: Bryant 6-18 (Moore 4-10, Duckworth 1-3, Davidson 1-2, Davis 0-2, Weaver 0-1), Central Arkansas Christian 3-16 (H.Hatcher 2-4, Miller 1-7, Evans 0-2, L.Hatcher 0-2, Butler 0-1). Turnovers: Bryant 10, Central Arkansas Christian 15. Technical foul: Central Arkansas Christian coach Quattlebaum.