By LANA CLIFTON
The library in Bryant was filled with a standing room only crowd on Saturday, Aug. 15. The group gathered at 11 a.m. to honor the memory of Mabel Boswell, a long-time library supporter, and officially change the name of the facility to the Mable Boswell Memorial Library.
Erin Waller, Saline County Library Director, spoke to the crowd, describing the dedication Boswell had shown to education, literacy and libraries. She said Boswell was an "integral component" of the development and success of the library system in Bryant.[more]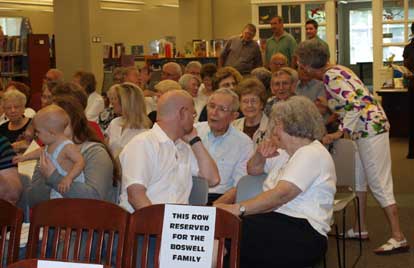 "Without her and her family, we would not be standing in this beautiful library today," said Waller.
Waller also thanked the Boswell family, which donated the land on which the current library stands, for following the legacy of support left by Boswell.
"This is a wonderful day for the city of Bryant," commented Linda Edwards of the Saline County Library Board of Trustees as she addressed those in attendance.
She described Boswell as a woman with a clear vision of what she wanted for the future of libraries in Bryant. She said Boswell made these visions become a reality through "courage, tenacity and hard work."
Edwards said she believed Boswell would be pleased with the work that had been accomplished. "I think that she's smiling," she said.
Carolyn Ashcraft, Arkansas State Librarian, expressed her opinion that good libraries contribute to society by promoting education and literacy. She said the Saline County libraries were boasted upon all across the state. She also commended the Saline County communities for promoting the libraries and having a vision to expand them.
Ted Boswell came forward and thanked all those present for coming to honor his mother, Mabel Boswell. He commented on the Saline County libraries, describing them as part of a wonderful system with outstanding leadership.
He spoke about his mother's dedication to helping the community by promoting learning and reading. He announced that Boswell family members came from a number of states to witness the dedication.
"This is a remarkable occasion," said Boswell. "And we are proud and pleased."Boswell and his sister, Valine Mayer, unveiled a portrait of their mother. The artwork will be displayed in the library.
To close the dedication, Waller expressed the gratitude of the Saline County Library staff and the Board of Trustees for the Boswell family and their dedication to community and the libraries.
"We rename the Bryant branch the Mabel Boswell Memorial Library," announced Waller.
After the ceremony concluded, the atmosphere changed to that of a reception with guests greeting one another, talking and admiring the portrait of Boswell. Cake, mints, nuts and punch were served by library staff members.