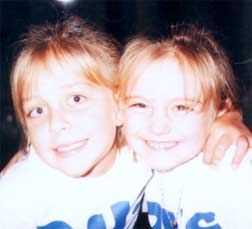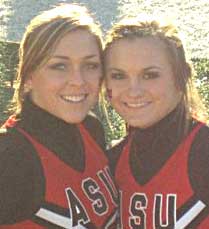 Many a young girl has written it at the end of a secret note passed surreptitiously in class or, more recently, in a text to a friend:
BFF.
There was a time when that was code. Almost everyone knows what it means now:
Best Friends Forever.[more]
It's a pledge and it's a hope — most often a sweet, innocent slice of naïveté. These days, it's harder than ever to stay friends with someone "forever" or even close to it. We wander in and out of relationships, often just due to circumstances.
Sometimes those BFF's last only until the next recess. Other times, they make a pretty good run at "forever."
Shelby Johnson and Paige Turpin met on their first day of kindergarten in Bryant, now they're college roommates at Arkansas State University in Jonesboro and members of the Red Wolves' co-ed cheer squad.
It didn't take them long to realize they had things in common after they met. They both had birthdays in August; they both went to church at First Southern Baptist of Bryant (and have all their lives).
Out of high school, Shelby and Paige went to check out ASU together on Senior Preview Day and decided it was where they wanted to go. Since, they've both made the Athletic Director's Honor Roll while sharing a dorm room and cheering together.
Still friends.
As it turns out, half the six girls on the coed squad are from Saline County. Joining Turpin and Johnson this year is Stacey Spivey of Benton. And, on the all-girls squad are two more Benton girls and Bryant's Morgan Seelinger.