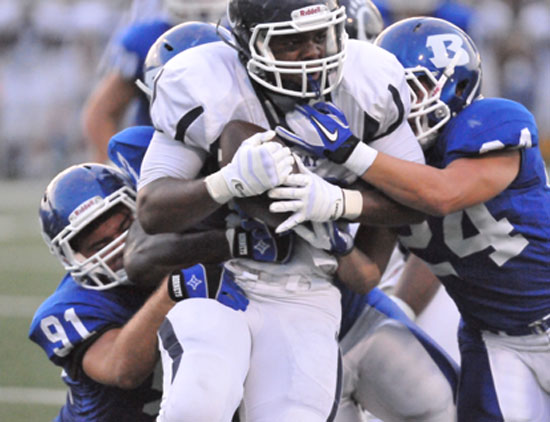 By Rob Patrick
Photos by Kevin Nagle and Rick Nation
After six straight losses to the Bryant Hornets in far more important games — conference games — the Conway[more] Wampus Cats were, no doubt, pointing to the season opener between the two teams as soon as the 2012 schedule came out.
And, though lightning cut the game short with 11:09 left, it was, for all intents, over at the 11:14 mark when Conway's Brandon Cox broke a 29-yard run for a touchdown to give his team a 21-3 lead.
The Cats, behind an offensive line that went 267, 280, 246, 260 and 310 (on a 6-8 frame), rushed for 339 yards. Jeff Anderson compiled 185 of that and Cox added 105 on 10 carries.
Meanwhile, the Bryant offense struggled. It didn't help that starting running back Jalen Bell only played three series and that all five of the Hornets' penalties seemed to come at the worst times.
"They had a bur under their saddle and they were not going to be denied," acknowledged Bryant head coach Paul Calley. "They came in here on a mission.
"And sometimes we rest on who we are and what we've been," he added. "And we're not concerned about where we want to go. We don't practice with the kind of intensity that we need to practice with to be a good football team. But I think we're smart enough to know, after what happened tonight, that things have to pick up a little bit. We have to be more aware of what's going on around us and we have to be willing to push ourselves to get better.
"I'm not taking anything away from Conway," the coach emphasized. "It wasn't just their will to win. They had the people to win. And they had a guy that ran the ball like (former Conway standout and current NFL player) Peyton Hillis. They had another guy that looked as fast as lightning. And that one-two punch on our weak side, we just couldn't stop it.
"Their offensive line — I knew coming in that would be the test," Calley continued. "But one thing that mystifies me is they got nine holding penalties in one half in their scrimmage against North Little Rock and four of the guys on this (officiating) crew were there. Go figure that out. That doesn't help when you can get mauled."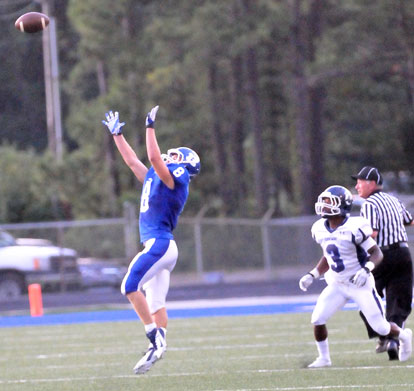 Bryant defensive coordinator, Steve Griffith added, "We knew they were strong on the offensive line. They got some running lanes that we really didn't feel like we'd give up. We've got to go back and look at the film. Our scrimmage (against Little Rock Hall) did not give us any information to help us improve. We'll get a ton of information off this ballgame and we will be a whole lot better next week because of playing a good tough opponent.
"We're still very confident that we're going to have a good defensive football team," Griffith asserted. "Obviously, we wanted to win the ballgame but, ultimately, our objective is to develop the best football team we can, get into conference, win a conference championship, get into the state playoffs and move through those state playoffs and hopefully win a state championship. All that's still in front of us. We're going to come back Monday and we're going to get back to work."
Offensively, the Hornets finished with 8 yards net rushing and just 77 yards total offense. Senior Hayden Lessenberry completed 7 of 14 passes for 69 yards but he was sacked three times and hurried frequently.
"We were totally out of sync," Calley said. "The protection wasn't good. We didn't play very well. There's some things that we're going to have to do better.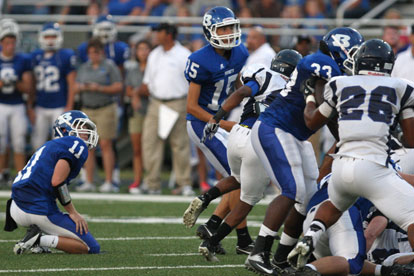 "Jalen may be out next week," he noted. "He kind of tweaked his neck Wednesday in practice, started feeling better and the doctor told him he could go as he could. He went three series and couldn't go anymore. That put a lot of pressure on our passing game and we couldn't protect, didn't protect. I'm not saying we can't. We've just got to get a little tougher. We're not very mentally tough right now on the offensive line."
Bell rushed five times for 21 yards and turned a shovel pass into a 24-yard game (the biggest of the night for the Hornets) on Bryant's first offensive snap.
Davis Nossaman had come up with an interception to end Conway's first series. Bryant took over at its own 28 and, after Bell's reception and run, the Hornets reached Conway territory.
After Bell slashed to the 42, Lessenberry was sacked and shaken up. With sophomore Brandan Warner thrust into the game without much of a warmup, the Hornets played it save on a third-and-15 from their own 47. The play picked up just two yards and the Hornets punted.
Tim Boyd caught Ian Shuttleworth's high boot and dropped it at the 10. But he got back on it before the Hornets could get to it. So Bryant just missed a great break.
Conway, with Anderson running often behind the Wampus Cats' impressive, experienced left side of the line, did much of the damage as they drove to the Bryant 43. An incomplete pass by quarterback Cody Rhoades set up fourth down.
The Cats decided to go for it but Jared Koon and Brenden Young filled the gap and dropped him for no gain.
With the momentum surge and great field position at their own 43, the Hornets drove snappily to the Conway 19. Lessenberry twice found sophomore K.J. Hill. Their 17-yard connection got them into the red zone.
But a holding penalty on the next play pushed the Hornets back and they eventually had to settle for a field goal. And it had to be an impressive kick too. Josh Lowery had enough leg to drive it through from 43 yards out.
The Bryant offense struggled the rest of the half: three possessions, no first downs.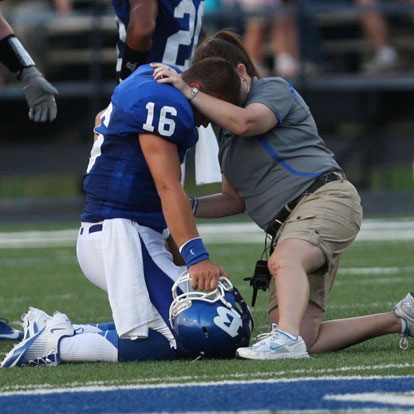 Conway answered with an 80-yard drive in 10 plays. Bryant made a bid to make a stand. With a first down at the Hornets' 24, a pass to Cox was sniffed out by senior corner Aaron Bell, resulting in a three-yard loss. On the next play, Rhoades tried to find Quenton Wyrick down the right sideling and over-threw him. Jake Johnson, the Bryant safety had coverage and, on a bang-bang play, was cited for interference.
Conway took advantage though it took four rushes from the 14 to find paydirt. Left guard Brannon Kotch (6-1, 260) lined up in the Wildcat, took the snap and barreled into the end zone from a yard out.
Matt Cummins extra point made it 7-3.
After forcing a three-and-out, Conway drove a short field for another score. This time, Anderson dashed 23 yards for the TD.
The Cats got another short field after forcing a punt. They continued to pound away on the ground. This time Cox did most of the damage before Kotch was called upon again at the Bryant 2. But there's one thing about a lineman carrying the ball . . . he fumbled at the goal line and Nossaman recovered in the end zone for a touchback.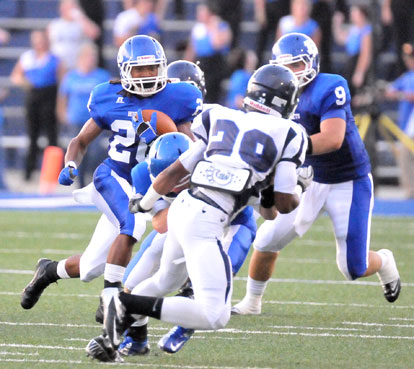 Though there was only 1:14 left in the half, the Hornets went to the dressing room only trailing by 11 instead of 18.
And they were set to get the ball to start the third quarter. But another three-and-out after a nice return of the kick by Aaron Bell, ensued. Conway picked up a couple of quick first downs with Anderson but the Bryant defense made a stand and, from the Hornets' 42, the Cats punted for another touchback.
The Hornets offense gained some momentum when Lessenberry and Davonte Howard combined on a 15-yard pass play but, with first down at the 39, the Hornets had back-to-back penalties (procedure and delay).
They got a break, however, when, on Shuttleworth's punt, Conway had 12 men on the field. The 15-yard penalty brought the Hornets within a yard of a first down so the offense came back out and Lessenberry sneaked for a first down.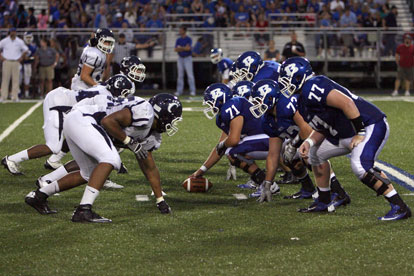 It was just the second penalty of the game against Conway but they picked up a third in short order. Lessenberry had Hill open on a skinny post but Conway's Jackson Smith latched onto the receiver and pulled his jersey off his right should pad to keep from giving up the completion, which might've broken big.
Still, the 15-yard mark off had the Hornets at the Conway 35. On the next play, however, Lessenberry was sacked by defensive end Jerrell Credit and blitzing linebacker Paul Revis.
Shuttleworth launched another high punt on fourth-and-20. Aaron Bell got downfield and actually caught the kick at the 8.
The back-breaking drive ensued. Cox dashed for 18 yards early in the drive and, a play later, Anderson slashed for 26. The Bryant defense stiffened and Conway faced a third-and-6 when Cox broke free on his TD run just before the lightning was cited.
The bleachers were emptied and the game was suspended for 30 minutes pending more lightning. When it was spotted on the horizon, the game was called and, upon the announcement, the Wampus Cats, standing outside the locker room, celebrated the end of their losing streak to the rival Hornets.
It was just the third time in the last 14 seasons that Bryant has opened with a loss. The last time was 2005 against Benton in the Salt Bowl. Before that, it was 1998 when Conway and Bryant met for the first time.
Bryant returns to action at home next Friday against another former Central Conference rival, Little Rock Central.
CONWAY 21, BRYANT 3
Score by quarters
Conway 0 14 0 7 — 21
BRYANT 3 0 0 0 — 3
SCORING SUMMARY
First quarter
BRYANT — Lowery 43 field goal, 1:25
Second quarter
CONWAY — Kotch 1 run (Cummins kick), 9:31
CONWAY — Anderson 23 run (Cummins kick), 5:49
Fourth quarter
CONWAY — Cox 29 run (Cummins kick), 11:14
Team stats
Conway Bryant
First downs 22 6
Rushes-yds 45-339 18-8
Passing 5-7-1 7-14-0
Passing yds 36 69
Punts-avg. 1-42.0 5-36.4
Fumbles-lost 2-1 0-0
Penalties-yds 3-35 5-38
INDIVIDUAL STATS
Rushing: BRYANT, J.Bell 5-21, Irby 5-9, Hunter 1-0, Lessenberry 7-(-22); CONWAY, Anderson 21-185, Cox 10-105, Ruth 7-38, Rhoades 4-8, Kotch 3-3.
Passing (C-A-I-Y): BRYANT, Lessenberry 7-14-0-69; CONWAY, Rhoades 5-7-1-36.
Receiving: BRYANT, Hill 2-24, Howard 2-12, Hunter 2-9, J.Bell 1-24; CONWAY, Wyrick 4-39, Cox 1-(-3).