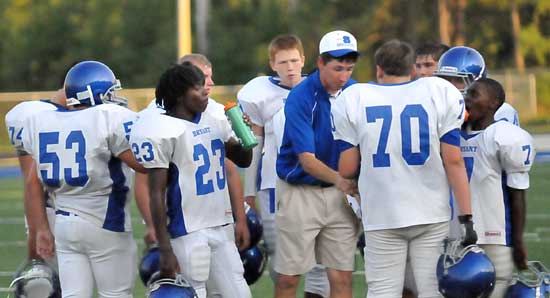 Photos by Kevin Nagle
Playing keepaway with a physical running game, the Little Rock Dunbar Bobcats spoiled the season opener for[more] the Bryant White Hornets eighth grade team of Bryant Middle School, 12-0, on Tuesday, Aug. 30 at Bryant Stadium.
The Hornets were sidetracked early when Drew Alpe, a starter at running back and middle linebacker, suffered a knee injury that kept him out of the game the rest of the way.
"His twin brother Devon Alpe and Demaja Price shared time at running back after Drew was hurt," noted Hornets coach Brad Smotherman. "They both did a good job in carrying the load.
"We were inside the 30-yard line three times but didn't capitalize," he added.
The Hornets best bid came in the second half when Devon Alpe took a pass from quarterback Jaret Jacobs to get a first down in Dunbar territory. Price then got loose down the sideline but was pushed out of bounds just short of the goal line. From inside the 10, however, an interception at the goal line denied Bryant White.
"Dunbar had a big running back that we couldn't tackle very well," Smotherman said. "Turnovers and mental mistakes didn't help."
The Hornets are set to return to action on Thursday, Sept. 8, when Hot Springs visits.