Taylor Snapp of Boy Scout Troop 99, Benton has recently earned BSA's highest rank of[more] Eagle Scout. A ceremony was held in his honor at Salem United Methodist Church on Monday, Jan. 30.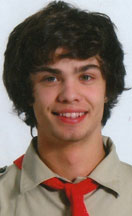 He is the son of Sherrie and Johnny Kettles and J.T. Snapp and the grandson of Louis and Pat Snapp, all of Bryant.
Taylor Snapp is a senior at Bryant High School, where is a member of the Legacy of Bryant Marching Band, Jazz Band, Wind Ensemble and the Youth Alive organization.
He is an active member of Indian Springs Baptist Church where he volunteers for youth, children's and mission programs.
He plans to attend either Ouachita Baptist University or the University of Central Arkansas, majoring in digital film. His future plans are to attend seminary and work in foreign missions.