Photos by Kevin Nagle and Rick Nation
By Rob Patrick
BENTON — A lot of hope for a turnaround in the Benton High School football program has been[more] pinned on the current crop of freshman. A talented bunch, for sure, the team came within four points of going undefeated this season. But those point-differentials actually wound up costing them a couple of losses and, going into their final game of the season against the rival Bryant Hornets, their hopes of a Central Arkansas Junior High Conference championship were slim. They needed a win and an upset in Cabot to gain a share of the title.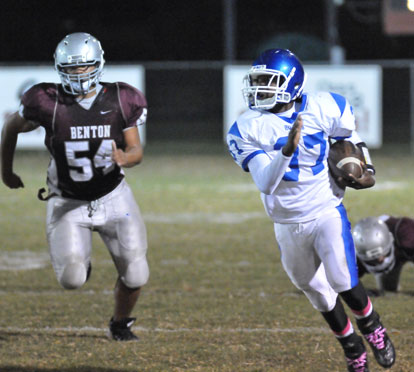 Meanwhile, the Hornets freshmen of 2012 were trying to follow up a spectacular 10-0 championship season for the 2011 team. Not as obviously gifted as their predecessors, the Hornets hoped to become greater than the sum of their parts through hard work and determination. Formed out of eighth grade teams that posted 5-3 and 3-3-1 records in 2011, as it turned out, it was they who were in line to capture a share of the league crown with a win against the Panthers and even gain their own share in the scenario that the Panthers were hoping to see.

In the end, the Panthers played like the team they were supposed to be and the Hornets scrapped and clawed taking an 8-6 lead into the fourth quarter.
But Benton scored twice in the final period and wound up denying Bryant on three separate drives into the red zone to forge a 22-8 win that left both teams 8-2 on the season, 7-2 in conference play.
"It's definitely not good to lose a conference championship when you get a chance to win it, especially for us at Benton," stated Hornets coach Kenny Horn. "It stings losing. We don't like it.
"But overall, it was a good year, a successful campaign," he added. "I'm proud of the kids. "I think 8-2, that's a good year. And we weren't sure coming in. We had a lot of question marks at the beginning of the year but everything kind of shored up and I thought we played good football most of the season.
"I would say with what we thought we had coming in, we overachieved," Horn said. "That's a credit to the kids and the coaches, Coach (Travis) Queck, Coach (Kirk) Bock, Coach (John) Orr and Coach (Mark) Cain. They did a good job all year long. All I did was get the buses. They did a good job with our kids and got a lot out of them."
The game marked the kind of farewell to 78-year-old C.W. Lewis Stadium for which Benton football fans might hope. The final high school game at the field last Friday hadn't gone so well as defending Class 6A State champion El Dorado spoiled things with a 38-0 win over the Panthers.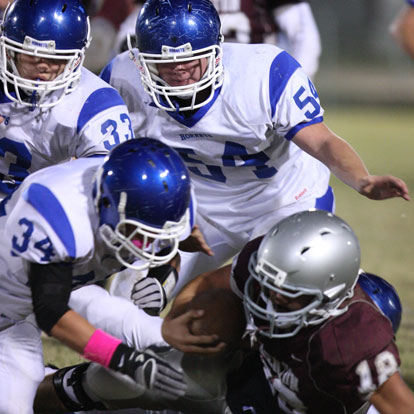 The Hornets had hoped to provide the same kind of disappointment on Tuesday. They were just unable to finish off their drives, except for a 16-yard touchdown run by quarterback Gunnar Burks midway through the second quarter. With Burks' dash for the 2-point conversion, it had the Hornets up 8-6.
The game started with the two teams exchanging punts. Benton's however came from its own end zone and resulted in great field position for the Hornets who drove to the Panthers' 12, tanks in large part of a pair of pass completions. Burks found Quinton Royal for 15 yards then hit Liam Miller for 12 to convert a third down.
A keeper by Burks reached the 17 and an offsides penalty against the Panthers got it to the 12. But a third-down pass was incomplete and, on fourth down, Drew Alpe was stopped a yard short of a first down at the 10.
Given the lift by the defensive stand, the Panthers drove 90 yards in 11 plays for the game's first score, a 1-yard plunge by Drew Dyer with 5:09 left in the half. The possession very nearly ended early on. From the 24, a pass from quarterback Casen Maertens to Ben Powell resulted in a fumble after picking up 2 yards. But Powell scrambled back on the loose ball to retain possession for the Panthers.
Maertens, who finished 11 of 18 for 127 yards and two touchdowns, connected on all four of his passes on the drive while Dyer and Nix powered for yardage in the running game.
After Dyer scored, an extra point attempt was off the mark, leaving it 6-0.
The Hornets responded with their own impressive drive. A 32-yard return of the kickoff by Pierce Finney helped. Burks kept for 9, Savonte Turner picked up 3 then a quick pass to the outside from Burks to Evan Lee broke for 21 yards to the 16. On the next play, Burks scampered into the end zone to tie it. He added the 2-point conversion and the Hornets were up.
The Panthers were driving in turn, reaching the Bryant 44 but a holding penalty set them back and they were unable to recover and the Hornets took their lead to the locker room.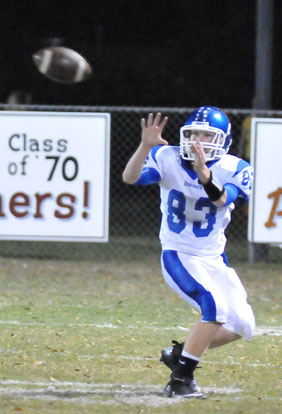 To start the second half, Benton was buoyed by Nix's 36-yard kickoff return. The Panthers drove to the Bryant 13 but, on fourth-and-5, Maetens was stopped short by Walker Brown and the Hornets took over on downs with the lead intact.
The offense punched it out to the 28 then Turner broke a 51-yard run to turn the field over. Three plays later, the Hornets had a fourth-and-2 at the Benton 13 only to have a procedure penalty push them back. A subsequent pass was just beyond Miller's reach and Benton had denied the Hornets again.
In turn, the Panthers drove 82 yards in just five plays. Two big plays did most of the damage. The Hornets had a shot at forcing a three-and-out but, on third-and-3 from their own 25, the Panthers broke Dyer loose for a 37-yard run. A play later, Maertens threw a swing pass to Dyer who turned it into a 37-yard touchdown, give the Panthers the lead with 6:58 left to play.
Maertens passed to Nix for a 2-point conversion to make it 14-8.
But there was plenty of time for the Hornets to answer and they made a bid to do just that. From their own 40, Burks picked up 2 then passed to Lee for 4 yards, setting up a fourth-and-4 at the 46. Burks found Miller with a short pass but when Miller made a move to get around a defender and pick up the first down, he was slung down by the back of his helmet.
The Bryant coaching staff protested, calling for a penalty but none was forthcoming and the Panthers were awarded the ball 48 yards from a clinching touchdown.
Nix, taking a lateral from Maertens, streaked 31 yards to get the ball to the 17. A penalty got it to the 9 but the Hornets' defense made a bid at a stand. Kameron Guillory spoiled a double reverse, spilling Nix for a loss of 9. A pair of passes fell incomplete, the second broken up by Khaliq Slater, and the Panthers faced a fourth-and-goal from the 17.
But Maertens found Zach Whittamore over the middle for the touchdown with 2:27 left. With a two-point pass to Powell, the final score was on the board.
Bryant wound up driving to the Benton 13 only to be denied once again. Burks was dropped for a loss and, on the next play, Nix intercepted his pass near the goal line.
At the end of the return, a shoving match broke out and both teams were penalized for unsportsmanlike conduct with Benton also picking up an illegal block flag. But with less than a minute left and Bryant out of timeouts, all the Panthers needed to do to close out the win was take a knee twice.
"I want to apologize to everybody for what happened, for the pushing match," Horn said. "That's not very good but sometimes it gets a little passionate out there. The game had good atmosphere. We had one kid lose his composure a little bit. I hate to say I can understand it but I can."
The win was the first for a Benton freshman team over Bryant since 2003.
BENTON 22, BRYANT 8
Score by quarters
BRYANT 0 8 0 0 — 8
Bentron 6 0 0 16 — 22
SCORING SUMMARY
First quarter
BENTON — Dyer 1 run (kick failed)
Second quarter
BRYANT — Burks 16 run (Burks run)
Fourth quarter
BENTON — Dyer 37 pass from Maertens (Nix pass from Maertens)
BENTON — Whittamore 17 pass from Maertens (Powell pass from Maertens)
Team stats
BRYANT Benton
First downs 9 14
Rushes-yds 26-126 26-147
Passing 9-15-1 11-18-0
Passing-yds 92 127
Punts-avg. 1-45.0 2-33.0
Fumbles-lost 4-3 2-0
Penalties-yds 5-29 5-46
INDIVIDUAL STATS
Rushing: BRYANT, Turner 12-67, Burks 13-57, Dr.Alpe 1-2; BENTON, Dyer 9-73, Nix 12-66, Maertens 5-8.
Passing (C-A-I-Y): BRYANT, Burks 9-15-1-92; BENTON, Maertens 11-18-0-127.
Receiving: BRYANT, Lee 4-30, Miller 3-33, Royal 1-15, Turner 1-14; BENTON, Dyer 4-60, Nitschke 2-24, Whittamore 2-22, Morrow 1-10, Howe 1-9, Powell 1-2.