For more photos from this event by Kevin Nagle, go here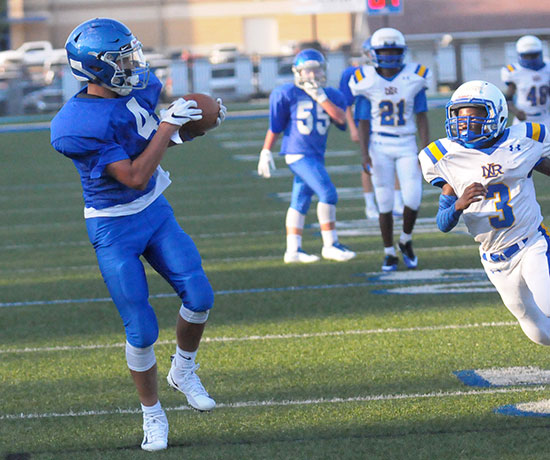 Gideon Motes ran for a touchdown and passed for two, both to Cason Trickey, as the Bryant Blue Hornets seventh grade team of Bethel Middle School earned a 22-8 win over North Little Rock's seventh-graders at Bryant Stadium on Monday night.
Motes also ran in a pair of two-point conversions.
"Our defense played outstanding by not allowing much on the ground," said Bethel head coach Josh Akers. "We were very physical and sound on defense and executed our offense very well tonight.
"We are 3-0 right now and I'm very proud of these guys and what they are accomplishing each and every day," he added. "They work hard and want to win. That makes for a fun team to coach and be a part of."
Motes opened the scoring with a TD on a quarterback keeper. He added a run for the conversion to make it 8-0.
Motes' first scoring pass to Trickey followed. He ran in the conversion as well.
That duo hooked up again for Bethel's third touchdown. A fumble foiled the attempt at a conversion.
The Blue Hornets seventh-grade team will play next at Lake Hamilton on Monday, Sept. 24.