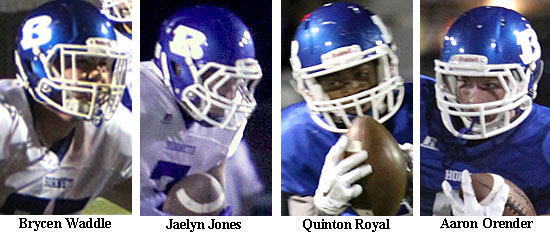 Bryant Hornets defensive lineman Cameron Murray, a three-year starter, announced his commitment to Oklahoma State University today as he was named the 7A/6A-Central Conference co-defensive player of the year.
Murray has also been chosen all-State in Class 7A along with Bryant defensive tackle Mario Waits and quarterback Gunnar Burks, both seniors, along with junior running back DeAmonte Terry.
In addition, Calley, who led his team to a 9-2 season, was named the Coach of the Year in the Central Conference and nominated as the coach for the annual Arkansas High School Coaches Association All-Star game.
All-conference selections were also posted for the Hornets. They include wide receiver Aaron Orender, offensive lineman Brycen Waddle, safety Jaelyn Jones and cornerback Quinton Royal, all seniors.
Second-team all-conference picks are defensive end Madre Dixon, linebacker Marvin Moody and kicker Hayden Ray, all juniors.
Murray and Waits provided the anchors for the Bryant defense over the last three seasons. This season, Waits and Dixon led the team in tackles for loss with 11 each while tying for the second most tackles on the team with 67. Murray had 10 stops for losses and 51 tackles overall. Dixon led the team with six sacks. Waits had three and Murray two.
Burks accounted for nearly 1,900 yards of total offense for the Hornets. He was 101 of 163 (62 percent) passing for 1,358 yards and 12 touchdowns with just five interceptions. He also ran for seven scores. He was second on the team in rushing with 535 yards, which includes sacks.
Terry, who shared duty at running back early in the season, stepped into a full-time role after injuries to teammates Savonte Turner and Cameron Coleman. He would up rushing for 1,054 yards on 161 carries, a 6.5-yard per carry average. He scored six rushing touchdowns and caught a TD pass, one of five receptions he had this season.
Orender was the team's leading receiver with 31 catches for 536 yards and six touchdowns. He also ran for 60 yards on 10 tries with a TD.
Waddle led a group of seniors on the offensive line that cleared the way for the Hornets to compile a school-record 2,745 yards rushing. The team accumulated over 4,100 yards of total offense.
Jones was the team's leading tackler with 88 stops including three for losses. He also had five interceptions.
Royal, who started the season at wide receiver and caught two passes for 26 yards, moved to cornerback and led the team with seven interceptions and six pass break-ups. He was also in on 26 tackles including one for a loss.
Ray led the Hornets in scoring with 71 points on 32 of 34 extra points and 13 field goals, tying a school record. His longest field goal was 41 yards. He only missed three attempts.
Moody tied with Dixon and Waits for second most tackles including nine for losses, two on special teams and two sacks. He also broke up two passes and recovered three fumbles to lead the team.
Along with leading the team in sacks and tackles for losses along with being second in tackles, Dixon contributed a pair of special teams tackles as well and recovered a fumble.
Calley, who resigned as Bryant head coach last week, is the winningest coach in the history of the program. He led the Hornets to five conference championships and 103 wins overall. He picked up his 100th career victory midway through the season at Alma. He came to work at Bryant right out of college and served on junior high and high schools staffs over the last 23 years.