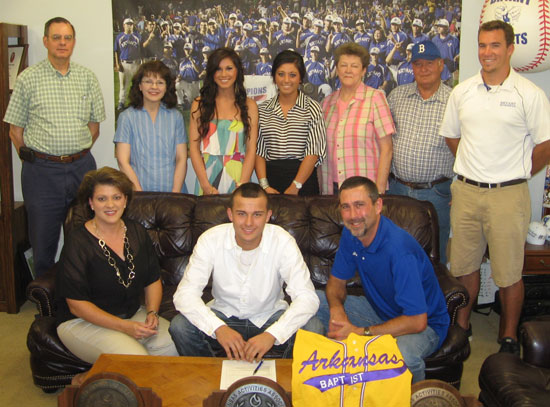 By Rob Patrick
Whether tracking down a grounder in the hole at short or gliding after a gapper in the outfield, Tyler Nelson[more] is one of those athletes that makes difficult things look easy. His swing at the plate looks nearly effortless but then the ball jumps off his bat. On the mound, his delivery is such that he's what they call "sneaky fast." He hides the ball well in his motion so that a batter isn't always able to pick up the ball and recognize whether it's a fastball, curve or change until it's almost too late.
Oh, yeah, Tyler Nelson can just about do it all on the baseball field.
On Tuesday, Zach Bottoms, the hitting coach and recruiting coordinator with Arkansas Baptist College, was at Bryant High School Field to get Nelson's autograph. And he got what he came for as Tyler, the son of Vince and Tonya Nelson, signed to continue his baseball career and education at the school next fall.
Nelson, just back from playing in the annual Arkansas High School Coaches Association All-Star game at the University of Arkansas' Baum Stadium in Fayetteville, chose ABC over four or five other schools.
"I got a couple of D-2 (Division II) offers but I decided to go JUCO and see if I can get some D-1 offers," he noted, adding that the other Junior Colleges he had been considering were Jackson State Community College in Jackson, Tenn., and Three Rivers Community College in Poplar Bluff, Mo.
"I've always played in Little Rock — some of my best baseball in Little Rock," he said, "So I didn't want to go off and not be able to play my best baseball."
"I think JUCO right now for him is a great fit," said Bryant Hornets head coach Kirk Bock. "His best years of baseball are ahead of him. I think it's a great possibility that he'll be a Division I guy somewhere. He just needs to play everyday right now.
"He's a very versatile player," the coach added. "He can get it done on the infield or in the outfield and he can get it done on the bump too."
Bottoms said, "Tyler's just a really good athlete. He can play multiple positions. We really like his potential to play shortstop. Shortstop is a need for us. Also, he's very good on the mound so he's a two-way guy that fills all our needs. We need some help out of the bullpen and at shortstop, so he's a good pickup for us.
"We're expecting quite a bit out of him," he continued, "potentially the everyday shortstop and a guy that comes in and pitches late innings for us. That's our hope. You never know what a freshman's going to do but we hope he plays right away."
Growing up, Nelson played for Bryant Athletic Association youth teams that reached the World Series twice at the 12-year-old level then won a World Series championship as 13's. The group made it back to the Babe Ruth World Series as 15's.
In high school, Nelson and the Hornets competed in three straight Class 7A State championship games earning titles in 2010 and 2012. This spring, he started on the mound in the title game against Bentonville.
For the season, he was 5-3 with a 2.41 earned run average. In 49 1/3 innings, he struck out 48 and walked 26.
"At times, he was 86 (miles per hour) but even when his velocity wasn't there, he always seemed to command the zone," Bock said. "He could throw three pitches for strikes and keep you off-balance."
At the plate, Nelson was Bryant's third leading hitter with a .311 batting average (32 of 103). He led the team with 10 doubles and three triples, was second in runs batted in with 24 and third in runs scored with 24. He sported a good on-base percentage with 29 walks and he was third on the team in stolen bases with 11.
As a junior, he hit .268 but walked a whopping 38 times as the Hornets' lead-off man. He led the team with 32 runs scored while knocking in 18.
He's currently playing for the Black Sox Senior American Legion team, which is on its way to Omaha, Neb., for the Battle of Omaha tournament in conjunction with the College World Series.
So far, Nelson has hit safely in all seven Sox games going 10 for 26 for a .385 average. On the mound, he's pitched in two games, winning one and getting a no decision in the other. In 10 innings, he's allowed one run on four hits and struck out 10.
Last summer, as part of a Sox team that reached the State finals, he hit .306 and went 2-1 on the mound with a 4.14 ERA.