Photo courtesy of Paul Dotson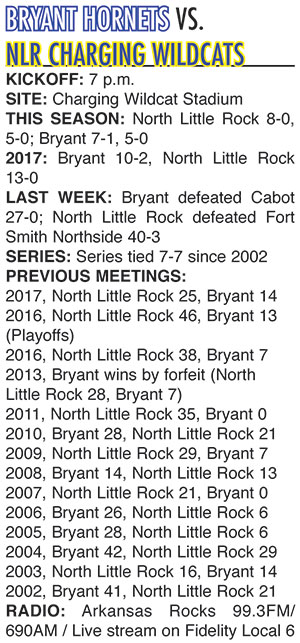 The Bryant Hornets can't beat the North Little Rock Charging Wildcats. At least that's what most people outside of Bryant think.
And history backs that up. North Little Rock has won the last five meetings including the 25-14 victory last year during the Charging Wildcats' unbeaten run to the State championship. Bryant led at the half 14-13 but didn't score in the second half.
And the Charging Wildcats still haven't lost, adding eight wins to their 13-0 run last year. They're ranked number one in the state for a reason.
The Hornets, ranked number two by most, suffered a 36-35 loss to Fayetteville early this season, when six starters were sidelined for one reason or another. Besides that, only North Little Rock and Bentonville defeated the Hornets last season. And, in 2016, two of Bryant's losses were against North Little Rock.
Of course, there's every reason to believe this year's Hornets are the best version over the last three years. Bigger, faster, stronger, they're a better match-up with the powerhouse Cats. Indications are they've closed the gap. Have they closed it enough to come out on top?
The 7A-Central Conference championship may hang in the balance, though Bryant still has a very good Conway team to play in week 10. North Little Rock closes out against Cabot.
With that league title will come a number one seed for the playoffs and homefield advantage throughout.
It's a huge game.
North Little Rock's headliners are three veteran running backs, seniors Tyler Day and Oscar Adaway along with junior Brandon Thomas. Last year, it was Thomas who bedeviled the Hornets for 185 yards.
"Probably the best running attack that I've seen in many years," said Bryant head coach Buck James. "This is an old-school type offense. Back in the day, this is what we saw week in and week out. But I don't think we ever saw it with three running backs like these guys have and the offensive line they've got."
The Wildcats run the power-I with Adaway at wingback. They run the option, student-body-led sweeps, reverses with the wingback and straight-ahead power runs with sophomore Kareame Cotton pulling the trigger.
It's actually similar to what the Hornets faced against Cabot last week, except the Wildcats have some of the best athletes in the state running it.
"It's a big task for our defense," James allowed. "They've got to play well. They've got to tackle in space. They're going to have to make a lot of one-on-one tackles. This is not a group that you go out there and you arm tackle, or you try to pull down by their jersey or you hope to trip them up by their ankles. You've got to tackle these guys and you've got to be able to do it in swarms and you've got to be able to do it in the open field by yourself."
The Hornets' front seven match-up pretty well with the Charging Wildcats, particularly with the return of middle linebacker Jakob Neel who played more than expected against Cabot last week and wound up in on 11 tackles. Neel missed the first seven games of the season with a knee injury.
Defensive end Nate Wallace and linebacker Catrell Wallace are the Hornets' leading tacklers on the season.
North Little Rock's top receiver is tight end Drew Martin and they like to split out Adaway.
On defense, James said North Little Rock is "an aggressive, attack defense. Their front is probably the key to their defense. They're big and strong up there. They like to move laterally and give you bad plays. They're always stunting one way or the other. They're linebackers are really solid players.
"They want to make you make decisions fast," he continued. "They want to create chaos and they want you to have bad plays. As soon as the ball gets there, then they're going to get there. We've got to be strong-handed and disciplined in our route-running and give ourselves a chance to catch those footballs."
The Hornets will try to be balanced but running against the seven-man front may be require the completion of a few passes to loosen it up. In that regard, the offensive line will be key in giving quarterback Ren Hefley time to throw. And, as James, said, the receivers will have to be strong and make catches in traffic.
"We've tried to model our program to be able to beat a team like North Little Rock," James stated. "This is where the rubber meets the road. We've got to play football. We can talk about what we could've done, and we can talk about what we should've done, and we can talk about the what-if's, but the good thing about football is that sometimes you have to put up or shut up.
"They're where we want to be, and we've got to go out and play football like we're capable of playing and not worry about the scoreboard, not worry about the hype, tackle, run the football, block and catch the football. At the end of the day, if we do it as good as they do or better, we've got a chance to win.
"Mike Tyson said it many times," James concluded, "'Everybody's got a plan until they get hit in the mouth.' They're going to hit you in the mouth. I've told our guys all week, they are. So that shouldn't be a surprise. The thing is, we're going to hit them in the mouth too.
"I feel good about the kind of kids we've got. I feel good about our plan. We've just got to go execute it."