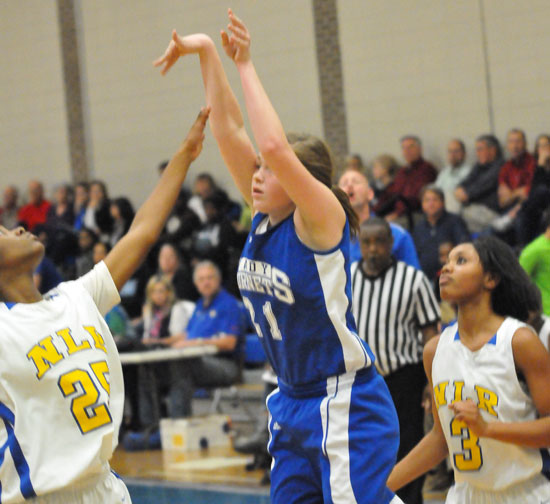 Photos by Kevin Nagle
NORTH LITTLE ROCK — Playing more aggressively on offense, the Bryant Lady Hornets freshman[more] team made a bid to knock off the North Little Rock Junior Lady Charging Wildcats on their home floor at East High School Thursday night. The Lady Cats held on, however, for a 33-28 win.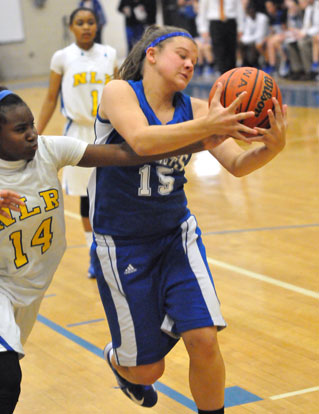 The Lady Hornets were coming off three straight games when they were unable to score more than 20 points including a 44-15 loss at Cabot South on Monday.
"We played a much better game than we did on Monday," asserted Lady Hornets coach Nathan Castaldi. "What I was pleased about was how we competed. We played hard from start to finish, which we did not do on Monday."
North Little Rock gained a 12-6 lead in the first quarter then the rest of the game the Lady Hornets outscored the Lady Cats 22-21.
Skylar Davis led Bryant with 11 points. Annie Patton and Britney Sahlmann added 4 each with Kailey Nagle scoring 3. Rachel Miller, Anna Turpin and Anna Lowery had 2 apiece.
North Little Rock led 19-12 at the half, 24-17 through three quarters.
"What ended up hurting us was they shot the ball well," Castaldi mentioned. "We thought we would have a hard time containing them with a man defense because of how athletic they are so we decided to play zone. I had watched them play three games this year and they really struggled to shoot the ball and then they came out and hit five 3's against us.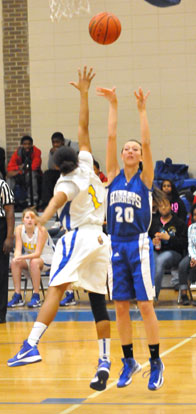 "Offensively, we did a good job of running our offense and getting good shots, and compared to the past week or so, we were able to finish much better," he added. "Skylar had a good game. She did a better job of attacking the basket and not just settling for jump shots. Annie Patton has played well for us. She helped handle the ball against North Little Rock's pressure and attacked the basket once we got in our offense."
The Lady Hornets return to action on Monday, Dec. 10, at Mount St. Mary Academy in Little Rock.