For more photos from this event by Kevin Nagle, go here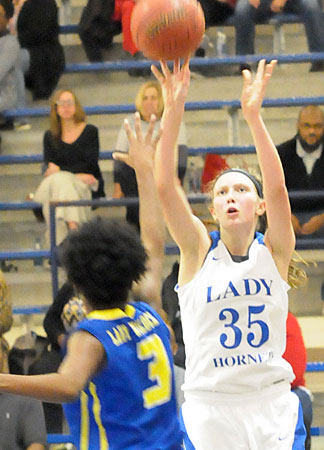 If you knew that the Bryant Lady Hornets' freshman team was going to shoot 40 free throws in their first-place showdown with the North Little Rock Lady Wildcats Thursday night, you'd expect they had a pretty good chance of winning.
But, if you found out that the Lady Hornets' first made field goal wouldn't come until the 1:12 mark of the third quarter, you might think again.
Well, both of those were true and the result was a 38-30 victory for the visiting Lady Cats, who pinned the first loss of the season on the Lady Hornets after six wins.
Of those 40 free throws, the Lady Hornets converted just over half (24) and they wound up with just three baskets in 23 attempts from the field. Still, they made it a game at the end as they whittled a lead that was as much as 16 points down to 5 in the final minute of the game.
Actually, the game was so marred by fouls that North Little Rock shot 25 free throws, making only 13. But the Lady Cats wound up with 12 field goals after going 0 for 8 from the field in the first quarter.
Meanwhile, the Lady Hornets were 0 for 11 from the field in the first half with eight of their shots coming from 3-point range.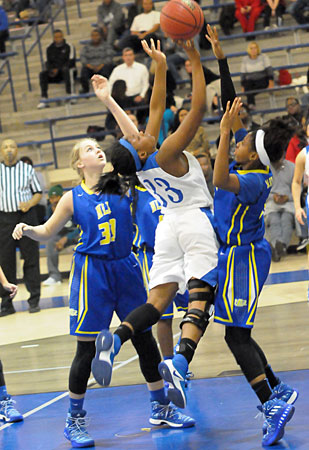 Bryant forced 10 turnovers in the first quarter but managed just 3 points. In fact, the quarter ended with the teams tied 3-3 with all the points coming on free throws. North Little Rock got a little more offense in the second quarter, forging a 17-7 halftime lead as the Lady Hornets went 7 of 18 from the free throw line in the half.
"Give all the credit to North Little Rock," said Lady Hornets coach Nathan Castaldi. "They did a good job. They took us completely out of what we were trying to do offensively. I've got to do a better job of getting them in a position to score.
"We really struggled the first quarter, quarter and a half, we just couldn't convert," he acknowledged. "I think we kind of let that get us down instead of kind of fighting through that.
"It's still early in the year, lot of time to recover from this," the coach stated. "There's a lot of things that we can take from this game to use later in the year. I think the biggest thing is, one, defensively we've got to do a better job of containing the basketball. Too many times, we're trying to go for steals and giving them easy opportunities. Offensively, we've got to be good enough to take that pressure on the wings, get the ball inside and not just settle for outside shots."
North Little Rock committed 27 fouls in the game. Three players fouled out.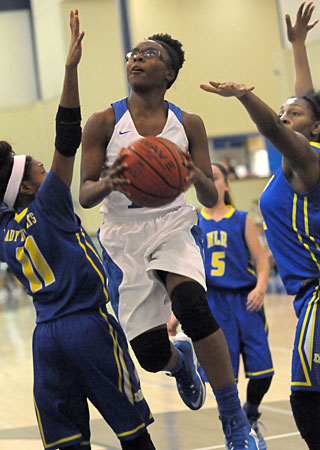 Bryant's Ivory Russ led all scorers with 14 points, all from the free-throw line. McKenzie Muse added 10 points and had all three made field goals for the Lady Hornets.
Meonia McDonald led North Little Rock with 10 points including 6 of 8 at the free-throw line. Ashandi Bachus and Adia Carnegie had 8 points each.
The Lady Hornets were within 11-7 inside the final two minutes of the first half. But Bachus scored twice and Carnegie hit a shot inside with :07 left to make it a 10-point edge.
That 6-0 run extended to 14-0 with the start of the second half. McDonald hit a 3 to spur the 8-0 start to the third quarter that produced a 23-7 lead.
Russ, who battled leg cramps much of the night, returned to the game and started attacking the basket. She accounted for Bryant's first 3 points of the half on free throws. After McDonald hit a 12-footer, Russ drove and kicked to Muse who knocked down a baseline jumper for the team's first field goal, making it 25-12. A free throw from Mekeycia Baker to end the third quarter and two by Tyianna Robinson to start the fourth quarter, trimmed the margin to 10.
The Lady Hornets' second field goal came with 3:05 left in the game. To go with Russ' free throws and some misses from North Little Rock, it had Bryant within 29-23.
After a timeout, however, the Lady Cats went on a 6-2 surge. Lexi Taylor hit a free throw with 1:16 left then Russ added two with :41.7 showing to make it 35-30. Taylor followed up with a steal to give Bryant a chance to get closer, but North Little Rock took the ball back and was able to close out the win.
The win kept North Little Rock in a first-place tie in the Central Arkansas Junior High Conference standings at 3-0, matching Conway Blue and Conway White. Bryant, now 2-1 in the league, will travel Monday to take on Conway Blue.
LADY CHARGING WILDCATS 38, LADY HORNETS 30
Score by quarters
No.Little Rock 3 14 8 13 — 38
BRYANT 3 4 6 17 — 30
LADY CHARGING WILDCATS 38
Bachus 3-6 2-4 8, Marks 1-3 2-4 5, Ott 0-4 1-2 1, Morris 0-2 1-2 1, Carnegie 4-6 0-0 8, McDonald 2-2 6-8 10, Fimple 1-3 0-0 2, Jarrett 1-7 0-1 2, Odom 0-2 1-4 1, Pryor 0-0 0-0 0. Totals 12-35 13-25 38.
LADY HORNETS 30
T.Trotter 0-7 0-0 0, Martin 0-0 1-2 1, Taylor 0-4 1-2 1, Russ 0-2 14-20 14, Muse 3-5 4-7 10, Robinson 0-2 3-6 3, Baker 0-1 1-3 1, Deaton 0-0 0-0 0, S.Trotter 0-2 0-0 0. Totals 3-23 24-40 30.
Three-point field goals: Bryant 0-12 (T.Trotter 0-5, Taylor 0-4, Muse 0-1, Robinson 0-2, S.Trotter 0-1), North Little Rock 1-4 (Marks 1-1, Bachus 0-1, Ott 0-1, Fimple 0-1). Turnovers: Bryant 19, North Little Rock 21. Rebounds: Bryant 10-20 30 (Muse 2-6 8, Russ 1-4 5, Taylor 0-4 4, Robinson 2-1 3, T.Trotter 1-1 2, Baker 1-1 2, Deaton 0-2 2, team 2-1 3), North Little Rock 12-21 33 (Carnegie 2-5 7, Jarrett 4-2 6, Ott 0-4 4, Morris 2-2 4, McDonald 0-3 3, Odom 2-1 3, Marks 1-1 2, Bachus 0-1 1, Pryor 0-1 1, team 1-1 2). Team fouls: Bryant 19, North Little Rock 27. Fouled out: North Little Rock, Morris, Carnegie, Jarrett.